It's been a nasty flu season and it's still getting worse. At least 37 children have died and adults ages 50-64 are being hospitalized in much greater numbers than in recent years, according to the Centers for Disease Control and Prevention. There's been a recent scramble for flu shots, but it takes two weeks for the vaccine to be fully effective.
Because so many people are sick from the flu, some areas may have shortages of the prescription antiviral Tamiflu, a medication that can ease symptoms and stop the illness from getting worse. The drug manufacturer and the Centers for Disease Control and Prevention say there is enough supply overall. But, on top of the flu epidemic, some parents are worried about reports of rare, severe side effects from Tamiflu, such as seizures, self-injury and hallucinations among children who have taken the prescription medication.
A family in Indiana fears side effects of Tamiflu may have lead to the apparent suicide of their 16-year-old son, Charlie Harp. A legal guardian speaking to NBC affiliate, WTHR, says he was a happy child until he got the flu.
It is not clear if Tamiflu can cause suicidal behavior. The drug's maker, Genentech, notes that flu itself "hallucinations, delirium and abnormal behavior, in some cases resulting in fatal outcomes". "Closely monitor Tamiflu-treated patients with influenza for signs of abnormal behavior," it advises.
The Food and Drug Administration says the reported side effects are not common and that it's not absolutely certain whether Tamiflu or the flu virus itself is causing the behavior changes. "These serious side effects may happen after taking Tamiflu or may happen in people who don't take Tamiflu," according to the FDA.
"Monitor for signs of abnormal behavior," the FDA advises.
How Tamiflu helps
If taken within the first two days of the first sign of flu, the Tamiflu pill, in a class called neuraminidase inhibitors, reduces symptoms by attacking the flu virus to keep it from multiplying in your body. On average, it shortens the time you are sick by about one day, experts say.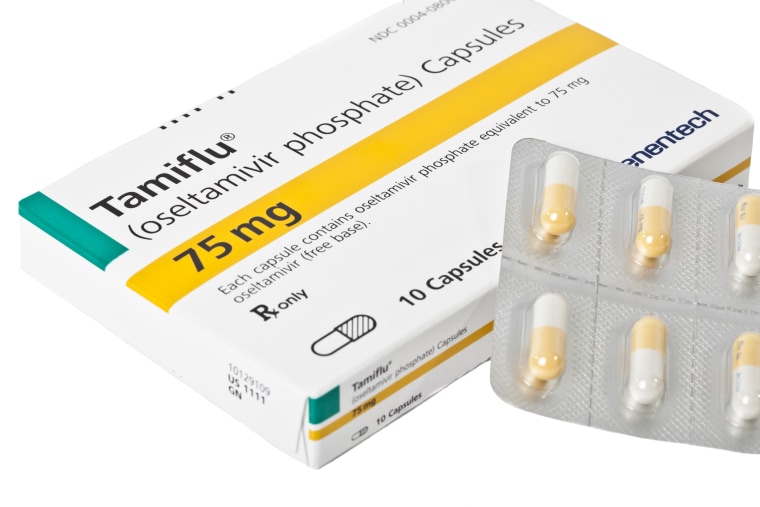 Antivirals don't cure flu the way an antibiotic can cure strep throat, but they're still useful, the CDC says. And unlike antibiotics, taking a flu drug for a few days won't clean out the "good" bacteria in the digestive system, and it's far less likely to cause side-effects. There's also less chance of breeding drug-resistant "superbugs," experts say.
Who should take Tamiflu
For healthy children or people who are not at high risk of complications, it's not clear how useful Tamiflu is. But for people at high risk of serious flu complications, quick treatment with an antiviral drug can mean the difference between a milder illness or a more severe case.
Pregnant women who are sick from influenza should be treated with an antiviral because of concerns that they could develop more severe illness, the CDC advises.
In addition, the CDC advises Tamiflu be given to:
People at risk of complications from the flu because their immune system doesn't work well
children younger than 2 years
adults 65 years and older
people with diabetes, asthma or heart disease
people with other chronic disease like sickle cell disease, cerebral palsy
people who are morbidly obese
nursing home residents.
Generally, other people who are not at high risk of flu complications and are otherwise do not need to be treated with Tamiflu
But for high risk-kids and the elderly, the CDC says not to wait. It's better to go ahead and take Tamiflu just in case.
In fact, nursing home residents are so vulnerable that CDC advises dispensing Tamiflu if any cases of flu show up. The daily pill can prevent infection.
The CDC advises it's OK to give Tamiflu healthy patients. If someone in your family is sick with the flu but you're not, a doctor might prescribe a lower dose of an antiviral to help protect you.
"Antiviral treatment also can be considered for any previously healthy, symptomatic outpatient not at high risk with confirmed or suspected influenza on the basis of clinical judgment, if treatment can be initiated within 48 hours of illness onset," CDC advises on its website.