Rumors of a romance for Sheryl Sandberg have sparked a discussion about moving on after loss. The Facebook COO's husband died suddenly last May and people are now wondering: Is there a "right" time to move on — and is it even anyone's business?
Images of Sandberg with gaming company CEO Bobby Kotick have emerged and The New York Post is reporting that the pair are dating, though neither one is confirming a relationship. While the majority of reaction online has been supportive, many are questioning the speed with which she appears to be moving on.
"There is no time frame of when it's right or wrong, or when someone should start dating," therapist and grief counselor Shelly Gillan told TODAY. "Companionship is a huge piece of moving on… And kind of affirming that you're still alive and you still have life to live."
RELATED: Facebook's Sheryl Sandberg reveals why she grieved publicly after husband's death
Many online agree. "Good for her, trying to find happiness again," one person commented on People.com.
Others aren't quite as sure. "I personally think it is rather soon, but then again, different people see things differently," wrote another.
Sandberg openly shared her feelings about grief in a long Facebook post one month after her husband died falling off a treadmill. It came at the end of shiva and sheloshim, the Jewish periods of mourning. "I think when tragedy occurs, it presents a choice," Sandberg wrote.
"You can give in to the void, the emptiness that fills your heart, your lungs, constricts your ability to think or even breathe. Or you can try to find meaning…. But when I can, I want to choose life and meaning."
Hundreds of thousands of Facebook users supported and shared her powerful words, and Sandberg was publicly grateful when she spoke to Savannah Guthrie on TODAY in December.
"My children and I have worked so hard to rebuild our lives and find happiness and joy and gratitude again," she said. "I think the support of strangers and our friends made a huge difference."
Sheryl Sandberg shares powerful New Year's resolution in wake of husband's death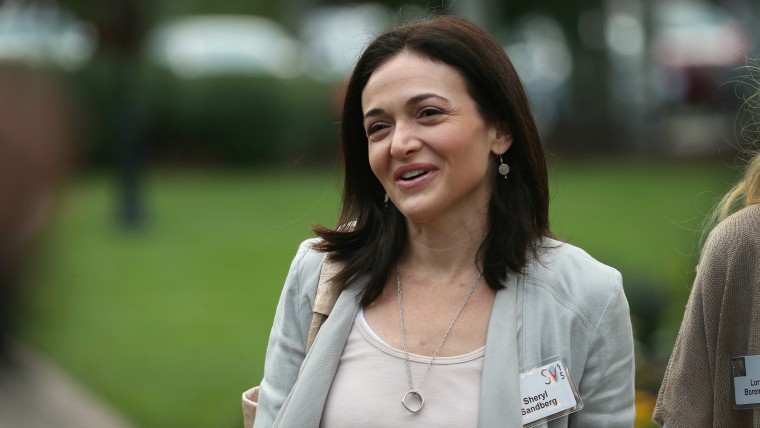 Gillan couldn't agree more that support — and not judgment — is what's needed when someone is suffering through grief. "Life, as cliché as it is, life does go on. And for many, many people, life means finding another lifelong partner," she says.
"And so being supportive, being curious, trying to get to know what in that relationship … they're attracted to. But just be curious and supportive."