When actress Jennifer Aniston tied the knot with Justin Theroux this month, she became one of the most famous members of a growing population: women who marry younger men.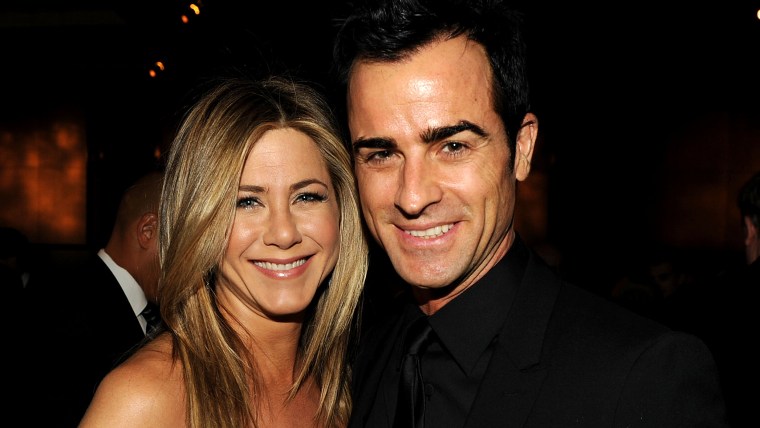 The number of married couples with wives who are at least two years older than their husbands has jumped 67 percent in the last 50 years, according to a new analysis by the National Center for Family & Marriage Research at Bowling Green State University.
"I do think it's notable," Susan Brown, co-director of the center, told TODAY.
"It speaks to the ways in which marriage has become more flexible and individualized. So these traditional notions about whom we can marry — who would be an appropriate husband or wife — have gone by the wayside and we're now more accepting of different types of partners and mates."
Aniston, 46, and Theroux, 44, fit the trend perfectly. One reason women are choosing younger spouses is that it's more socially acceptable to do so, Brown noted. Another is that the boundaries between the traditional role of the husband and the wife are blurring, with women often earning as much or more than their spouses, and men becoming more involved in child rearing and running the household, she added.
Read more: Can modern dads have it all? Work realities clash with Millennial men's ideals
Meanwhile, the number of marriages with husbands who are at least five years older than their wives declined from almost one-third of all couples 50 years ago to just one-quarter today.
"As we see more flexibility in mate selection and defining who is an appropriate spouse, it means that women have more options now," Brown said. "They don't have to marry a man who's older than them. They can pick someone who's a few years younger, and that will be acceptable and viable."
Still, the overall share of marriages where the wife is at least two years older than her husband is small. That 67 percent increase represents the number of "cougar wives" jumping from 9 percent in 1964 to 15 percent last year.
The share of marriages where the wife is at least five years older than her husband is even smaller, at 6 percent today. But that's still double compared to 50 years ago. The numbers are based on data in the Current Population Survey.
Brown believes the number of marriages with older wives will continue to grow.
"Now that women and men alike are getting married at older ages than they did in the past, that could also shift the calculus of who it is you want to get married to," she said.