Linebacker Shaquem Griffin has shown that even though he may only have one hand, it's determination that matters most.
The University of Central Florida star, who had his left hand amputated when he was 4, wowed scouts at the NFL scouting combine last month with his strength and speed, his latest bid to silence any doubt about his abilities.
Now he is looking for a pro team to call his name at this week's NFL draft, which begins on Thursday and runs through Saturday.
If he's selected, Griffin will make league history as the first one-handed player to play in the NFL. But he is looking to be known for much more than that.
"It gets tiring,'' he told Craig Melvin on TODAY Monday. "I'm gonna put all that to rest. I'm gonna be called Shaquem Griffin the football player, not Shaquem Griffin the one-hand wonder.
"I don't need that name. Just call me Shaquem Griffin the football player. I'm good with that."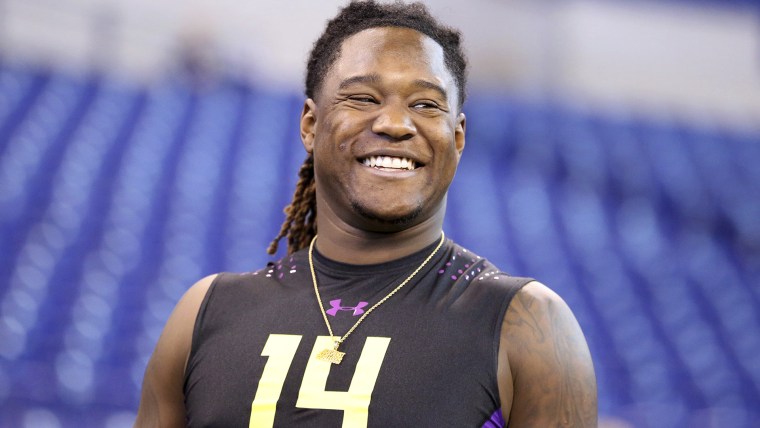 Griffin, 22, did a remarkable 20 repetitions of 225 pounds on the bench press at the combine in Indianapolis — nearly double his personal best and in line with other top prospects — using a prosthetic left hand.
"I don't even like hearing words like (handicapped),'' he said. "Because if you got a disability or a handicap, that means you're limited to certain things. And I don't feel like I'm limited to nothing. I can do anything anybody else can do."
Then he went out a day later and ran the 40-yard dash in 4.38 seconds, the fastest time ever recorded for a linebacker at the NFL combine.
"I knew no matter how good I did, no matter everything that I pushed for, there's always gonna be some type of doubt,'' he told Melvin. "Some people want to put limitations on what I can do. And I knew that because it happened in Little League, it happened in high school, it happened in college.
"I knew each and every step in every phase of my life there's gonna be some type of doubt. It's gonna be like, 'You know what? This guy can't do this.' But I think I've been doing pretty well with showing people what I really can do."
Many established NFL stars were blown away by Griffin's performance.
Griffin was born with a rare condition known as amniotic band syndrome, which prevented his fingers from growing properly.
The pain was so intense that Griffin's mother caught him with a knife ready to cut his hand off when he was 4 years old, she told Sports Illustrated. That frightening moment prompted the decision to have his hand amputated, and he's never looked back.
"It was so sensitive to touch, and we were aggressive kids,'' he said. "We always used to bump it, or I'd get a cut on it, and it would just be extreme pain."
Griffin almost didn't get a chance to impress the scouts at the combine despite being the American Athletic Conference Defensive Player of the Year in 2016 and leading the Knights to an undefeated season this past fall.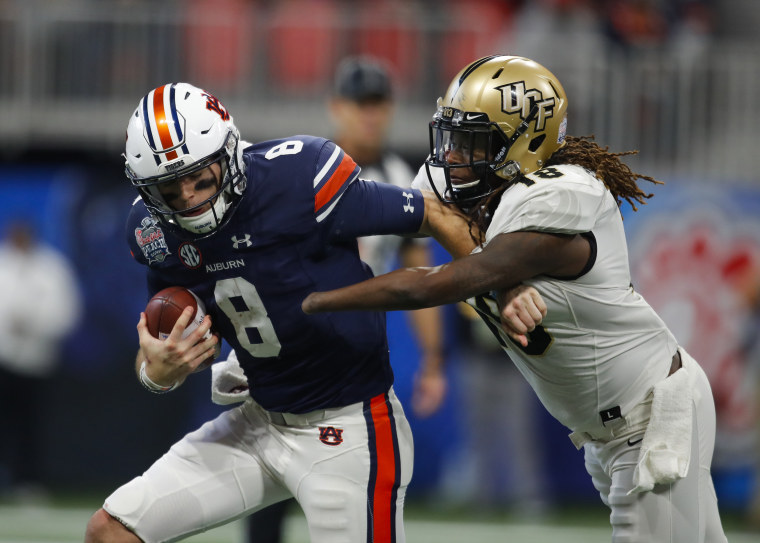 He wasn't initially selected to the combine until receiving a late invite on Jan. 30 after being picked to play in the Senior Bowl, an annual event that showcases the top senior prospects in college football.
Griffin's 40-yard dash matched the time run by his twin brother, Shaquill, at last year's NFL combine, which is even more impressive considering Shaquem is 33 pounds heavier.
Shaquill, a cornerback who also starred at Central Florida, went on to be drafted in the third round by the Seattle Seahawks.
"Extremely proud,'' Shaquill said on TODAY about his brother. "It's still kind of hard to explain, to put into words. No one understands what he's been through, and I've been there every step of the way. He's a huge inspiration to me."
Shaquill's head coach, Pete Carroll, broke from the norm of stoic NFL evaluator to pump his fist at Shaquem's blazing 40-yard dash time on Sunday.
Griffin now looks to join his brother in the NFL and make history in the process. What could've been considered a handicap instead has driven him to be a better player.
"It's kind of funny, my brother said that before, too,'' Griffin said. "He was like, 'If you would've had two hands, I think you would've been lazy."
Follow TODAY.com writer Scott Stump on Twitter.