Shannen Doherty has bravely endured another round of radiation and as usual her mom, Rosa, was right by her side.
The former "Beverly Hills, 90210" star shared an Instagram photo of herself and her mother taken inside the hospital on Tuesday.
"Another day of #radiation," wrote the surprisingly chipper 45-year-old actress. "Today my mom came with me because even though I'm so tired after, I'm going Christmas shopping!!!"
Doherty revealed that she got her equally devoted husband, photographer Kurt Iswarienko, a Christmas gift. "I love the holidays," she wrote.
The actress, who's been courageously documenting each stage of her breast cancer battle on social media, underwent her first radiation treatment last month, and candidly revealed that she found the process "frightening."
RELATED: Shannen Doherty begins radiation treatments in breast cancer battle: 'I hate it'
"Something about not being able to see the laser, see the treatment and having this machine moving around you just scares me. I'm sure I'll get used to it but right now.... I hate it," she wrote in an Instagram caption.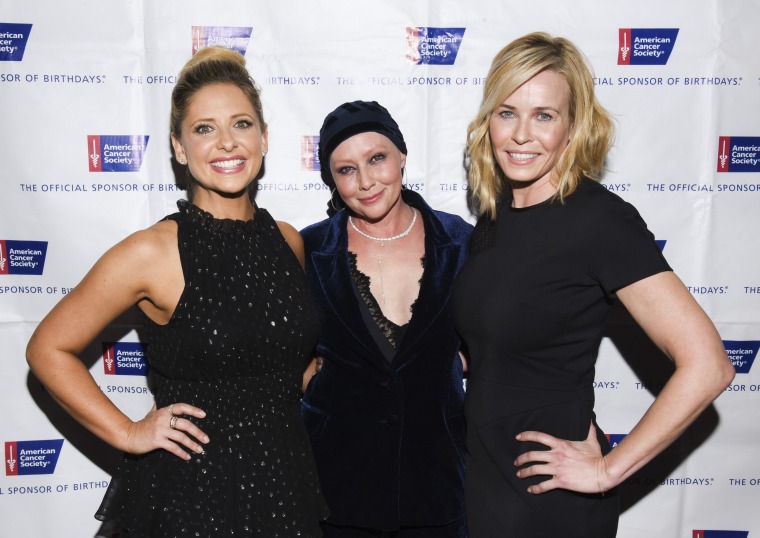 Doherty's fans and her Hollywood pals continue to praise the star for her unflinching honesty during her battle.
The former "Charmed" star, who was diagnosed in 2015, was awarded the American Cancer Society's Courage Award in November.
In her acceptance speech, Doherty revealed that cancer had made her aware of the love in her life. "Cancer has changed my life for the better," she said. "It's made me a better human being."
"It exposes who's not really truly there for you and who really is there for you," she continued. "It's this brilliant thing where you just look around and think, 'Oh my God, this person is amazing. They're showing up for me in a way I never expected'."
From her early days as a child actress through her "Beverly Hills, 90210" stardom, see Shannen Doherty's most memorable moments.