With a fast-moving and sometimes deadly flu season still peaking, many Americans are scrambling to get vaccinated.
The latest data from the Centers for Disease Control and Prevention shows that 49 states are reporting widespread activity as of this past week and a big increase in the number of people hospitalized with the virus.
Since the season began late last year, 30 children have died due to the flu, compared to five last year at the same time, the CDC reported Friday.
And, things seem to be getting worse. During the second week of January hospitalizations increased by nearly 40 percent compared to the previous week.
To put this year's flu season in perspective, there have already been three times as many cases this season as there were at the same time last year.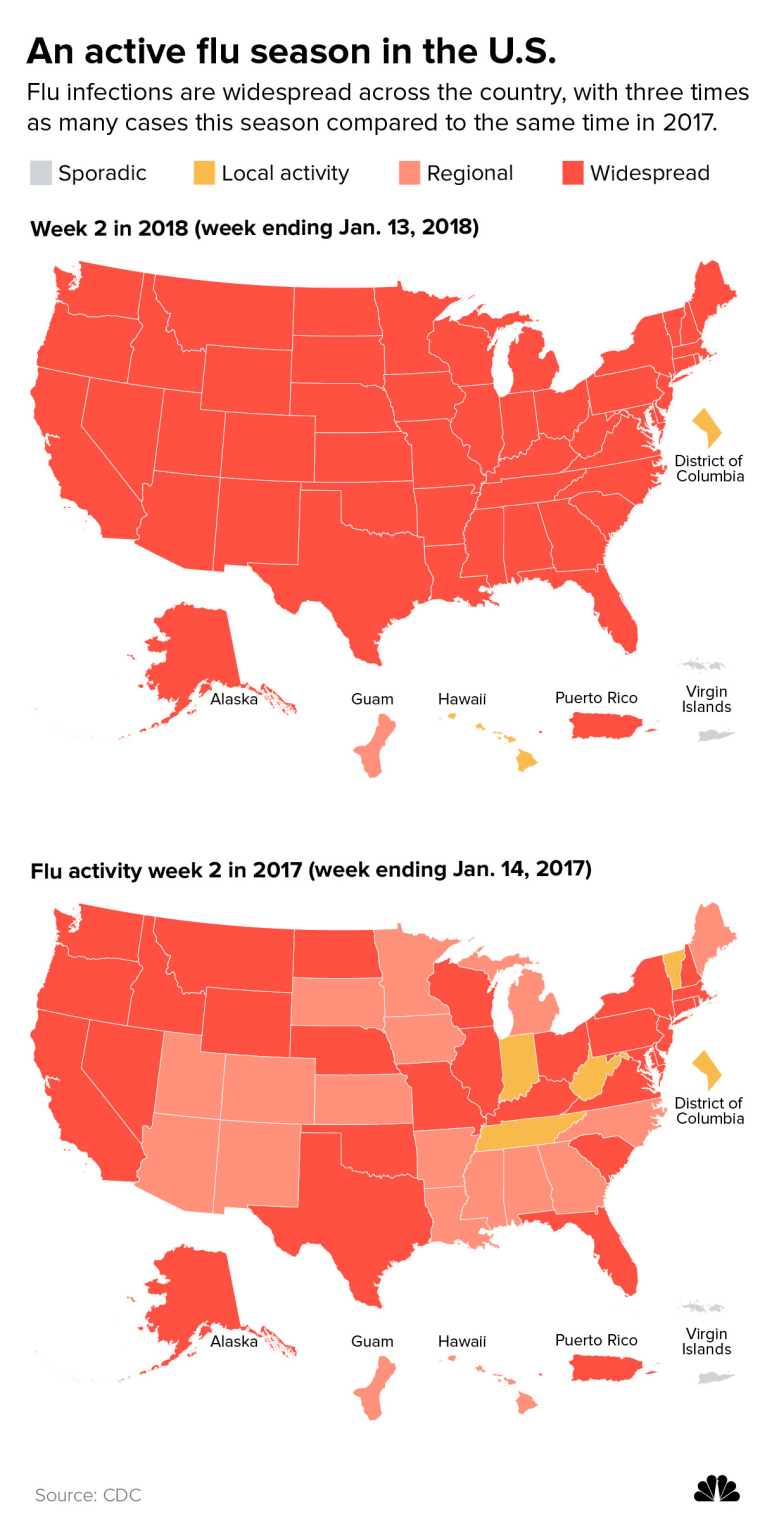 That's why the CDC is urging folks who haven't been vaccinated to get a flu shot as soon as possible. While this year's vaccine isn't very good, it may keep you from getting so sick that you need to go to the hospital, experts say.
That's because the vaccine will have stimulated at least some immune response and even if it's not enough to completely protect against the flu, it will most likely make the illness less severe.
This year the CDC recommends that seniors get the "high dose vaccine," which is designed specifically for people 65 and older and contains 4 times the amount of antigen as the regular flu shot. It is associated with a stronger immune response following vaccination (higher antibody production)
For people who want to get vaccinated now, there don't seem to be any major shortages of vaccine yet.
TODAY checked with some of the major pharmacies to get a sense of the availability of shots around the country. Most say they're seeing an increase of people requesting the flu vaccine but supplies are holding up.
CVS Pharmacy
"The company is not experiencing a widespread shortage of the flu vaccine at this time, but we are seeing increased demand nationwide," said spokesperson Amy Lanctot. "We're continuing to supply stores with the vaccine using our existing inventory network, but there may be instances when an individual pharmacy could be temporarily out-of-stock.
CVS — the largest pharmacy chain in the US with 9,600 stores — recommends patients call their local CVS pharmacy in advance since inventory varies day to day.
CVS charges $40.99 for the standard shot and $66.99 for the high-dose vaccine.
Walmart
"We are not experiencing any shortages in flu vaccinations," said company spokesperson Erin Hulliberger.
Walmart is also seeing increased demand for the flu shot at their pharmacies. Their prices typical range from $29 to $69, Hulliberger said.
Rite Aid
"We've had no supply issues and we have flu shots in all of our stores," said spokesperson Ashley Flower.
With the flu season typically lasting through March, Rite-Aid is urging customers who haven't yet gotten vaccinated to get their flu shots.
Kroger
The company "has an ample supply across the country," said spokesperson Kristal Howard. "Kroger continues to experience high customer demand for the flu vaccine and we are also experiencing an uptick in customers seeking flu treatments."
For those without insurance coverage for the vaccine, Kroger charges $40 for a standard dose; $60 for the high-dose shots.
To find flu shots near you, go to VaccineFinder.org.