Women's physical fitness of the mid-twentieth century wasn't limited to the vibrating belt, we're reminded in a self-defense "soundie" from 1947 making fresh rounds on the Internet. "Judo Jymnastics" is a 3:07-minute black and white cavalcade of judo throws, demonstrated by the romper-attired Mary Parker against her would-be attacker, Lou Leonard.
Not even a gun to the back rattles this well-trained athlete in kitten heels with ankle straps. Parker repeatedly thwarts her trunks-and-muscle tee-wearing attacker, knocking nary a hair from her well-coiffed victory roll. Her moves are admired by fellow gym attendees, including one woman (uncredited) seemingly inspired to improve her upper body strength.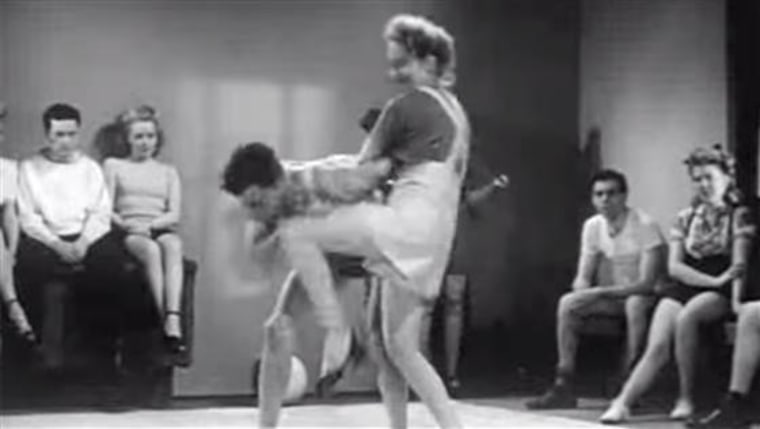 The observer smiles wide while working out on arm pulleys, albeit with questionable form. Good thing such moves utilize the attacker's strength over the would-be victim's. Even so, "Judo Jymnastics" likely does more to trim the waist (and firm the core) than stop a less cooperative assailant.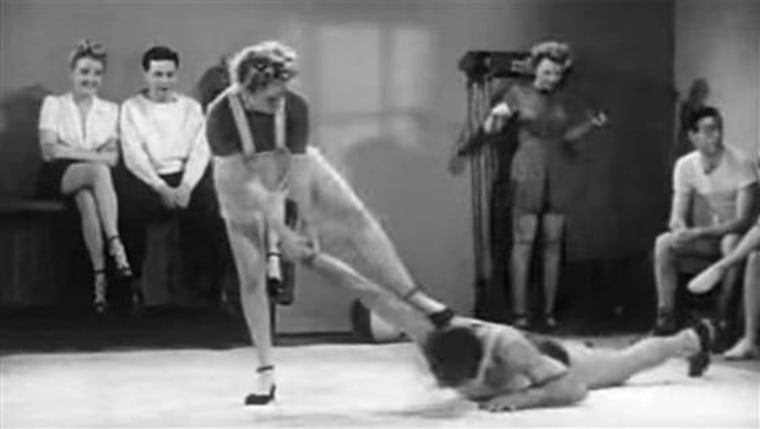 Yet, between our obligatory giggles, consider how contrary this newsreel likely was in 1947. Women of the day were often discouraged from vigorous exercise, lest they disrupt their delicate lady organs. What's more, two years after VJ Day, women were encouraged to leave their wartime jobs and return to the home.
A woman who can take care of herself is an inspiration in any decade.