After being diagnosed with lupus five years ago, Selena Gomez rarely missed a beat in her fast-paced lifestyle. The pop star continued to perform, make new albums, and even act in movies despite suffering from debilitating pain and anxiety.
"I would get fevers, headaches. I would get fatigue. But I always just kept going," she told TODAY's Savannah Guthrie in an exclusive NBC News interview. "I kind of ignored it, to be honest, because it wasn't something that maybe really I wanted to accept."
Her illness eventually caught up with her when her kidneys deteriorated and forced her to seek a transplant. She received one this past summer thanks to a special donor, her best friend, actress Francia Raísa.
The two opened up for the first time about the hush-hush operation to TODAY, describing details leading up to the procedure and how it dramatically changed their lives.
Before the surgery, Gomez, 25, had become increasingly ill but refused to acknowledge how sick she had become.
"I don't think I made the right decisions. Because I didn't accept it. And that's extremely selfish, and at the same time, really just unnecessary. I'm not really proud of that," she said.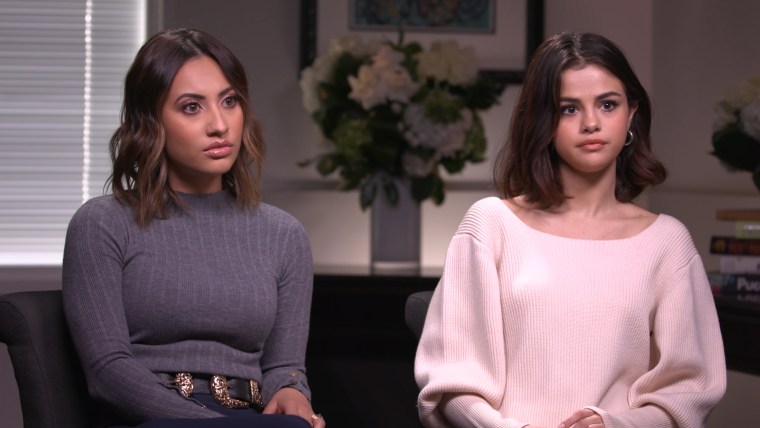 Gomez eventually took take some time off last year to deal with anxiety, panic attacks and depression triggered by her lupus, an autoimmune disease that affected her entire body.
"I went away to a facility. I took some time off. I needed to get my mind right, be healthy," she said. "I removed myself from everyone in my life."
Raísa, 29, grew worried by the absence.
"We went six months without speaking," she said. "It was a huge lesson of friendship for me, and trust. Because it's easy to feel offended or want to be there. It's just, they need to go through their own thing."
Today, Gomez is feeling better than she has in years thanks to her transplant. Her arthritis has disappeared, her blood pressure is lower and her energy has increased.
The pair kept the procedure secret until months later when Gomez shared news about her transplant through an Instagram post in September.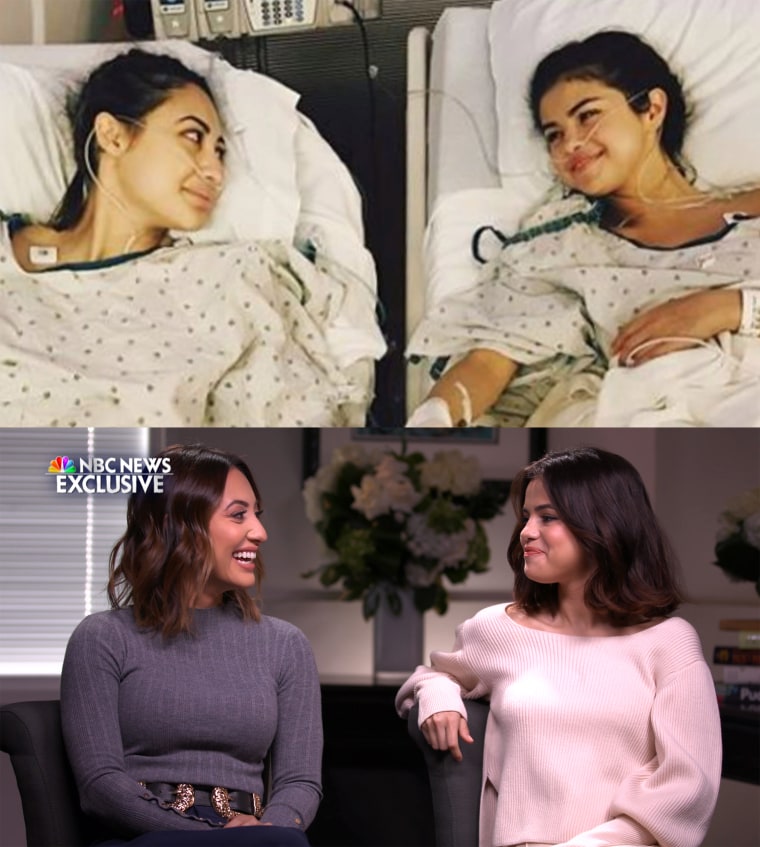 Both now hope to encourage others to consider organ donation. Their story has already raised tremendous awareness about lupus, "a misunderstood disorder," says Ken Farber, president and CEO of the Lupus Research Alliance.
"Very few people knew what it was. All of that has changed and it's no exaggeration to say the reason awareness is so much better now than it was is because Selena has been brave enough to tell her story," he said.
Both Gomez and Raísa credit their faith for guiding them through the journey.
"What I believe is that it does happen for a reason," Gomez said. "I think a huge part of my discernment and my honesty and my truth has been because I've had a relationship with God."
Gomez said she doesn't want people to feel sorry for her.
"I don't want people to think it's a sad thing that I went through this with Francia or with anything in my life," she said. "I think all of the stuff that I went through made me and defined everything that I am right now. It's a really beautiful thing and I have to remind myself of that. It's not a negative experience."
Both women are back at work. Raísa's upcoming series, "Grown-ish," premieres in January on Freeform, and Gomez will be performing for the first time since her operation at next month's American Music Awards.