A woman may spend thousands of dollars on menstrual products over her reproductive lifetime. With periods a fact of life for half of the population, should pads and tampons be free?
Many lawmakers in Scotland think so. The country is set to become the first in the world to offer period products free to women with a bill that just became closer to becoming law. The Scottish Parliament backed the measure in a 112-0 vote last week, with one abstention.
The government estimates the effort would cost $31 million per year. Scotland already makes period products available for free in schools and colleges.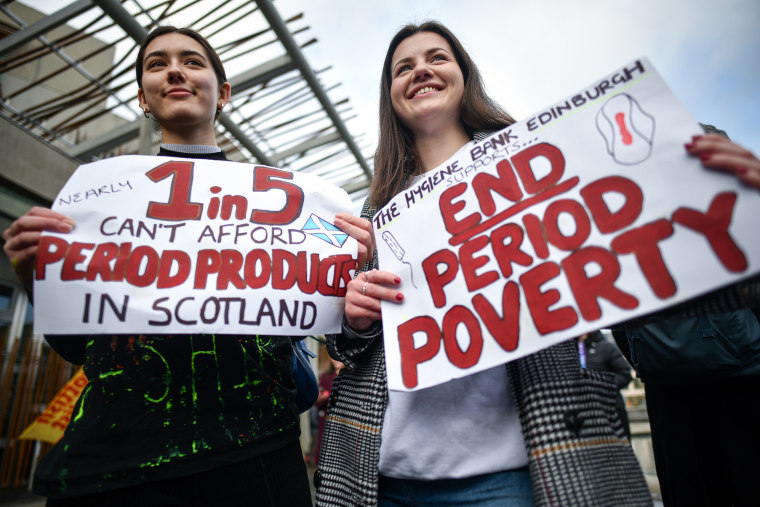 The new bill, introduced by lawmaker Monica Lennon, must go through two more stages before it's passed.
"Menstruation is normal. Free universal access to tampons, pads and reusable options should be normal, too. Period dignity for all is not radical or extreme, but is simply the right thing to do," Lennon said during a debate of the bill.
Women would get pads and tampons for free through a government "period products scheme." That might mean a voucher or some other method "reasonably easy for applicants to follow" yet to be worked out, according to the bill.
The goal is to end "period poverty," or the inability to afford or easily find pads and tampons. One in five women in the U.K. will struggle to access period products at some point in her life, Lennon noted.
In the U.S., a recent study found period products are a basic necessity that many low-income women lack. Almost two-thirds were unable to afford pads and tampons during the previous year, and about one-fifth experienced this problem every month.
American OB-GYNs praised the effort in Scotland, but were skeptical a similar bill would be successful in the U.S.
"I think it's a fantastic idea," Dr. Christine Greves, an OB-GYN at Orlando Health Winnie Palmer Hospital for Women and Babies in Florida, told TODAY.
"Giving sanitary products could be a gateway for people to have more access to healthcare. If they bleed heavily, for example, and need more products than usual, that could open the conversation to possibly seeking help."
"It's lovely that they're doing that," said Dr. Lauren Streicher, a clinical professor of obstetrics and gynecology at the Feinberg School of Medicine at Northwestern University.
"(But) before we talk about free products in the U.S., we need to address the fact that there are still states where they're taxed. Forget free. Women are paying a luxury tax for menstrual products."
More than 30 states still impose sales tax on pads and tampons even though other necessities — including groceries and prescription medications — are exempt from those taxes.
Tax Free. Period. — a movement to end the "tampon tax" — calls it a form of discrimination.
There are many American women who can't afford period products, among other necessities, Streicher said. Still, she estimated the chance of a bill similar to the one in Scotland passing in the U.S. was "zero."