It happens every summer: There will be a hit of the season, it will be played endlessly, and you will be unable to escape its hooked tentacles. This year, that song is Walk the Moon's "Shut Up and Dance."
See? We knew you'd know it. But what is it about those "songs of the summer" — or for that matter any massive hit — that puts them above and beyond the thousands of other songs out there? Turns out the key may be as simple as ... simplicity.
"Tempo does not appear to matter," say researchers at the University of Southern California, who have studied every Billboard hit since 1958 and published their findings in the Journal of Consumer Psychology. "While every artist strives to create a catchy hook, they may also consider striving to write a coherent song in which the chorus is repeated frequently while utilizing a limited vocabulary."
Say researchers, the concept of "processing fluency" means they're very sticky on our brains. We get excited about things that are easily understood.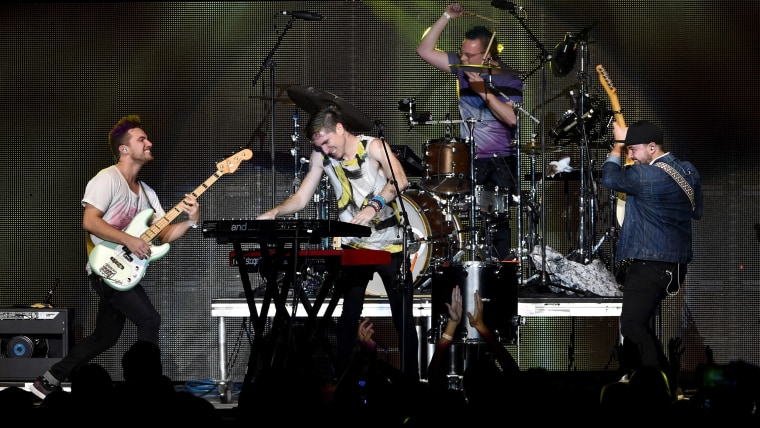 "If it's easier, it feels better," Joseph Nunes, a USC professor who co-authored the study, told The Washington Post. "If it feels better, it tells me I like it more. If I have a positive feeling about something because it's familiar, then I like it more."
The key words in "Shut Up and Dance" are about as basic as you can get and are repeated 12 times in the tune. Now, think about other big hits like Meghan Trainor's "All About that Bass" ("bass" is repeated 40 times), or ads like Chili's classic "I want my baby back baby back baby back ribs." Very simple, very sticky.
Of course, "like" is a relative term. Lots of repetition within a song, with a song that is itself played over and over again can cause reactions that span the spectrum.
As Guy Bommarito, the writer behind that Chili's tune told Grammy.com, "Some people would say, 'If I hear it again I'll stick a fork in my eye,' while others would say that's their favorite jingle ever. It was polarizing."
So hold out until the end of the summer. There's bound to be another very simple tune to catch your ear, and this way you can avoid sticking a fork where it doesn't belong. In the meantime, shut up and dance with us.