"Restless Virgins" is an honest, intimate look at the lives of today's teens, told through the true experiences of friends at a New England prep school called Milton Academy. The public face of Milton had always been one of integrity and pride, until a sex scandal rocked the campus and made headlines in the spring of 2005. Here's an excerpt:
Chapter One: Everybody's Watching
Eighties music blasted from a dorm room down the hall. Annie could hear it from her own room, where she sat up in bed and forced her eyes open, her wavy blond hair everywhere.  It was early morning on orientation day at Milton, and she could already hear the other girls in Pryce House clogging the dorm's narrow hallways. They ran between bathrooms and bedrooms, screaming about summer romances and hugging as though it had been forever.  I love your haircut! How was your trip? Did you go back to camp? Who do you wanna hook-up with this year? Annie stared at the bare walls of her tiny single room, wondering how much she'd changed that summer and what would become of her that year.
Her first few days as a senior had been packed with the usual excitements and stresses; younger Pryce girls bombarded her with questions, orchestra and dorm commitments beckoned, and so did senior tasks, like checking in with the college office to continue calculating the ever-looming future. 
But Annie couldn't even begin to grasp the enormity of what she had to do that year: get good grades; perform with the full orchestra and chamber orchestra; take the SATs; pick a college; apply early to that college, which meant writing essays, filling out forms, and having an interview; wait to find out if she got into that college; prepare additional applications in case she was rejected or deferred; pass exams; love senior year; find a way to drink and party over spring break; perfect her senior solo for the spring concert, which would take up at least three hours of practice a day; relish senior spring; make new friends; change her image; not obsess over boys; find a steady hook-up, make him a boyfriend, lose her virginity, fall in love, or at least in like; and generally live up to the standards set by her civic-minded parents. 
Over the first few days of school, there were times when Annie came back to her dorm room at night, closed her door, and cried.
But everything always looked better in the morning, so Annie bounced out of bed, stumbling over piles of black and white posters of the 1920s and glossy Absolut vodka ads that she hadn't had a chance to hang on the walls. She put on vintage Madonna and riffled through her clothes.  In about an hour, Senior Walk In would begin, a coveted rite of passage at Milton that took place at the first morning assembly of the school year, which was held on the basketball courts in the Athletic and Convocation Center (ACC). Seniors charged onto the makeshift stage from behind a curtain, wearing outrageous costumes, pumping their fists, proclaiming the start of the school year in front of the upper school. Annie remembered the first Senior Walk In she saw. She was a freshman and sat on the bleachers with the rest of the underclassmen, watching the seniors in Pryce prance out like confident leaders who knew exactly what they were doing.
Now, after three years at Milton, Annie knew that appearances mattered. She wanted to assemble an outfit with the right blend of appropriateness (for the teachers), hotness (for the guys), and individuality (for herself). She was fleshy, a Rubens girl with a curvaceous body, breasts the size of baby melons since they'd first cropped up in fifth grade. She accepted her full figure. She had even come to terms with her acne, applying foundation over the pimples that marked puberty on her face. She'd always been reticent about her breasts, and still didn't understand how even they never garnered her attention from guys at school.
She inherently understood her social status: the aspiring socialite who had yet to expand her celebrity since middle school. Senior Walk In was her last chance to make another first impression at Milton. This was a moment of possibility. Some seniors' reputations already had been made, but change was not impossible. This was also a moment of vanity. Seniors considered who they had become (the jock, the academic, the prude) and what lasting impressions they wanted to leave with their friends and teachers. Because Senior Walk In was, after all, the genesis of their final teenage fate — the last year of high school.
Annie squeezed her thighs into a short black skirt and pulled a simple black shirt over her chest. She shuffled up to the mirror. The dimple in her chin was adorable and her cheeks were, as usual, a shade redder than she wanted. Annie liked her outfit. While some Walk In costumes materialized out of closets that very morning, Annie and the other senior girls in Pryce started planning their outfits that summer, communicating over e-mail (Get your bumblebee headbands!  Get something crazy!), and agreeing to be bumblebees because they'd each been willed a perky antennae headpiece with glittery yellow-and-black-striped balls from the girls who'd graduated the year before. Wills were a serious business among boarders. The night before graduation, seniors in each of Milton's eight single-sex dormitories passed down personal tokens to favorite underclassmen. Many boarders waited their entire Milton careers for this ritual, while underclassmen loved receiving coveted bequests that they then carried with them until it was their turn to pass them on.
Annie went to the closet to find the finishing touch to her costume, the bumblebee antennae she'd received the previous spring. They rested on a shelf above her hanging clothes, and were important because they were a status symbol that tied her to a specific dorm and a specific group of girls. On the morning of Senior Walk In, they quivered delicately each time she took a step, bobbing like a marionette, just enough to remind Annie that she, too, belonged.
Milton AcademyMilton's 125-acre spread of manicured quads, rolling hills, and prep school charm woke up from desolation just as Annie was getting ready in Pryce. Students arrived by bus or carpool, or from houses and dorms a few minutes away. They headed toward the ACC for Senior Walk In, cutting across various quads and fields, often jaywalking on Centre Street, the main road that cuts the campus in half. With understated elegance, the academy sprawls out in its own cushy corner of Boston's intellectual history and affluent past. The picturesque landscape is a place where the relics of early America still endure, the old stone chapel, white picket fences, and redbrick buildings upholding the New England values of virtue and purity.
Established in 1798, Milton is one of the oldest prep schools in the United States. It's a breeding ground of privilege, where students from all over the country and the world are groomed to go on to some of the best colleges and universities. The girls' and boys' successes feed the school's public image — the elite prep school that has educated luminaries like the Kennedys and Roosevelts; and T.S. Eliot, Buckminster Fuller, and James Taylor. Milton promotes an open approach to education, where teachers lead students in pint-size, seminar-style classes held around large Harkness tables or among clusters of individual desks. Annie was just one of the many talented girls and boys to come through the school, chasing dreams and expectations.
As girls and boys arrived on the morning of Walk In, they dropped their backpacks and shoulder bags in random locations around campus, identifiable only by the make (Eastpak, the North Face, Hervé Chapelier) and the owners' embroidered initials. This was a very Milton tradition.  The close-knit community nurtured an environment that made it possible to abandon personal belongings by a tree or in a hallway and trust that they would be there later, when it was time for class, the library, or the bus ride home. But the haphazard behavior also stood in the way of neatness and order. Unlike rival prep schools such as Noble and Greenough (Nobles) and Roxbury Latin, Milton rejected dress codes and seemed to have fewer rules for its students to follow.
Inside the ACC, students walked past sleek glass trophy cases and framed pictures of Milton sports teams. The building was a new and formidable shrine to athletics. Older team photos, dating back to the 1900s, were kept next door, in the Robert Saltonstall Gymnasium, called the Old Boys' Gym, as though Milton's lengthy athletic history had been rewritten when the ACC opened in 1998. Underneath its monstrous roof were three glossy basketball courts, an indoor track, an ice hockey rink that converted into tennis courts, a fully equipped fitness center and training room, individual team locker rooms, and coaches' offices. Yet the cavernous basketball field house, where Walk In took place, was surprisingly bland. There were no images of Milton's mascot, the mustang, or murals painted in the school colors, orange and blue. The only noticeable details were the banners from the fifteen other prep schools in Milton's athletic league, the Independent School League (ISL). Thayer Academy, jocks.  Belmont Hill School, all boys. St. Paul's School, snobs. Nobles, archrival. The banners hung lifelessly from the high ceiling and seemed only inches long, like misplaced dollhouse decorations.
A white-netted curtain fell like a petticoat from the rafters between the first two basketball courts. On one side, freshmen, sophomores, juniors, and faculty members took their seats on bleachers, facing nearly two hundred fold-up seats, arranged in rows for the senior class. A wood podium stood center stage, another dollhouse trinket, with the message "Dare to Be True."  As the school year went on, students would roll their eyes at the sight of this setup, an ominous signal that a required formal event or assembly was coming.
On the other side of the curtain, seniors loitered in a swarming mass, waiting eagerly or fretfully for Walk In to begin. They were on the lookout for what the summer months had done to their exes and crushes, and hugged friends they hadn't seen since the summer or the end of junior year, simultaneously checking each other out.
I love her costume.
She looks like a whore.
Is it almost time?
Ohmygod, did Reed just smile at me?
I think he said hi to me.
Is my shirt too low-cut?
Did that teacher just give me a look?
Can't this all be over?
The seniors were supposed to be having the time of their lives, because in just a few more minutes they would finally burst onstage — behold the happy, talented, united class of 2005.  But this was no romantic movie. Any insider knew that this mob was in fact a complex teenage creature all of its own, governed by a distinct social and academic hierarchy, sustained by friendships and crushes, lust and desire, well versed in the art of dicking someone over. The social divisions among the seniors had been brewing since freshman year, when one's social status was based largely on looks, first impressions, interests, and personality (probably in that order). At Walk In, what you wore was intrinsically tied to who you were, and reminded everyone who was in, who was out, and who was not even worth considering.
Annie's blond hair was gorgeous — past her shoulders, filled with movement — and she stood with her dorm mates, dressed up in her short skirt and bumblebee antennae, hoping to God no one noticed the overwhelming size of her chest. Her bright purple heels added three inches to her height, but she blended in more than she wanted to. On the outside she was all smiles, saying ohmygosh hi! to anyone she could. But everywhere she looked was another senior girl flaunting her perfectly proportioned body, or standing next to a boy, arm in arm, laughing.
There were the popular girls dressed up as scantily clad rock stars. They always looked as if they'd been born beautiful, with perfect hair and perfect smiles from the day they'd come screaming into this world. Wandering nearby was a boy dressed as Hugh Heffner. The football guys sported black spandex shorts, complete with a pair of socks shoved down their pants in just the right spot. Annie also spotted pirates, cowgirls, and farmers. Six girls were dressed like pumpkins and strawberries. They weren't sexy like the popular girls, but goofy with fake white leather boots, pink or orange wigs, and matching A-line velvet dresses straight off the rack at iParty. Annie wasn't impressed by the idea of a store-bought costume, but she would have worn one if it meant she could have been a strawberry, a pumpkin, or anything else, just to be in their group.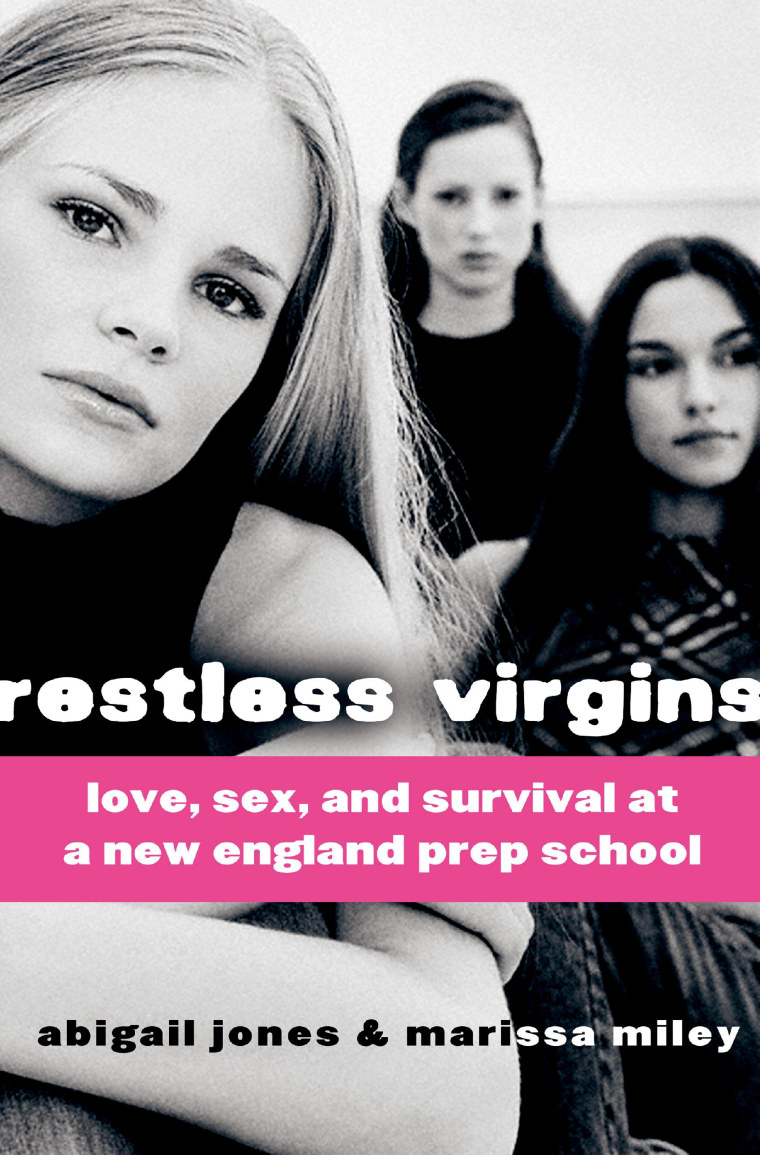 A senior in Pryce cruised past Annie on a skateboard — or, more realistically, was tugged by another senior girl. These two were part of the Pryce Girls, a popular clique of seniors in the boarding community. They both had bumblebee headbands, though their matching head-to-toe tie-dyed outfits were far more noticeable, especially to Annie, who couldn't believe they tried to upstage their dorm's chosen costume theme. But the Pryce Girls were confident and daring.  From time to time they ran around topless on campus at night, and once attended chapel services wearing nothing but their winter coats. Annie thought they always looked like they were having the time of their lives.
Annie regarded the two girls thoughtfully, somewhat resentfully, knowing there was once a time when she was set to become one of them. She and the Pryce Girls were now pretend friends, but Annie had been part of the clique when she first started at Milton. Most of the girls were just like her: white, upper-middle class, and obsessed with boys, magazines, appearances, and kissing. The similarities were comforting, but Annie had watched the gulf grow larger between the Pryce Girls and her after freshman year.
When I was drunk I did this, the girls would say.
            Oh, I love doing this sort of alcohol.
            Oh, I love tequila shots!
            What's tequila? was all Annie could think to add.
She realized that there were social milestones and she'd already missed a big one. By junior year, most of these girls had been to parties, smoked weed, had boyfriends, and lost their virginity. Over time, Annie wanted more than a group of friends who looked and spoke and sounded just like she did. The friends she had senior year were quieter and interesting. They were white, black, and Asian, some from countries she'd never been to, and had life perspectives and experiences that were completely different from her own. Her best friend, Ida, held a prestigious leadership role at school. She was better than a Pryce Girl — a unifying force in the senior class and friendly with everyone, or at least that's how Annie saw it. Annie genuinely loved Ida, but she never quite got over the loss of a well-defined friendship circle.  Even at a school where students were raised to believe in their unique talents, there was always the desire to be associated with a particular clique — to be tagged as a jock, a popular girl, or an artsy boy, even if it wasn't the identity you preferred. Having a group was better than having no group at all.
The ultimate achievement, of course, was being singled out from that group — the popular one, the pretty one, the most kissable one. Despite her efforts, Annie had spent all of high school perfecting the art of contentment. To her classmates, she was nice and sweet, and she could accept that fact — to a certain extent. Now, on the eve of her senior year, she couldn't face another year without a Milton boyfriend, or at least a boy in her life. Annie knew how reputations worked. They can be based on friends, sports, and accomplishments, but they're intrinsically tied to who you date, who you hook up with, and how far you go.
While growing up in Lenox, Massachusetts, Annie got attention from boys for all the wrong reasons. They pinched her butt and liked her body, but they also made fun of her for being ambitious and hard-working. Annie grew up taking honors classes and studying flute. Lenox is a creative environment, the year-round home to Tanglewood and the summer home to the Boston Symphony Orchestra; it was here, under the steady guidance of her stay-at-home mom and her doctor dad, that Annie excelled wildly. She couldn't wait to go to Milton. From what she understood, it was a place where it was cool to be smart and an individual; where she wouldn't have to balance her studious and ditzy sides depending on who she was with.
Sometimes Annie couldn't believe that she had yet to have a single Milton boyfriend. Despite her accomplishments as a musician, leader, and dorm confidante, nothing distracted from this personal social failure. More than anything — more than standout SAT scores, a top-tier college, or straight As — Annie wanted to be pursued, adored, and desired. It didn't make sense. She was pretty, wasn't she? Maybe not drop-dead gorgeous, and certainly not as thin as the more popular Milton girls, but she was definitely pretty. A talented flutist. A devoted friend. Everything about her screamed  I'm a nice girl, I have a cheery personality, and I work hard.
Annie wasn't completely inexperienced, either. She'd had boyfriends before, so she'd been validated as a girl who could have a boyfriend, and understood what it meant to kiss a boy, hold his hand, and do a little more. For two long years, she'd been hooking up with Scott, a public school guy from her hometown. She first noticed him when they were in middle school; he was a year older, had great hair, and played on two middle school boys' varsity teams. He was also dating the prettiest girl in Annie's class. She didn't think she had a chance. But rumors circulated that he actually liked her back, and during her years at Milton — over summer breaks and school vacations — Scott and Annie hooked-up. For kids at Milton, a hookup meant many things; a kiss, groping, no shirt, no pants, underwear on or off, everything but sex. For Scott and Annie, hooking up usually involved oral sex (on him, not her).
Even though Scott didn't call enough, like her enough, or treat her well enough, his limited affections made Annie feel wanted. But what she longed for most was attention from a desirable boy at Milton. As a senior, she realized she had one final chance to find social success. On this morning, behind the curtain, she twirled the starfish necklace her mother gave her when she graduated from middle school and waited for something to happen to her. She felt at once empowered and invisible. She loved the girl she was — honest, moral, hardworking — but guys weren't attracted to these qualities. Nothing seemed to be changing.
Excerpted from "Restless Virgins" by Abigail Jones and Marissa Miley. Copyright 2007. Reprinted by permission of Harper Collins. All rights reserved.