You've seen the commercials, the celebrity endorsements and the bold claims about CoolSculpting, a trendy cosmetic procedure that claims to reduce stubborn areas of fat.
As part of TODAY's "Does it Work?" series, Savannah Guthrie and Jenna Bush Hager decided to put it to the test to see if it benefited them.
They revealed the results on TODAY Monday, nine weeks after Savannah had the first of her three CoolSculpting applications on her arms and Jenna had the first of two done on her stomach. (Clinical studies say results will be seen two months after the first treatment.)
"Supposedly the doctors say that it works,'' Savannah said. "I don't know. I think to be clear about it, it's really just a spot treatment. We just thought it would be fun to try it."
"The thing is I felt different immediately,'' Jenna said. "After Thanksgiving break ... it comes back."
The procedures are not cheap, as Savannah's cost $5,850 for three sessions and Jenna's was $7,800 for two sessions because she had multiple applicators on multiple body parts at the same time. NBC News paid for all the treatments.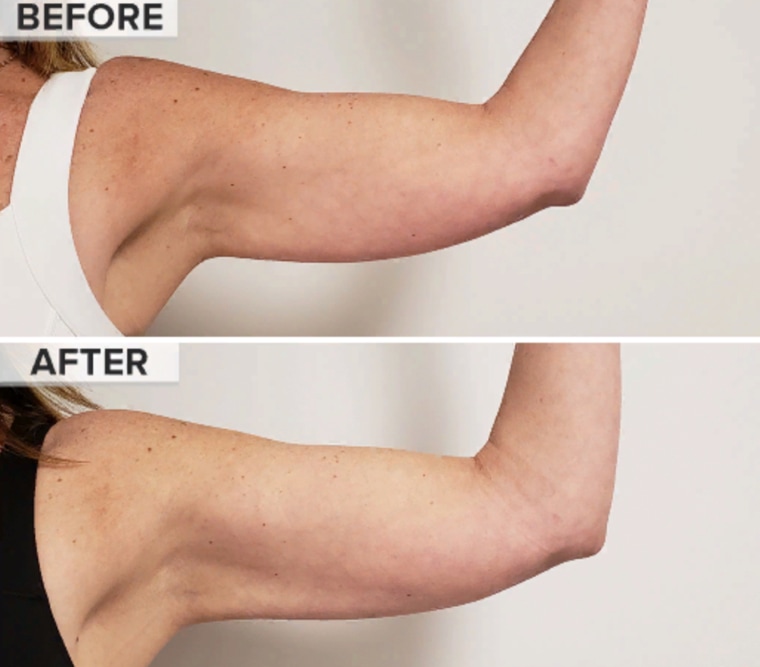 Each session cost $950 and was done by Laura Dyer, who is one of the country's top CoolSculpting practitioners and a consultant for the company.
The non-invasive procedure, which was approved by the Food and Drug Administration in 2010, lasts about 35 minutes and involves freezing fat cells to the point where it causes fat cell death.
"Because of the fact that we're freezing these fat cells to the point where we're causing fat cell death, your body will naturally eliminate them over the course of the next two to three months,'' Dyer said. "But once those fat cells are dead and gone, they are dead and gone permanently."

CoolSculpting is not a weight-loss procedure, but instead is considered ideal for people who are already in shape but struggle with small areas of stubborn fat, practitioners say.
One of the two inventors of the procedure is Dr. Rox Anderson, a professor at Harvard Medical School, who helped develop CoolSculpting into a billion-dollar product.
"There's this thing called popsicle panniculitis that happens in babies,'' he told TODAY. "If you put a popsicle in their mouth, their cheeks will get cold, and then you end up with a kid with skinny cheeks. And that was kind of the hint that this would work."
Clinical studies reviewed by NBC News showed average fat reductions of up to 25 percent in the area treated. Most patients, including Savannah and Jenna, experience minimal side effects.
"When you thaw, it does hurt a little, that's all I'll say about that,'' Savannah said.
NBC News had the results for Savannah and Jenna independently examined by Dr. Anthony Youn, a plastic surgeon from Troy, Michigan, as well as Dr. Brian Glatt of Premier Plastic Surgery Center of New Jersey. Both found a "significant" reduction in fat in the areas treated.
Some patients have reported severe pain and numbness that lasted for weeks and there have been some reported cases of the fat actually expanding, but studies suggest that side effect is rare.
"As far as it coming back, yes the fat cells go away forever, but the other fat cells can become expanded,'' Jenna said.
Dr. Anderson has had the treatment himself and said the fat reduction has lasted for a decade.
The reason for the ubiquitous ads about CoolSculpting is that the company pays practitioners to advertise the brand, covering up to 50 percent of their marketing costs in an arrangement called co-op marketing.
The company also stands by all of its before-and-after photos, saying it is monitored by the FDA and has never used Photoshop on any of the pictures.
"They are absolutely actual results that were achieved by patients,'' Brad Hauser, CoolSculpting's general manager and vice president of research and development, told TODAY.