Sarah Michelle Gellar's joke on Instagram about overeating on Thanksgiving has gone over like lumpy gravy to some of her followers.
The former "Buffy the Vampire Slayer" star posted a throwback shot of her looking thin in an underwear shoot with the caption, "I'm just going to pin these up all over my house as a reminder not to overeat on Thursday. #thanksgivingprep"
Unlike having fun embarrassing her two children or joking for her 16th wedding anniversary, her stab at some Thanksgiving humor didn't go over well to everyone.
Some felt the caption by Gellar, 41, was in poor taste given the pressure on women to have the perfect body and equating being skinnier with being healthier.
"Hey @sarahmgellar I freakin love you, but this messaging (esp for young vulnerable girls) is crap,'' one commenter wrote. "What about someone who can do both? What about considering your messages through a body-shaming/adding to shitty culture filter before posting? Your body is gorgeous, but so are all bodies - chubby, fat, curves need lifting up, not more demonising."
"Because women don't have enough reminders to starve themselves and stress about eating…" another wrote.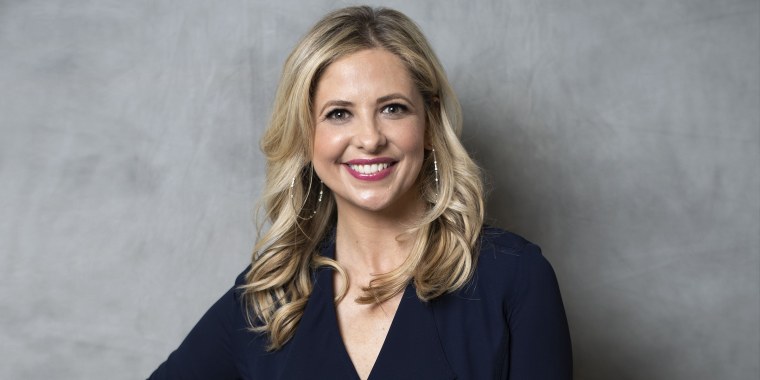 "This caption proves once more that diet culture is really everywhere and that so many women have internalized this kind of thinking," another one chimed in. "It's really a shame."
"Is that where you place your value?'' another wrote. "On the size of your thighs? Or your protruding hip bones? Nothing positive comes from this post."
Others saw it as a light-hearted joke, not a body image issue, and came to her defense.
"Not to be offensive (lol) but so many sensitive flowers offended over a completely innocuous and harmless joke. We've gone too far people, recognize!!!!" one wrote.
"Can't believe the grief this has caused,'' another replied. "Leave her alone, she looks good and if she wants to pin the picture up for motivation so be it."
"You are gorgeous and you have the right to post whatever you want,'' another said. "I applaud your hard work to look like you do and should be able to joke around. People need to stop caring so much about what you post or say about yourself and focus on themselves."
Some of Gellar's friends also chimed in with support. Actress Shannen Doherty replied with fire emojis, while actress Tiffani Thiessen wrote, "Is it weird if I pin these pics of you in my house too?"
Gellar responded to the backlash in an Instagram comment Tuesday afternoon, writing, "It's come to my attention that some people think I was 'fat shaming' with this post. That could not be further from my intentions. I love Thanksgiving and unfortunately my eyes are often bigger than my stomach, and I tend to eat so much I make myself sick. This was a joking reminder to myself not to do that."
She continued, "I'm terribly sorry that people were offended by my attempt at humor. Any one that knows me, knows I would never intentionally 'shame' any one on any basis. I am a champion of all people."