Sam Smith revealed Tuesday that he is singing the theme song to the new James Bond movie, and the announcement comes as welcome news after the singer suffered a vocal cord hemorrhage earlier this year.
The injury forced Smith to cancel more than a dozen concerts this summer, and the four-time Grammy winner opened up about the ordeal during an interview with TODAY's Natalie Morales that aired Tuesday.
"It's been a struggle to get through," he said. "I've got to plan longer resting breaks in between shows."
The "Stay With Me" singer, 23, added that he also needs to go easy on the falsetto notes.
"It's all feeling good. But I just need to stop writing songs that are too high to sing," he said, laughing.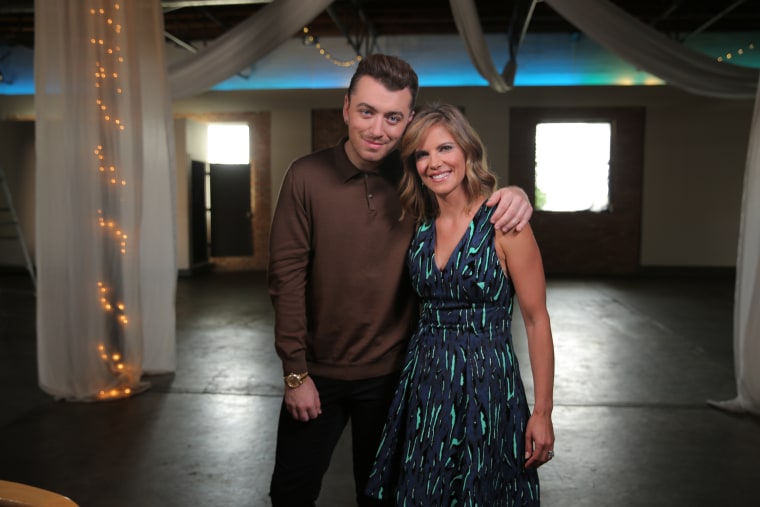 After undergoing vocal cord surgery in May, which silenced the singer for three weeks, Smith was able to resume his tour on July 3.
"It's been horrible. And sitting in silence and knowing that I should be doing shows has killed me," Smith told fans in a video posted to Twitter in June, adding that he would "try my absolute best to sing my heart out every night" during future performances.
Smith's TODAY interview also touched on the singer's dramatic loss of nearly 50 pounds, which he revealed in an Instagram photo in July.
"My relationship with food has just completely changed," he told Morales. "During the process of this album ['In the Lonely Hour'], I just was getting bigger and bigger and bigger."
Smith said when he was teased as a child, it was the taunts about his weight that really hurt.
"When someone calls you 'gay,' there's not much you can do about that because I am. Whereas, if someone calls you fat, there is something you can do about that."
Despite his healthy new lifestyle, Smith still has at least one guilty pleasure: tuna melts with a side of potato chips.
"I went to bed last night dreaming of tuna melts," he said. "I love food."
MORE: Sam Smith reveals dramatic weight loss on Instagram — and painful sunburn
Finally, Smith revealed an upcoming project that has him particularly excited: writing and recording the theme to the latest James Bond film, "Spectre," which hits theaters in November.
"It feels very weird to me to be able to do it," he said. "It's been a dream of mine for a long, long time."