Life doesn't offer a lot of do-overs; the choice you made is often the choice you're stuck with. But a terrible tattoo — that's something we can work with. More than a third of younger Americans now have at least one tattoo, and a lot of them are regrettable, apparently: According to the latest figures from the American Society for Aesthetic Plastic Surgery, 45,224 tattoo removal procedures were done in 2013, up from 40,801 in 2011. That means that, for many estheticians and medi-spas, tattoo removal accounts for a big chunk of their business. 
"Forty percent of what I'm doing is tattoo removal," said Vladimir Byhovsky, an esthetician in White Plains, N.Y. and Riverdale, N.Y. 
Amanda Bynes, the Nickelodeon child star who had a very public meltdown last summer, is getting one of her tattoos removed, erasing the angel wings inked onto her right forearm, photos recently showed. One Direction singer Harry Styles has talked about removing some of his dozens of tattoo. 

Even non-celebrities live to regret their tats. When Sarah Schlow turned 18 in 1985, the New York City native got the coolest tattoo her not-totally-developed teenage brain could imagine. In a word: sharks.
"I thought it would be incredibly cool to get this tattoo of two sharks swimming in a circle around my anklebone. One hammerhead and one great white," said Schlow, 47, who now lives in Baltimore. For years, maybe even decades, she loved her tiny, ceaselessly swimming sharks, particularly because in 1985, having a tattoo in itself was pretty unusual. "I really prided myself on being different and unique," she said. "But as the years went on, more and more people were getting tattoos. It wasn't very special or unique anymore."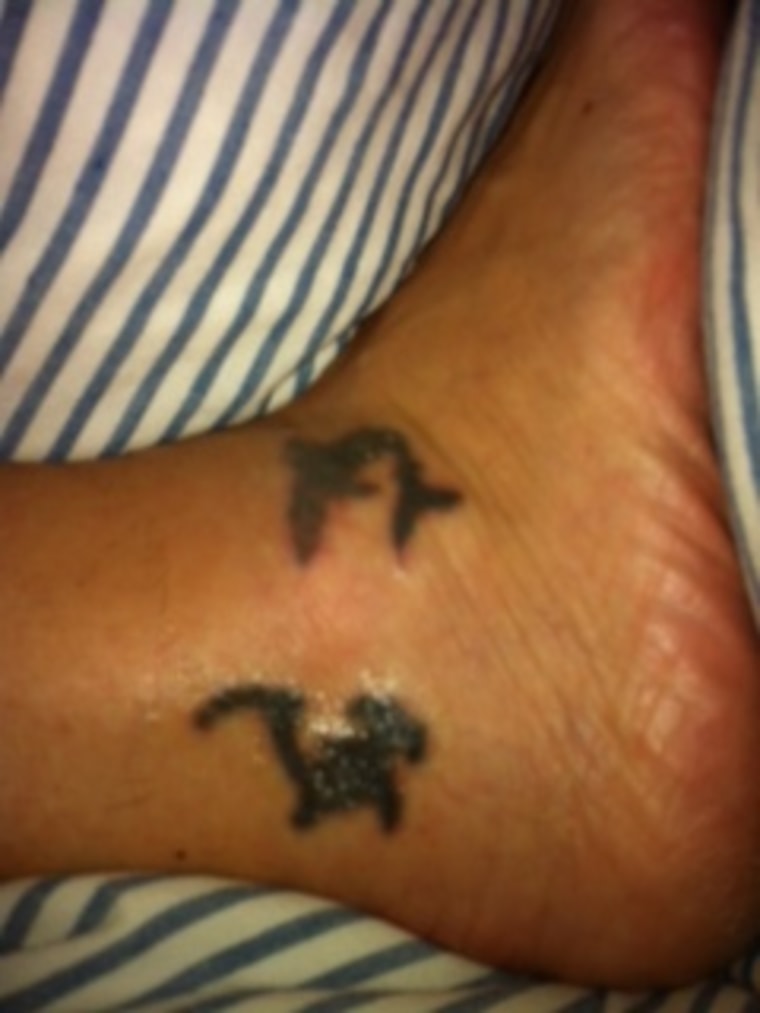 She's right: Tattoos are a sort of generational marker. Thirty-eight percent of millennials have at least one tattoo, and 32 percent of Gen Xers have one. But just 15 percent of baby boomers say they have a tattoo, according to a 2010 Pew Research Center survey.

As Schlow's tattoo faded, nobody could tell they were awesome sharks anymore; people kept mistaking them for cutesy dolphins, she says. So she did what many are choosing to do: She decided to get rid of her ink. 
Schlow, like many others, soon discovered that tattoo removal is both expensive and painful. 
"It's unfortunate that people don't realize when they're getting the tattoo that if they get tattoos they regret, that it's going to cost a lot more to take it off," says Dr. Margaret Weiss, co-director of Maryland Laser Skin and Vein Institute in Hunt Valley, Md.
There are two main types of laser, Q-switch and PicoSure. PicoSure is a newer, faster technology, zapping away a fist-sized tattoo in about five treatments, compared to 10 or 20 treatments in the past.
It can cost up to $1,000 per treatment for larger tattoos, like something taking up most of the back. For smaller tattoos — like, smaller than a business card — it's about $200 per treatment.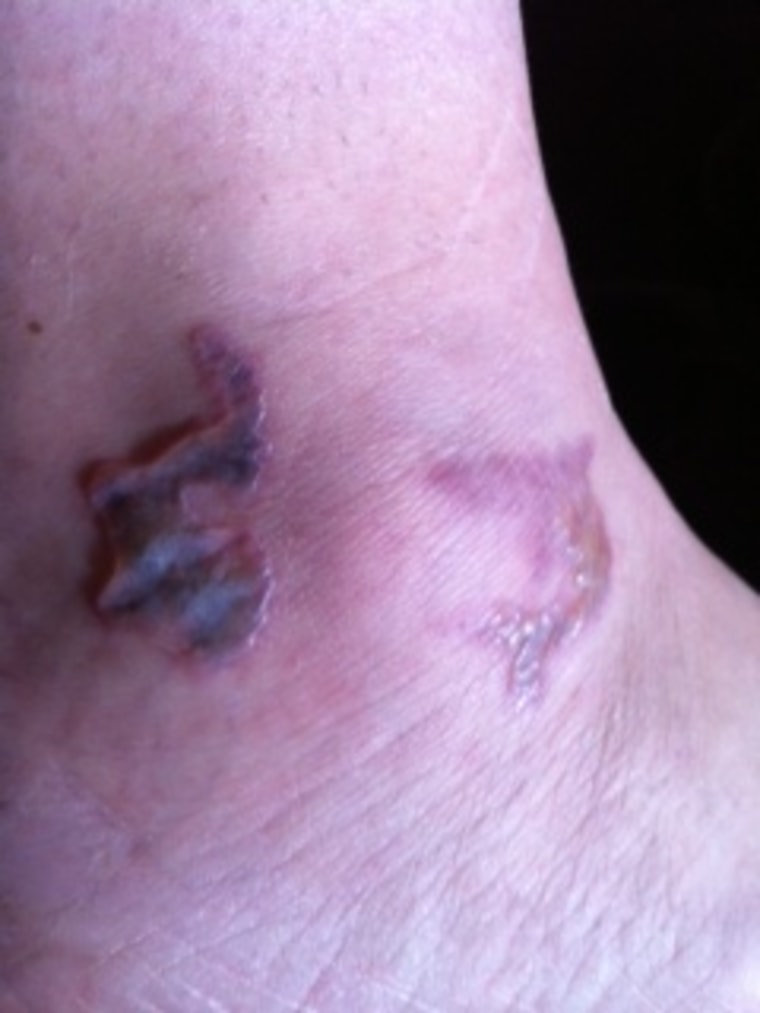 It hurts, too. "Although I think I have a high tolerance for pain, this is very painful," Schlow says. The treatment took around 1.5 minutes to complete, followed by blistering which goes away after the first few days.

The intense vibration of the laser breaks down the pigment of the ink into tiny particles, and as the blood flushes through the area, it clears those particles away, explains Byhovsky, an esthetician. "All I am doing is, I'm helping the body to clean it out," he said.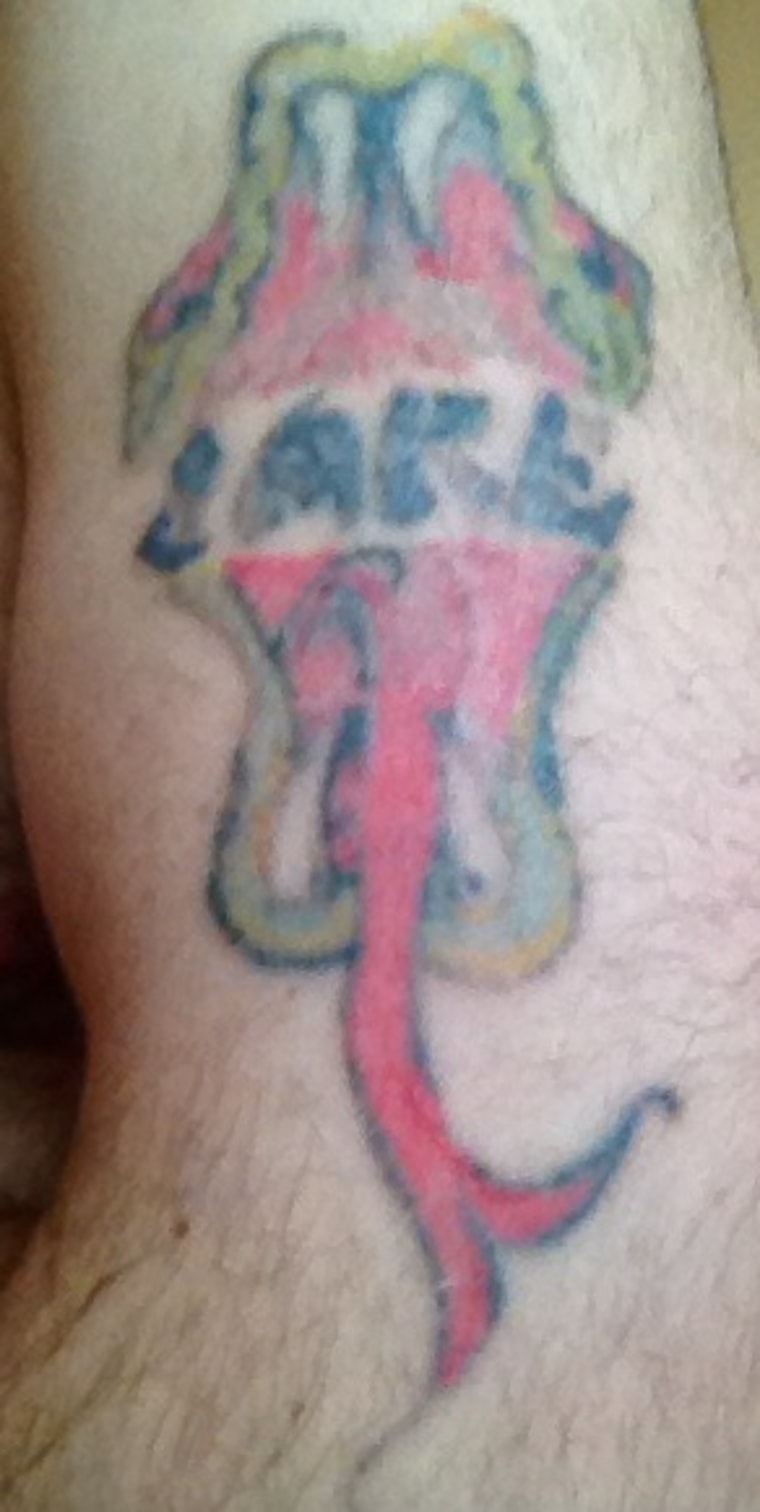 The two most important variables when it comes to tattoo removals are skin color and ink color. The bigger the contrast, the easier removal will be, says Dr. David Green, whose practice is in Bethesda, Md. 
"Not all tattoos come off equally as well, and not all people are equally as good candidates," Green says. "The ideal ink to remove is black. And the ideal candidate has snow white skin." Another factor: Where the tattoo is. The thinner the skin, the easier it is to remove.

Some people have tattoos removed because they don't feel like the tattoo reflects who they are anymore. Jacob Blom's tattoo never really reflected his personality in the first place. On his left arm, he's had a tattoo of a python with its mouth open, something he drew when he was 16 and had tattooed when he was 17.
"I feel like it gives a false representation of me, when people see it," says Blom, a patients of Weiss's. "They think it's a really bad-ass tattoo, and I guess I wouldn't consider myself a bad-ass."

He's 31 now, and is currently a dental assistant. He likes his job so much that he's considering going to dental school, and he worries that he won't be taken seriously with his silly teenage tattoo. The python is fading, and he's not sad to see it go.
"I tell people all the time, even before I started getting my tattoo removed: Look, what's your favorite pair of jeans right now? Well, was that your favorite pair of jeans three years ago? So, that kind of thing changes just as much as your taste in artwork and things like that," Blom says. "If you're putting something on your body that's going to be permanent, it's a huge commitment. It's a commitment that I regret."