Stray voltage seeping into lakes and pools from nearby sources is completely invisible and extremely dangerous, with the latest tragic case coming when a young girl died after being electrocuted over the weekend.
Pre-order Jeff Rossen's new book, "Rossen to the Rescue" here
TODAY national investigative correspondent Jeff Rossen showed on Tuesday how you can protect your family by testing your pool to make sure it's safe for swimming.
Rossen's report comes in the wake of the death of Kayla Matos, 11, who was swimming in a lagoon in Toms River, New Jersey, on Saturday when she touched a boat lift that was electrified, officials said. She was electrocuted and died later that evening.
One day earlier in Ohio, Evan Currie, 19, was electrocuted and died while trying to save his father and family dog at a marina. The family's powerboat was plugged in for shore power when Currie jumped in the water to help his father and the dog, but he ultimately did not make it back to shore after the power was unplugged, officials said.
The Electric Shock Drowning Association, an organization dedicated to raising awareness and educating people on the risks of electric shock drowning, recorded 84 cases since 1986. The parents of 15-year-old cheerleader Carmen Johnson, who drowned while swimming near her family's dock in a lake last year, are also working to raise awareness.
The organization recommends using ground fault protection devices on the power sources that switch the power off if there's a problem with the electrical flow.
While stray voltage can come from boats and docks, the majority of these accidents occur in swimming pools. In 2014, multiple children were shocked in a swimming pool in Hialeah, Florida, two of whom ended up unconscious, but thankfully all of them survived.
Rossen reached out to Frank Vlasaty, who created a product called Shock Alert with a team of engineers that spots stray voltage in the water before you go in. Rossen put it to the test late Monday night, learning about the potential dangers of electricity seeping into pools.
"There's all sorts of power around a pool - outlets, lights, pumps,'' Vlasaty said on TODAY. "Any one of those that's miswired or a loose wire, like a loose wire around that light right now, and there's voltage in the water, you would never know. You can't see it. That's why they call electric shock drowning the silent killer."
Shock Alert, which runs on three double A batteries, is placed into the water in the pool and then flashes either green if it's safe to enter or red if there is electricity present. Rossen walked it in the water around the perimeter of the pool in the initial test.
"To make sure that if there's any voltage in area of the pool, it'll help detect it,'' Vlasaty said. "In fact, if it's a small amount, it needs to be close to the source."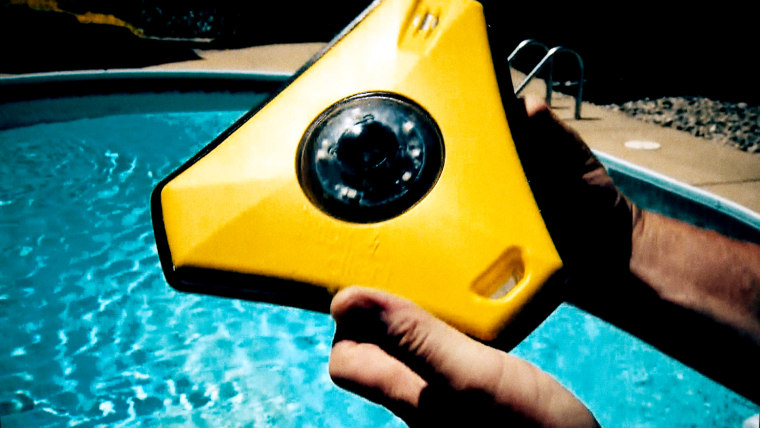 Vlasaty's team then set up special wiring to purposely electrify the pool. When Shock Alert hit the water, it began flashing red and beeping loudly to indicate electricity was present.
"This is designed to save lives,'' Vlasaty said.
Rossen also offered the following tips from experts:
SHUT EVERYTHING OFF: If you detect a current in your pool, immediately turn everything off, including the filters, jets and lights.
GET YOUR POOL INSPECTED: You should also have an electrician inspect your pool before the start of pool season to make sure everything is grounded and there's no loose wiring.
CHECK THE LIGHTING: Make sure the lighting installed in your pool is low voltage.
PLASTIC POOL LADDER: Vlasaty says it's better to have a plastic ladder in the pool compared to a metal one because that is one less thing in the pool that can conduct electricity.