Like most people, Danielle McNair had never heard of Rocky Mountain spotted fever until she noticed her son's strange symptoms following a tick bite.
It started on May 10, when her toddler, 5-year-old Mason McNair, was at his grandparents' house near LaGrange, Georgia. While getting ready for bath time, his grandparents noticed a tick inside Mason's belly button.
The tick was properly removed, but Mason's belly button became red and swollen. McNair, 27, took Mason to the doctor the next day and he was given antibiotic medication to take for the next 10 days.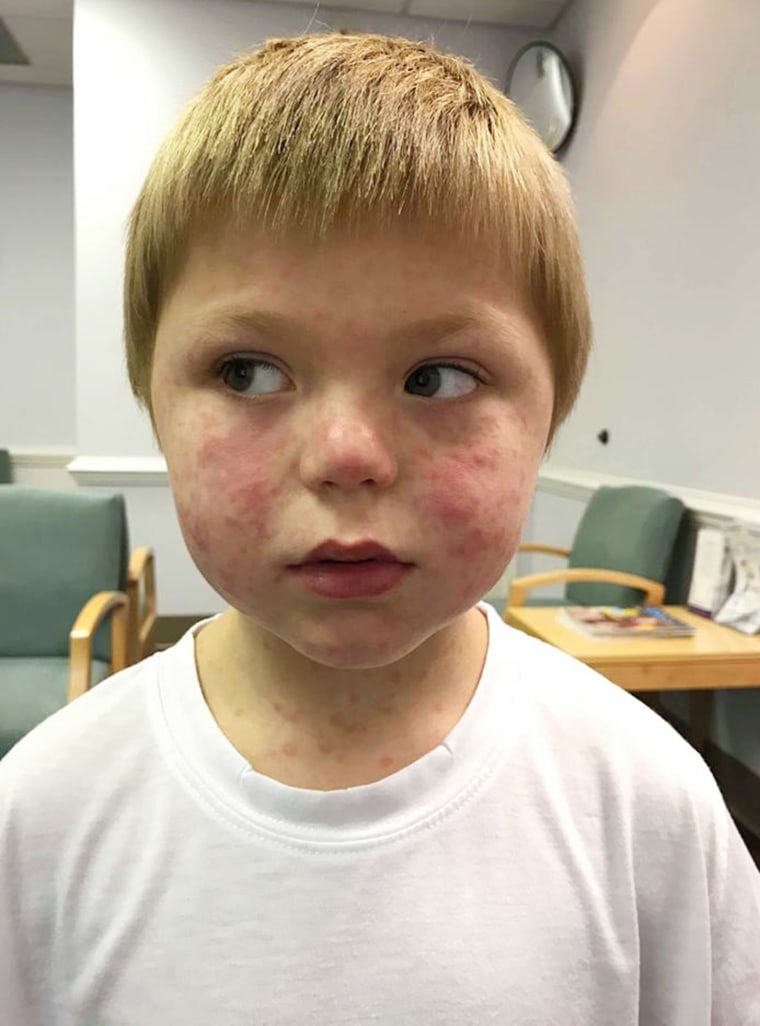 On the last day of the antibiotic treatment, however, Mason developed a rash, fever, fatigue, diarrhea and stomach pain.
"It really just looked like heat rash. We had been outside that weekend, it was really hot," McNair said.
By 9 p.m., things started to get worse. The rash spread.
"In 18 hours, it went from nothing to what you see in the pictures. Clearly, something was wrong," she said.
According to McNair, the family's pediatrician said the rash was a delayed reaction to the antibiotic and that it could take up to six weeks to clear.
But the doctor's diagnosis didn't sit well with her.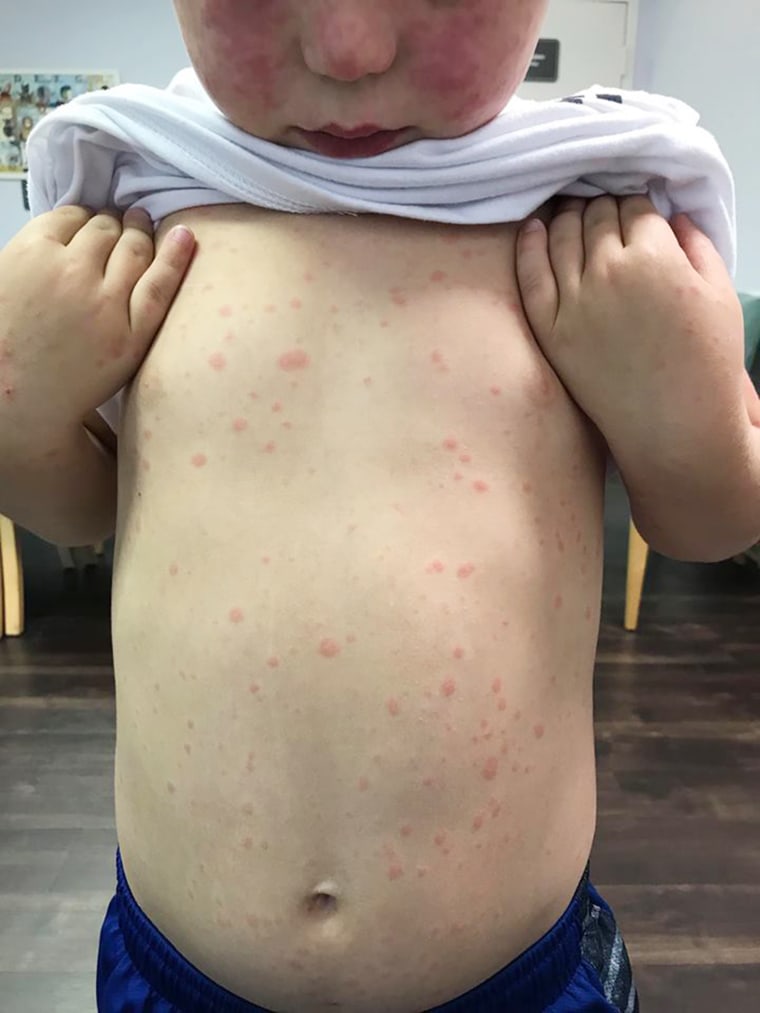 "I wasn't satisfied with the answer. I started to do my online search. I called my sister, who is a veterinarian," she said.
Her sister encouraged her to do more research and urge the doctor and medical team to conduct a tick panel, or a blood test that can help identify tick-borne illnesses.
"I did more research and found that all of his symptoms and the timeline of them all fit that diagnosis," she said. "So that's when I realized that's what my son has."
She suspected her son had Rocky Mountain spotted fever, a type of spotted fever group rickettsioses, which can lead to the amputation of arms, legs, fingers or toes, hearing loss, paralysis or mental disability.
After going back to the doctor, she showed him what she found. They worked together and the doctor gave an official diagnosis, as well as the correct antibiotic to treat it. It was indeed Rocky Mountain spotted fever.
"It has to be a specific antibiotic and that's why the first time, it didn't clear it," she said. Mason was given Doxycycline the second time around and within three days, he was much better.
"If I hadn't done my own research and continue to push it, we would be in a completely different situation with my son. And that is scary. That is so scary," she added.
McNair posted her account of the tick scare on Facebook and has since found out many other people have dealt with the dangerous disease and other tick-borne illnesses.
Her goal isn't to shame any medical professionals, but to raise awareness for parents and caretakers.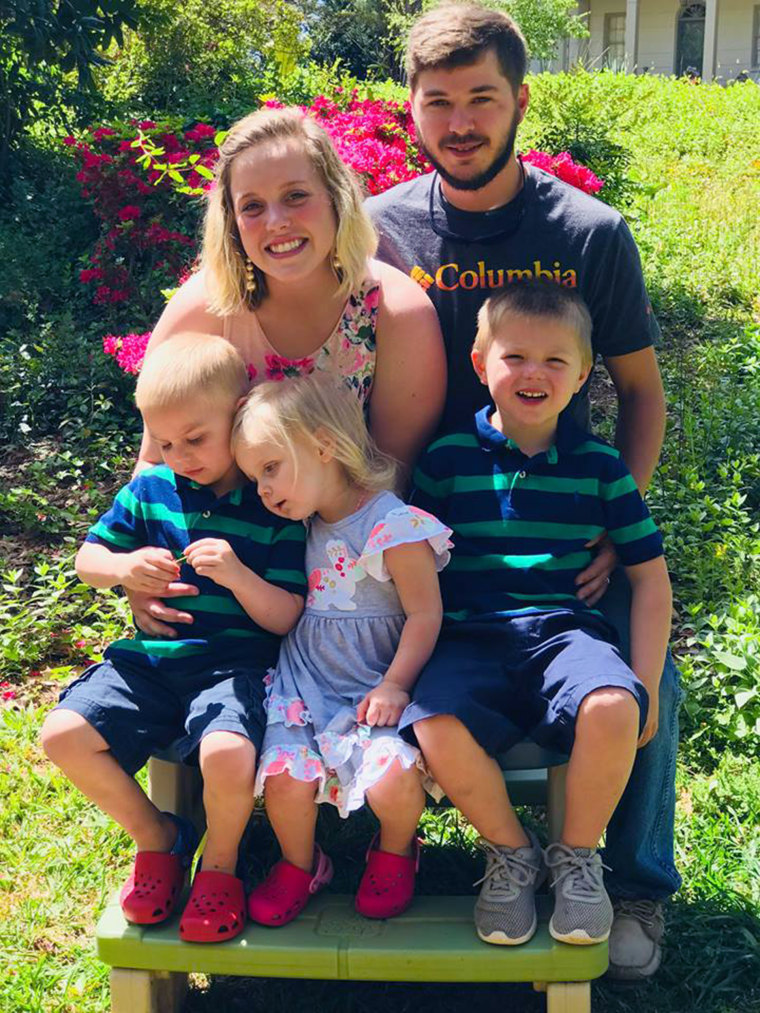 Track your child's symptoms
Rocky Mountain spotted fever symptoms often don't show up until two or more days after being bitten by a tick, according to the Centers for Disease Control and Prevention.
"I want to empower parents to always, always be an advocate for your child. Use your own voice, definitely do your own research. Doctors are humans, too, they're human, too. That doesn't mean they know every single thing," McNair stressed.
Neeta Connally, associate professor and director of the Tickborne Disease Prevention Laboratory at Western Connecticut State University, said many tick species are spreading to areas previously not reported to be known areas.
"Spotted fever rickettsiosis has definitely been on the rise over the past several decades," Connally told TODAY.
The CDC reports incidents have increased from fewer than two cases per million people in 2000 to more than 11 cases per million in 2014.
"Many tick species are expanding their ranges into areas of the country where they were previously not established. This is particularly true for the Lyme disease tick vector (the black-legged tick)."
Connally, who holds a doctorate in medical entomology and master's in public health, offered this advice to stay safe:
"Wear skin repellent or clothing repellent when spending time outdoors, check yourself or your child for ticks after outdoor activity, shower or bathe shortly after spending time outside and dry your clothes on high heat after recreating outdoors. Lastly, RMSF is caused by ticks that frequently bite pets, so consult your veterinarian for the best tick-preventive product for your dog or cat."
For parents and caretakers specifically, McNair offered this poignant advice:
"Do not stop until you're satisfied about your child's health. If your doctor dismisses your concerns and you're not satisfied, go get a second opinion."