It's been seven months since Corey Fox received a lifesaving organ transplant from Brandon Robbins, the frontman of Los Angeles-based indie rock band The Moth & The Flame.
Fox is a music industry veteran and venue owner in Provo, Utah, who has suffered with chronic kidney disease since he was 16.
When he posted an announcement about the worsening of his condition on Facebook, Robbins took action, putting everything on hold to donate an organ to the man who gave him his start in music.
"I just feel like he risked his health and his entire momentum of his music career," Fox told TODAY. "I just think that's a crazy risk for him to be willing to make for the owner of the venue where he started playing."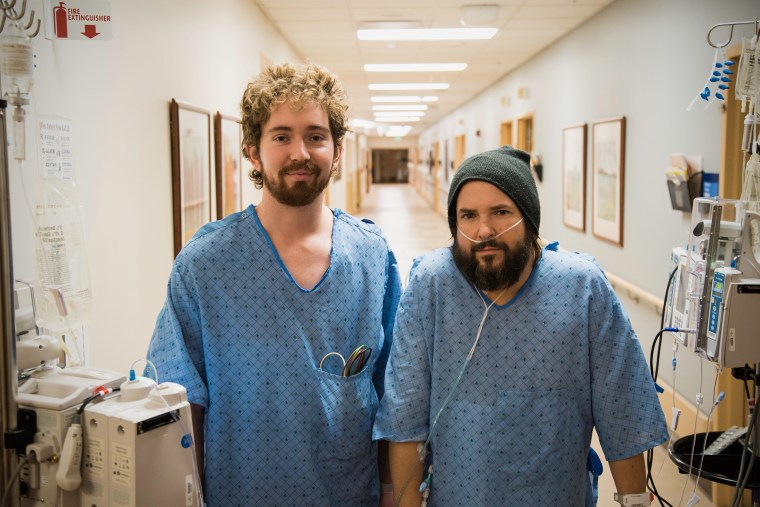 Their relationship started long before the operation.
Fox, who is in his 40s, is something of a local celebrity in Provo, where he owns the popular Velour Live Music Gallery and is credited as one of the founders of the local music scene.
Velour, which Fox opened in 2006, functions as a music venue, music school and unofficial record label. Bands who got their start in Provo, like Grammy winners Imagine Dragons and Neon Trees, have gone on to mainstream success.
When Robbins, 29, moved to Provo in 2008 from Washington state, he was an amateur musician. Fox gave him the opportunity to stretch his wings at his intimate, 300-seat venue.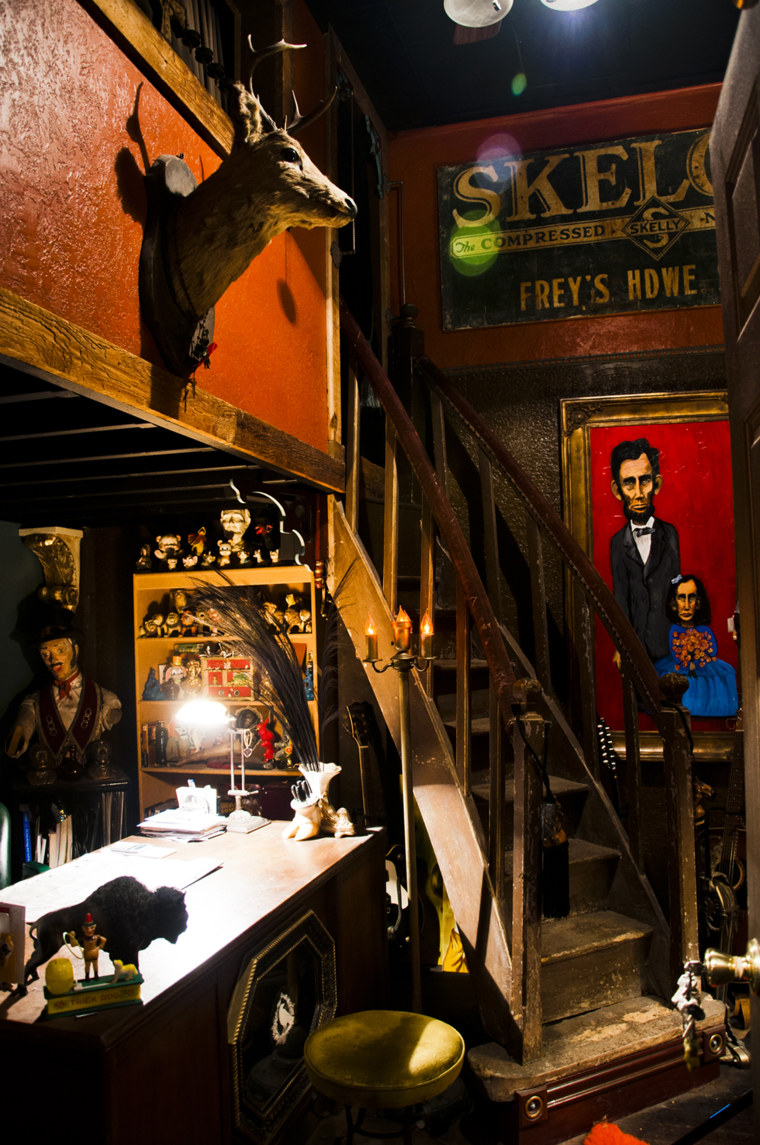 "He came to open mic night, and I was blown away by his stuff," Fox said of Robbins' music. "Any band that asks me, I will sit down and consult them, but I felt an early connection with Brandon and Mark.
Thanks in part to Fox's mentorship, Robbins' two-piece band with keyboardist Mark Garbett evolved into The Moth & The Flame. Their band, which mixes elements of indie rock and experimental synth pop, has since achieved commercial success, releasing critically acclaimed albums and booking major tours.
Fox and Robbins have since been close. But Fox has always been something of an enigma, even to those know him best. (Case and point, he remains vague about his real age.) So when Fox posted on Facebook about needing a kidney, Robbins was shocked.
"He hadn't even mentioned that he was sick at all, let alone needed a kidney. So to jump straight to that, I was really in shock," Robbins told TODAY.
Fox's problems began after a routine checkup in 2013. Doctors informed him his kidney function was in steady decline and advised him to join the organ donor waitlist.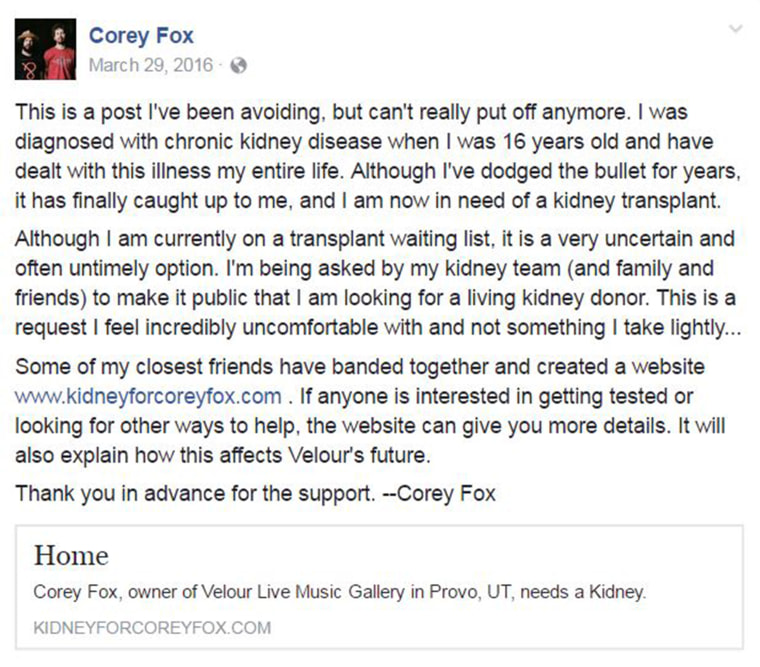 In Utah, patients can wait on average four to five years for a deceased donor organ, according to Dr. Titte Srinivas, medical director of the kidney transplant program at Intermountain Medical Center.
After more than two years on the waitlist, Fox's kidney function had decreased to dangerous levels and he was often ill. Doctors said he needed an organ, fast, and he was advised to seek out a living donor.
That news prompted him to post on Facebook seeking help. The response was overwhelming; more than 200 volunteers signed up for donor testing. Robbins wasn't among them, though, because he thought his blood type was not a match.
Instead, he decided to help out by organizing a benefit concert featuring his band, Imagine Dragons, Neon Trees and Provo acts.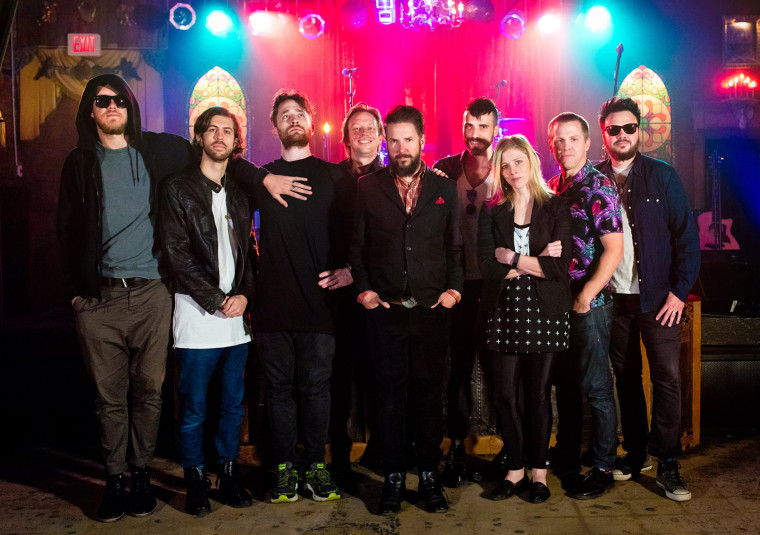 Eventually, Fox found a donor, and a surgery date was set. But after months of tests, there was a problem, and surgery was cancelled.
That's when Robbins stepped in. He forced his way into the test group and, after about a month, while still touring with The Moth & The Flame, he was approved.
"After all of that for it to come down to Brandon, a band member that plays the venue I run. It was very surreal and very serendipitous," Fox said.
The timing was ideal. Fox's setback with his last donor pushed him to the brink of dialysis, which could have been damaging prior to surgery.
The Dec. 20 operation was successful, and the two remained in the hospital for about four days, on opposite ends of the same floor. Doctors intentionally placed them there to encourage them to be active throughout the day.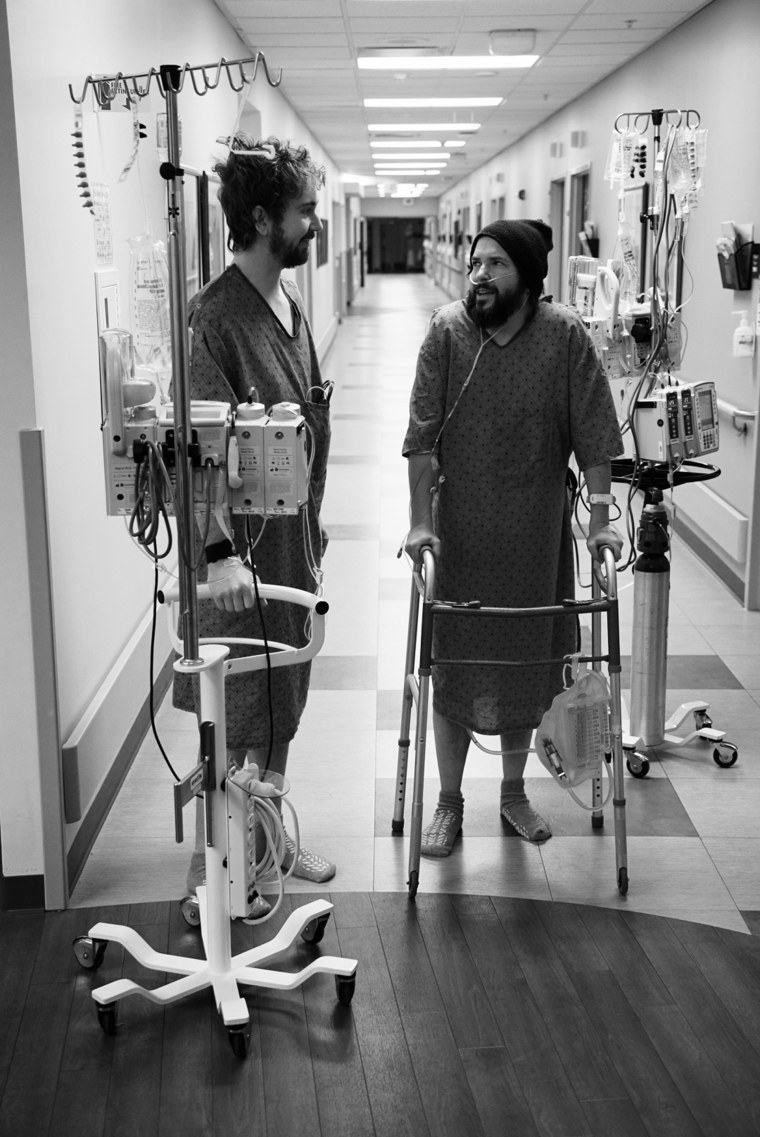 "At one point, the hall is really long, and I can see Corey 100 feet down this hall," Robbins said. "We are just shuffling along like two old men, hobbling to finally meet each other in the middle and give each other a big hug."
Through surgery and recovery, Fox and Corey have gotten even closer.
To celebrate, Robbins and Garbett, his bandmate, played an intimate set at Velour. It was Robbins' first time performing since the surgery.
"Now we are family, we are blood brothers," Robbins said. "We have this connection — I have never experienced a connection like this in any other way."