Rob McElhenney has announced that he's been diagnosed with "neurodevelopmental disorders and learning disabilities."
The "It's Always Sunny in Philadelphia" star, 46, shared news of his diagnoses to let others living with similar conditions know they're "not alone."
"I was recently diagnosed with a host of neurodevelopmental disorders and learning disabilities! At 46!" the actor tweeted July 11.
McElhenney said he intended to share details about his "full diagnosis/prognosis" on an upcoming episode of "The Always Sunny" podcast with co-stars Glenn Howerton and Charlie Day.
"It's not something I would normally talk about publicly but I figured there are others who struggle with similar things and I wanted to remind you that you're not alone," he wrote.
"You're not stupid. You're not 'bad.' It might feel that way sometimes. But it's not true," he added with a smiley face.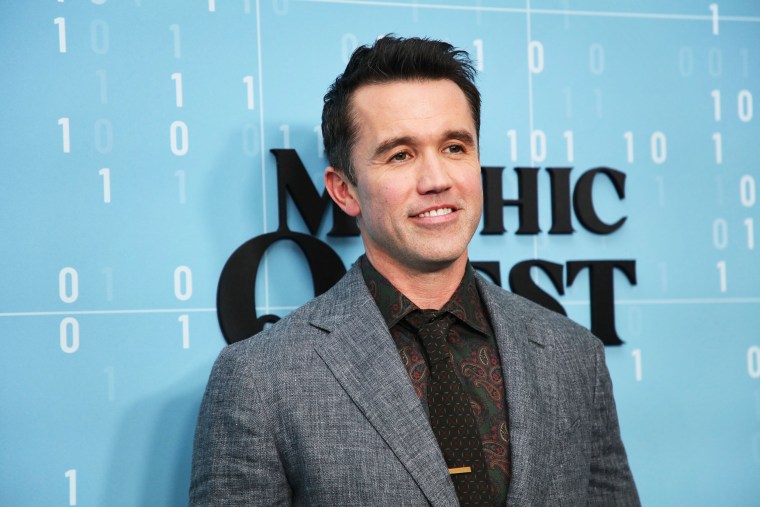 McElhenney, who co-owns the Welsh soccer team Wrexham AFC with Ryan Reynolds, said that the podcast episode about his diagnoses is expected to be available in two weeks.
Fans responded to McElhenney's tweet to thank him for publicly revealing his diagnoses.
"What an incredibly kind and courageous thing to share! I will use you as an example of an impactful and successful person when I discuss learning challenges with students. You have done an admirable thing to support all types of people around the world," wrote one.
"Thank you for your transparency. you certainly don't owe us any detail of your personal life, but you gave a voice to those diagnosed late-in-life, and the neurodivergent community as a whole," wrote another.
McElhenney is married to his "It's Always Sunny" co-star Kaitlin Olson. The couple share two sons, Axel, 12, and Leo, 11.
McElhenney's tweet came a day before the docuseries about his soccer team, "Welcome to Wrexham," received six Emmy nominations.