Rob Lowe loves the Atkins diet so much, he's writing the book on it ... Or at least the introduction.
The 56-year-old chatted with TODAY Health about his position as spokesperson for the Atkins diet, a low-carb diet that was created in the 1960s. He penned the introduction for "The Atkins 100 Eating Solution," a new book outlining a more simplified version of the low-carb diet.
"I started eating the Atkins way in my 30s," said Lowe. "It's that moment we all have where we come to that fork in the road where we go, 'I can't eat like I'm in college anymore.'"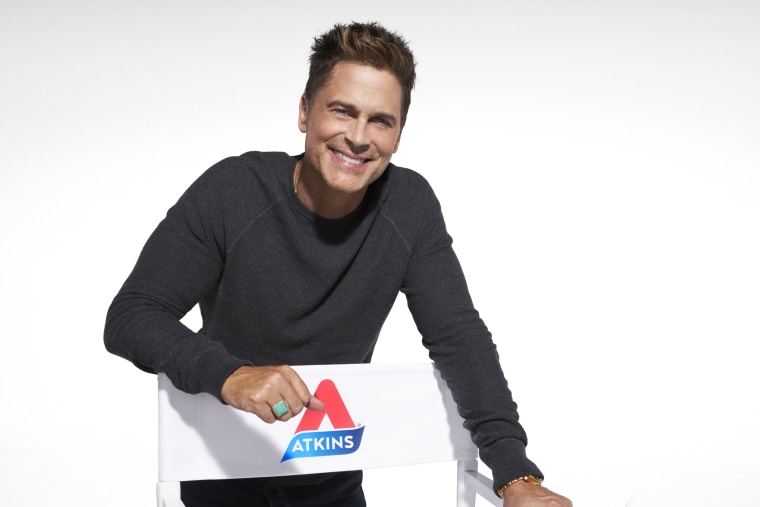 Lowe says while he's never had a "weight problem," he's followed the Atkins plan for health and wellness, with great results.
"It was just really easy to eat low carb, low sugar," he explained. "It was very simple with not a lot of working parts. I started eating that way before I began my partnership with Atkins."
So what does Lowe, who is gearing up for the Jan. 18 premiere of the second season of his show "9-1-1: Lone Star", eat on the plan?
"Chicken breasts, yummy salads, great vegetables, fish — all of that kind of high-protein stuff," Lowe shared. "I'll start the morning with Greek yogurt and berries and then my secret weapon, because I have a radical sweet tooth, is the Atkins protein shakes: The chocolate banana flavor is what I recommend."
"But, I don't come by a lot of it naturally," the host of the "Literally! With Rob Lowe" podcast added. "I love eating yummy food and I've got a huge sweet tooth. I'm not some food police person, that's not me at all. I want to have my pastas and all of those things."
Lowe says he's most successful in sticking to his eating plan when he plans ahead, crediting the free Atkins app for helping him find recipes, food swaps and other tools for maintaining a low-carb lifestyle.
"For me, it really helps planning my meals and not letting myself get too hungry because that's when your discipline goes away," he said. "You forget a meal or two, don't have a schedule or you're driving home from work and you pass a McDonald's — that's when you could be in for a world of hurt."
Lowe says he snacks on low-carb options like cheese, nuts or Atkins bars to keep hunger at bay and help with making the right choices.
And, when the cravings get too much to handle, he's not afraid to cheat.
"My cheat days usually involve pizza, pies and cakes," said Lowe. "Those are my downfalls, it's sort of the Ohio Midwestern overgrown teenager in me."
So what advice does Lowe give to those starting out on a low-carb journey?
"It's not a diet," he said. "It's a lifestyle. It's a long-haul way of eating. I'm not into doing this for six months or a year or three weeks, I've been doing this for years plural and it's made a huge difference in my life."
"Really it's about paying attention to eating like you would a business meeting. I think we just kind of blow through our lives and we don't focus on when or what we put into our bodies, but that should be just as important as anything else we're doing."