Rita Wilson opened up this week about her breast-cancer battle, which she says was an emotional journey that strengthened her relationship with her husband, fellow actor Tom Hanks.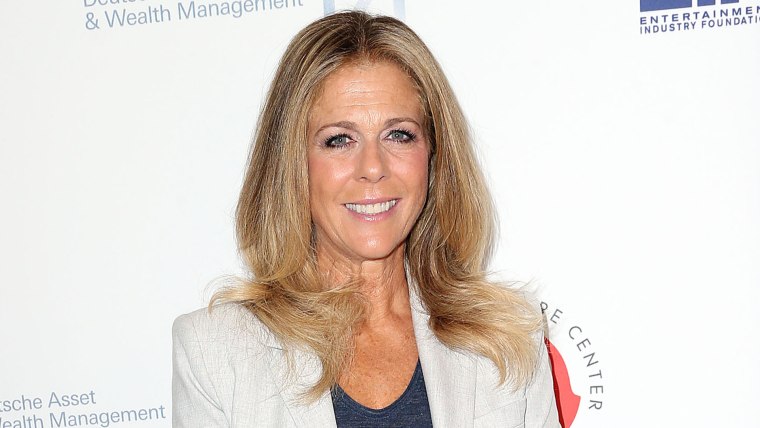 "Who knew it would make you even closer?" Wilson, 58, said in a feature appearing Wednesday in The New York Times. "You never know how your spouse is going to react in a situation like this. I was so amazed, so blown away by the care my husband gave me. It was such a normal, intimate time."
During her interview with the Times, her husband of 27 years called in via FaceTime and learned Wilson had been singing his praises. According to the newspaper, Hanks, also 58, replied, "Make sure you print them all!"
Wilson said she also was "incredibly grateful" for gestures from other family members, friends and neighbors who'd sent gifts, visited and wished her well. But some had a tougher time coping with the news than others, as was the case when Wilson told her Broadway co-star Larry David she needed to take a month off from "Fish in the Dark" to undergo surgery for a double mastectomy.
"He went, 'Oh God, Oh God, Oh God,'" she said, laughing. "He practically went white. I told him, 'Larry, I'm going to be absolutely fine.'"
As scheduled, Wilson resumed her Broadway role on Tuesday, and while she's cancer-free, the last few months have taken a toll. In addition to exhaustion, she's dealing with an uncomfortable tissue expander that's making room for her breast implants, but she seems optimistic about the final result, saying, "I think it's going to look awesome."
Her last few months have been eventful, to say the least.
"It felt surreal in the sense that all these changes had happened," she told the Times, "and yet it felt like it was yesterday."
Follow TODAY.com writer Chris Serico on Twitter.