When Cindee Goodling's heart stopped beating, the South Bend, Ind., woman was 33 years old and nearly 20 weeks pregnant, with a 3-year-old daughter and a husband who didn't want to lose her.
So doctors in the emergency room at Memorial Hospital of South Bend felt an extra incentive to save her, even if it meant trying a unique technique that cools the body and wasn't recommended in pregnant women.
Goodling had collapsed during a church movie night and within minutes a crowd that included a doctor, an off-duty policeman and an electrician -- all of whom knew CPR -- had begun taking turns performing chest compressions.
Ambulance crews arrived quickly and within 15 minutes they had used a defibrillator to try to shock Goodling's heart back into rhythm. It took four or five shocks until they succeeded, said Dr. Keith Sherry, emergency medical service and air medical director for Memorial Hospital.
Goodling arrived in the ER with a restored pulse, but still unconscious, two criteria for the use of therapeutic hypothermia, a technique that rapidly chills the body in order to slow down metabolism. It's being used in a growing number of U.S. hospitals after research showed it can boost the chance of survival and protect brain cells after cardiac arrest.
"The premise is that you cool them and you decrease not only oxygen demand, but the rate of tissue degeneration and build-up of toxins in the cells," recalled Dr. Raji Sundararajan, the emergency doctor was on duty the night of Feb. 13, 2009, when Goodling collapsed.
But the technique hadn't been tested in pregnant women -- and guidelines advised against it. "We only had a few minutes and we're already frantic," Sundararajan said. 
Quickly, the doctor had to make the call: Should she initiate the technique she'd used in several non-pregnant patients, with excellent results?
Or should she stick with recommended treatment, avoiding the risks -- and the liability -- of experimenting on a vulnerable woman and her unborn baby?
"I made the decision in the time it took to look it up on Google and make three phone calls," Sundararajan said. "I believed in the hypothermia. I believed it would be beneficial to her. You worry about liability, but you can't let that guide your medical decisions."
More than three years later, that decision has proven to be a good one. Cindee Goodling, now 36, is the healthy mother of a healthy son, Collin, whose nickname is "Zap" after the defibrillator shocks it took to keep him and his mom alive.
Goodling's recovery was described in a recent article in the Annals of Emergency Medicine, the first long-term follow-up of a pregnant woman successfully treated with therapeutic hypothermia after cardiac arrest.
Researchers from the Indiana University School of Medicine, the South Bend hospital and elsewhere detailed the technique that Goodling hopes will lead to similar outcomes for other women like her -- those who suffer heart attacks as a result of pregnancy-related cardiomyopathy.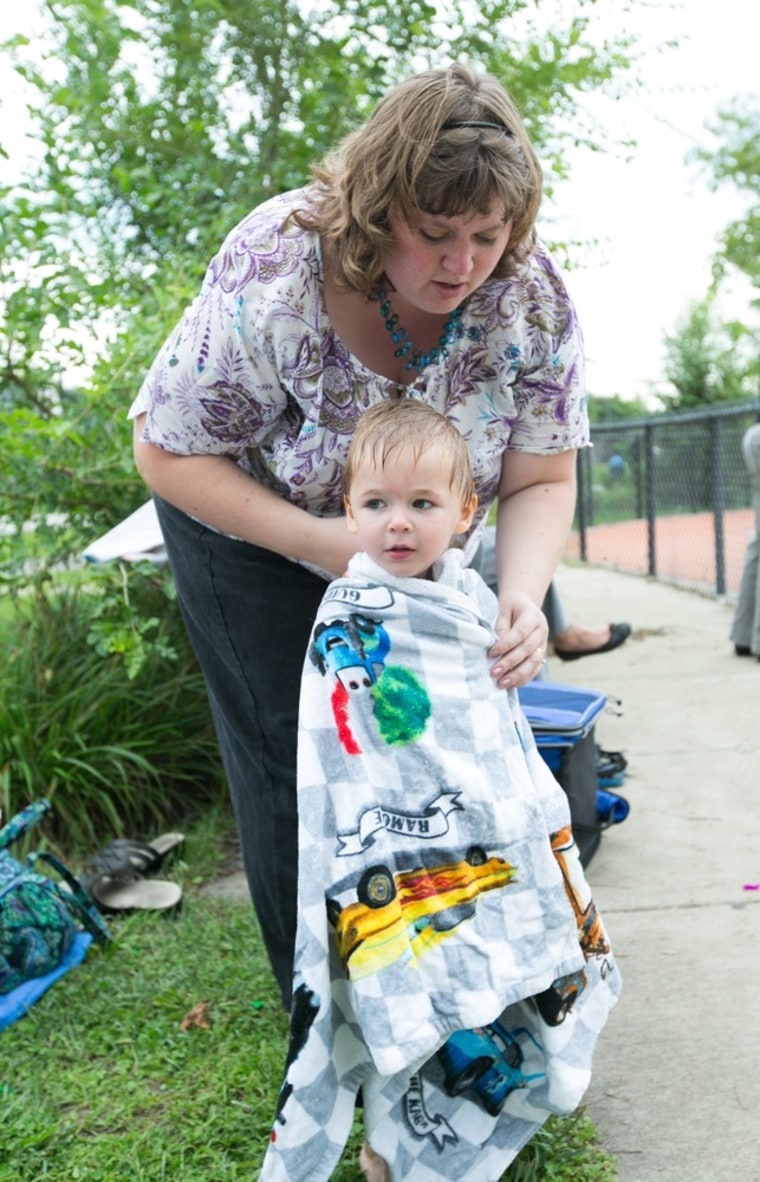 "This is about, 'Look, they can fix it," said Goodling, who works as a coder at a medical clinic. "You can do this procedure on a pregnant woman.'"
For about the last five years, therapeutic hypothermia has been regarded as the only intervention proven to help cardiac arrest patients retain brain and other functions.
The idea is simple: Cool the patient as quickly as possible, lowering core body temperature to about 92 or 93 degrees Fahrenheit, about five degrees below normal.
"We take Ziploc bags of ice and throw it on the patient, basically," explained Sundararajan. IVs of cold saline and cooling caps, blankets or packs, including a device called the Artic Sun 2000, are used to quickly cool the patients – but not too much.
"That five degrees is a big deal," Sundararajan said. "We don't want it to go below 90 for sure. You don't want everything to stop, you want everything to slow down."
Patients are chilled for 12 hours, which reduces demands on cells, lowers toxic acids in blood and tissue and decreases the body's inflammatory response, research shows. It also protects brain cells, reducing the chance of brain damage.
In Goodling's case, cooling the mom also meant chilling the baby, which worried doctors monitoring the situation.
"There's an ultrasound of the baby shivering," Sundararajan said, noting that no ill effects were observed.
The benefits of therapeutic hypothermia in non-pregnant patients have been well-documented, Sherry said. Studies in 2002 found that about half of cardiac arrest patients treated with hypothermia had good outcomes compared with only a quarter to a third of those who weren't cooled.
In 2005, the American Heart Association recommended considering using the technique. By 2008, researchers at the University of Michigan Health System estimated that if all eligible U.S. hospitals adopted the method, it could save up to 5,000 lives a year.
Before Goodling, there were only two reports of the use of hypothermia in pregnant women, and no long-term observations. One woman, a 35-year-old who was 13 weeks pregnant, survived and had a healthy child. Another, a 44-year-old woman who was 20 weeks pregnant, survived, but lost the baby.
The technique calls for rewarming patients gradually, over 24 hours, and then monitoring them closely.
Goodling says she awakened about two days later, with no memory of the crisis.
"Pardon my language, but the first thought that went through my head was 'What the hell?!'" she recalled.
Her brain was "rebooting" at first, she said, resulting in garbled thoughts, feelings and actions.
"I threw my parents out of my hospital room," she said. "I apparently flipped my husband off in front of his Catholic mother."
But within weeks, Goodling was mostly recovered and very impatient, eager to get back to work and to resume full care of her daughter, Emma, now 6, and husband, Matt, 31.
She had a defibrillator implanted to regulate her heart rhythm but she was so energetic that she set it off twice, until doctors reset the threshold.
The rest of her pregnancy was normal. She delivered Collin at 39 weeks, a healthy 5-pound, 15-ounce boy. "It was just like we planned on doing anyway," she said.
Both Goodling and her son have been tested and monitored for three years. She has become more active and is training to run a 5-kilometer road race. Though doctors said weight was not the cause of her heart troubles, Goodling is working to lose extra pounds to improve her health.
Her toddler, meanwhile, has hit every developmental mark -- and made good friends of the doctors and emergency workers who think he's a miracle. 
To Goodling, however, it's a miracle made possible only by doctors willing to take a risk. She hopes that the technique becomes so widespread, it isn't even a question whether to use hypothermia on a pregnant woman.
"They saved my life and they saved Collin's life," said Goodling. "If they can do that for me, they can do that for other people."
Related stories: