Retirement — the moment some people look forward to all their lives, while others dread — quickly boosts life satisfaction, with meaningful improvements in health showing up a few years later, a new study has found.
The analysis of thousands of American retirees, published this month by the National Bureau of Economic Research, found the positive changes have a continuing impact and don't fade over time. "Retirement has long lasting benefits to individual well-being," the report concludes.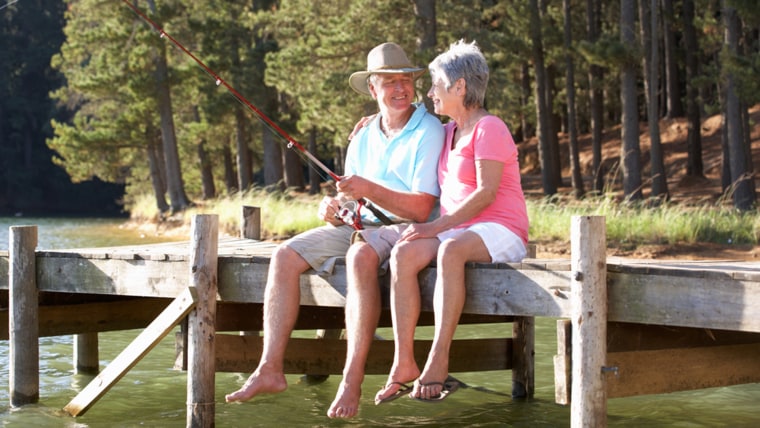 "It seems like retirement is a good place to be," co-author Devon Gorry, an assistant professor of economics at Utah State University, told TODAY.
"People immediately report being happier on average and less depressed."
Read more: Aging across America: Vigorous, vital and full of life
The results are based on data from the Health and Retirement Study, which contains in-depth interviews with 20,000 Americans over 50 on every aspect of their lives, including physical and mental health. Researchers follow up with them every two years until their deaths.
Gorry and her colleagues filtered out people who were disabled, unemployed or forced into early retirement by poor health. Then, they focused on those who had worked for at least 20 years and retired when they were eligible for Social Security benefits or a pension plan. That left about 6,000 people.
Read more: How to live to 100: Cultures with long lifespans share tips for longevity
The results? The retirees reported feeling healthier and more satisfied with their lives right after they stopped working — a sentiment that did not fade over time. Then, four or more years later, they began showing "significant improvements" in health measures such as mobility and the ability to handle everyday tasks.
The delay may be because when someone has more time to devote to healthier habits, like less stress and more exercise, the results won't appear immediately, the researchers note.
"If you invest in your health, it takes time for those investments to show up," Gorry explained.
Read more: Can this hobby help you live longer? The health secrets of a 104-year-old
Retirement means leisure and relaxation for many people; others worry about boredom and slowing down. The research suggests one of life's biggest milestones is a time when well-being improves, on average, Gorry added.
The researchers say this is the first study to discover positive long-term health effects for U.S. retirees. They also note the improvements aren't driven by the retirees going to the doctor more often.