Looking to date someone of the same faith? There's an app — actually many, many apps and websites — for that.
Sites like Christian Mingle, JDate and Ishqr cater to specific religious populations, and if Tinder is too broad, you can always download JSwipe for fast access to nearby Jewish singles. (Yes, that's a thing.)
"There are 1,500 dating websites out there," relationship expert and dating coach Rachel DeAlto told TODAY.com."There is something for everybody."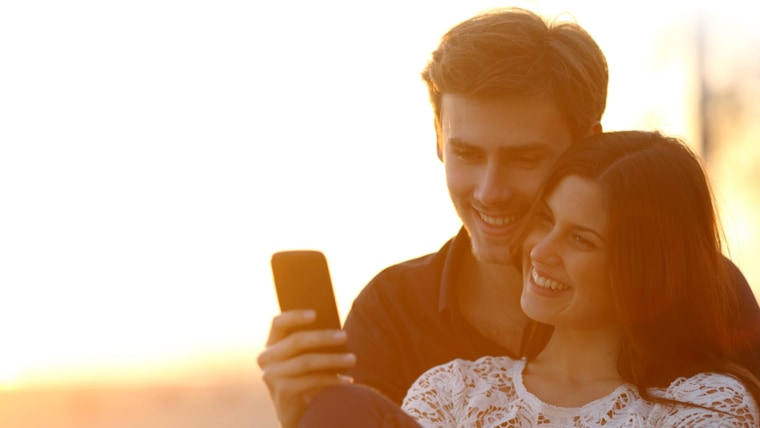 Mormons can connect on SingleSaints.com, LDSSingles.com or LDSMingle.com, while Muslims might find each other on Ishqr.com and Hindus can meet on HinduConnections.com or SingleHindus.com.
There are even dating sites for atheists, like FreeThinkerMatch.com and AtheistPassions.com.
But despite all that, some experts say religion is becoming less important to today's young singles looking for a partner.
"What I've seen is a trend going toward spirituality, as opposed to a defining religion," said DeAlto, who helps clients build online dating profiles. "There's definitely people who associate themselves as very Christian or very Jewish and want to meet people of the same faith. But what I've seen more so is that even when people are raised with religion, they're more inclined to be open."
And as more millennials eschew traditional dating websites for hot-or-not apps like Tinder and Happn, it's clear the digital dating landscape has changed. JSwipe—think Tinder for Jewish people—isn't the only religious app catching on. There's also Muzmatch, which brings similar technology to an all-Muslim crowd.
To stay in the game, Christian Mingle and JDate both launched apps late last year, said Michael Egan, CEO of Spark Networks, which owns the two among other dating websites. Spark's current goal is to expand JDate, which has gotten "a little old and dusty," Egan added.
While options like Tinder are winning the numbers game —the app has a reported 50 million users compared to Christian Mingle's 141,000 — Egan suspects people who use dating sites focused around religion are looking for something much different.
"People come to us because they are really interested in forming a long-term partnership with somebody," he said. "They're not dating to date, or serial daters. The Tinder-ization of the dating world is actually very different from the community that resides in both Christian Mingle and JDate."
And users of these sites aren't always very religious, he added.
"Denomination is not necessarily the most important thing — it's more about that core belief," he said. "If they think, 'Hey, I'm looking for somebody for the rest of my life,' they want someone with the same set of values and morals and principals."
That was at least true for Lisa Shafrin of Los Angeles, California, who met her now-husband on JDate in 2005.
"I wasn't raised in a very religious house but I felt like it was easier to find someone of the same faith," Shafrin, 33, told TODAY.com. "I wasn't gung-ho on meeting a Jewish man, but I got lucky and married one."
For others, religion is still the most important factor when it comes to finding a partner.
Take the New Jersey rabbi who in 2010 offered to pay for a JDate membership for anyone in his congregation. He told TODAY.com that two of the people who took him up on the offer are now married to someone they met on the site, and another two are engaged.
"We want Jews to marry Jews, and this was working," Rabbi David Seth Kirshner said. "So many people were coming in and saying, 'Life is so busy, I don't know where to meet people. I'm too nervous when I go to a bar.' But they felt fine behind a computer screen."
And Muzmatch CEO Shahzad Younas estimates that 95% of Muslims marry a fellow Muslim. His Tinder-like app is a few weeks old and so far has more than 1,200 members.
"Muslim marriage websites have been around for a while, but they're a tired format and people find it impractical nowadays to trawl through profiles and email messages to and fro," Younas said.
Like Tinder and JSwipe, users peruse Muzmatch by scrolling through faces — swiping right if they like what they see, and left if they don't. It's fun, easy and there are no lengthy profiles to read or fill out. Plus, it's free, unlike many mainstream dating websites.
"What I like is that it takes the dating resume out of it," DeAlto said. "It's the same as meeting someone at a bar or an event. It's closer to real life."