Sometimes, the most valuable player doesn't need to be on the field.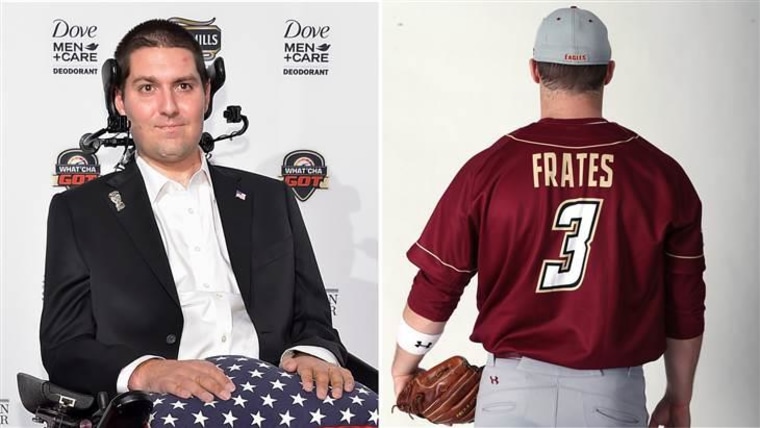 When the Boston Red Sox play an exhibition game Tuesday against Boston College, both teams will be wearing No. 3 jerseys in support of Pete Frates, the former BC team captain who wore that number and later helped popularize the Ice Bucket Challenge while fighting ALS.
"It's such an honor," Andrew Frates, Pete's younger brother, told TODAY.com.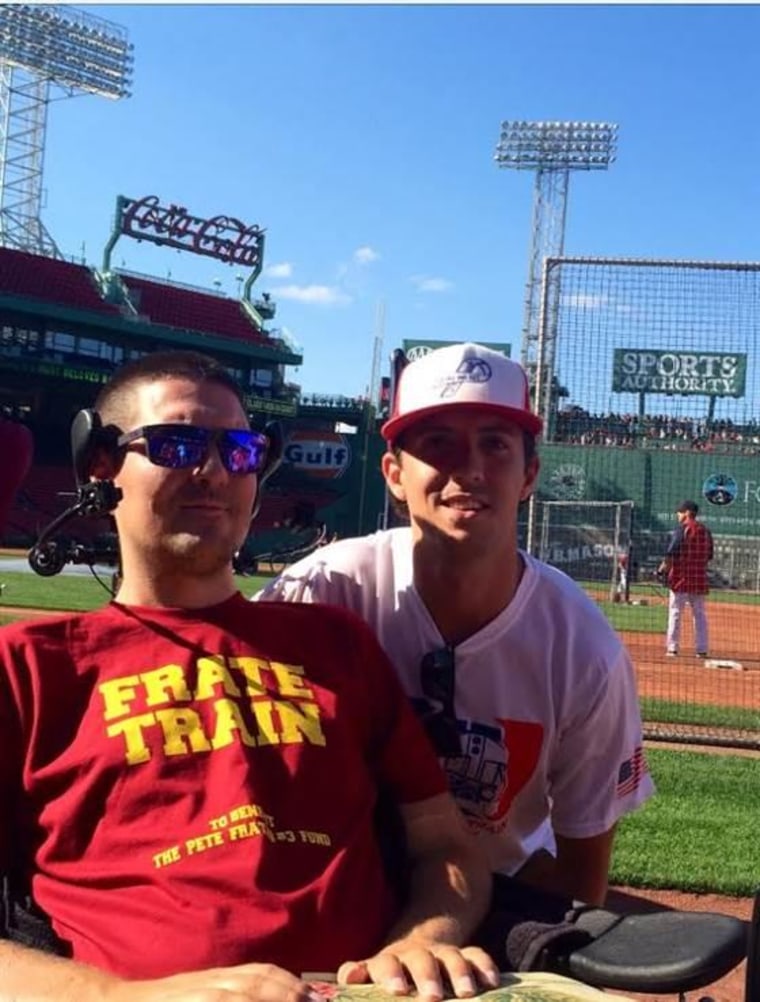 Jerseys from Tuesday's game will be auctioned off for Pete's No. 3 Fund, which supports a variety of ALS-related charities, including ALS TDI, the ALS Association, Compassionate Care ALS, and The Angel Fund. With bids opening at $100, the auction begins at noon Tuesday and ends at 5 p.m. March 17.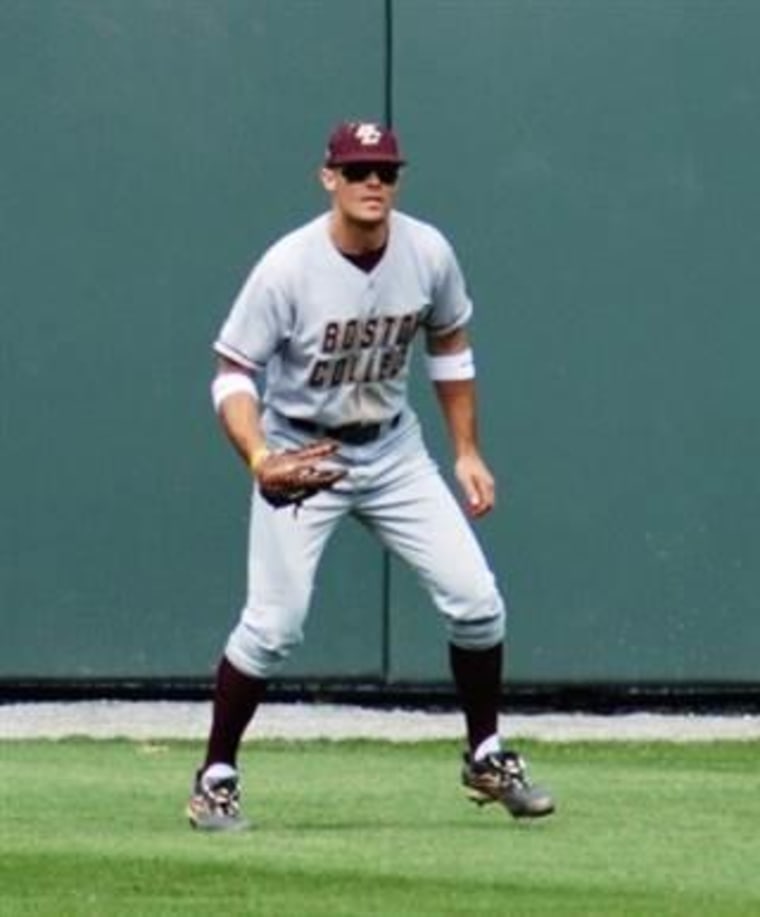 This month marks the third anniversary of Pete's diagnosis of ALS, also known as Lou Gehrig's Disease. Pete was just 27 when he received the news, but from the beginning, he saw it as a chance to do something positive, according to BC's head coach, Mike Gambino.
"He was just told he had a disease that has no known cure, no known cause and 100 percent mortality rate," Gambino said of Pete, who serves as the team's director of baseball operations. "And he said to me, 'This is an unbelievable opportunity we have.' I'm caught off guard and say, 'What do you mean?' And he says, 'I'm young. I'm healthy. I'm good-lookin'. I'm in great shape. We now have a platform to attack this disease. We're going to end this.'"
A lifelong Red Sox fan from Beverly, Massachusetts, Pete started more than 100 games as an outfielder for Boston College, but it's his contributions off the field that make him a most valuable player.
When the ALS Ice Bucket Challenge was in its infancy in the summer of 2014, he was one of the first to popularize the trend of dumping ice water on people to raise money and awareness for ALS charities through social media. Although his disease had progressed to the point that he couldn't actively participate on his own, his persuasive pleas to friends were shared online to exponential extremes.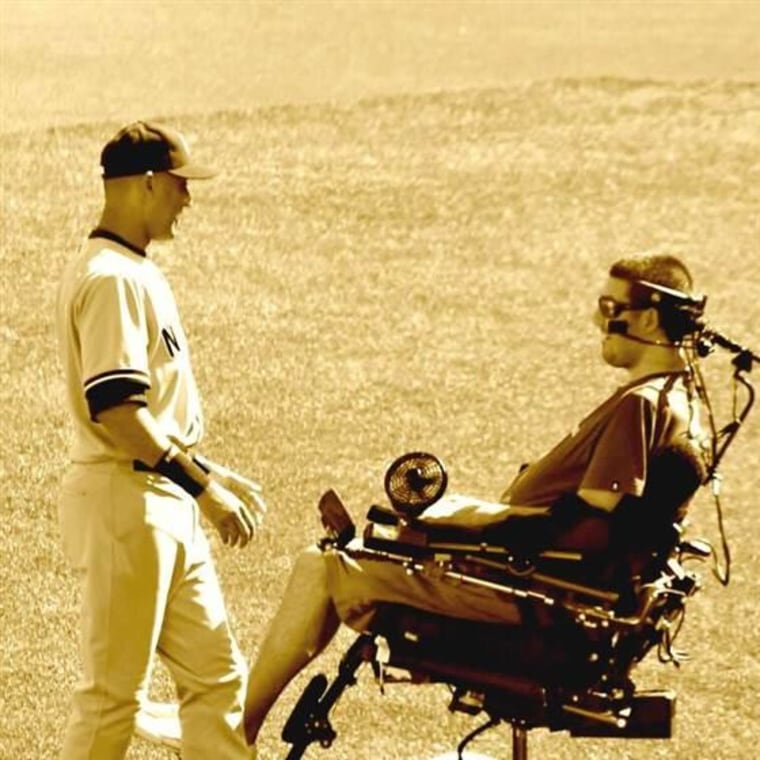 Once Boston's pro athletes started dumping buckets of ice on their heads – with many giving a shout-out to Frates, himself – the craze went viral, capturing the attention of countless celebrities and raising an estimated $200 million for ALS charities.
Frates' younger brother, Andrew, said Pete reveled in watching so many stars dump buckets of ice water on their heads, but was blown away when Howard Stern, Derek Jeter and Bill Gates took the plunge.
"The first week of the diagnosis, he sat my family down and said, 'I'm going to get this in front of some major philanthropists, like Bill Gates,'" Andrew recalled. "So, once we saw the Bill Gates video, that was just amazing."
The summer ended with even more good news. On Aug. 31, Pete became a father for the first time. He and his wife, Julie, gave birth to their daughter Lucy.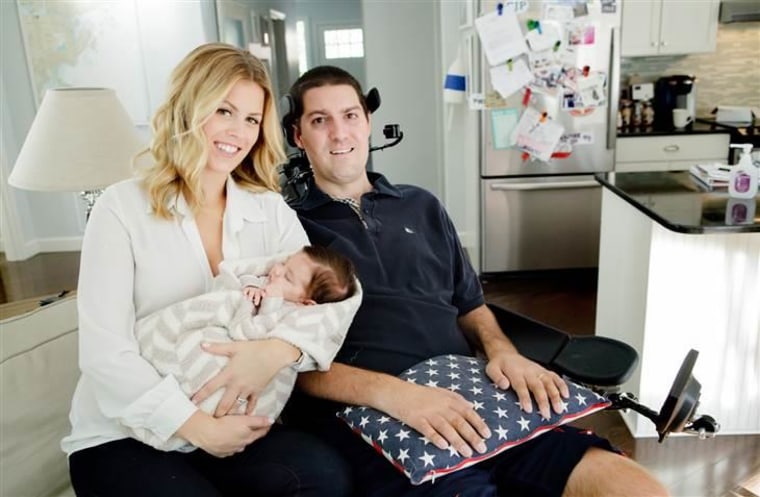 "It was kind of the exclamation point on just a miracle month," Andrew said. "Pete loves being a dad."
For Tuesday's spring training game in Fort Myers, Florida, Boston College's uniforms will be replicas of those Pete wore as a senior captain of the team in 2007. But many would argue his enduring legacy began after his playing days ended.
"He became our mentor to all these boys, helping them mature into leaders," recalled Gambino, now in his fifth season as BC's head coach. "That's something that he's done all the way through. These boys, they love him. They love being around him. They hang on his every word. This is a team that's very much a family, and he's a huge part of that."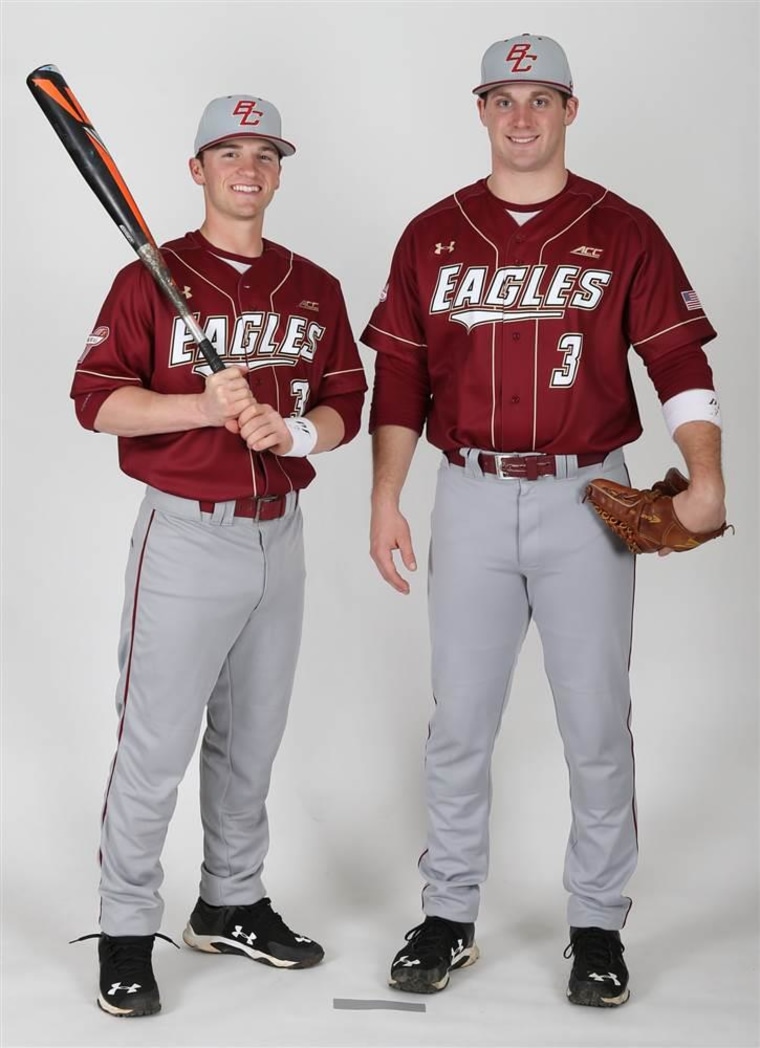 BC pitcher John Gorman, one of this year's captains, can attest to that. "He means everything to us and our program," he said. "You look at Pete, and the way he goes about his day-to-day life, and everything he has to deal with, he's just so positive, and has such great energy."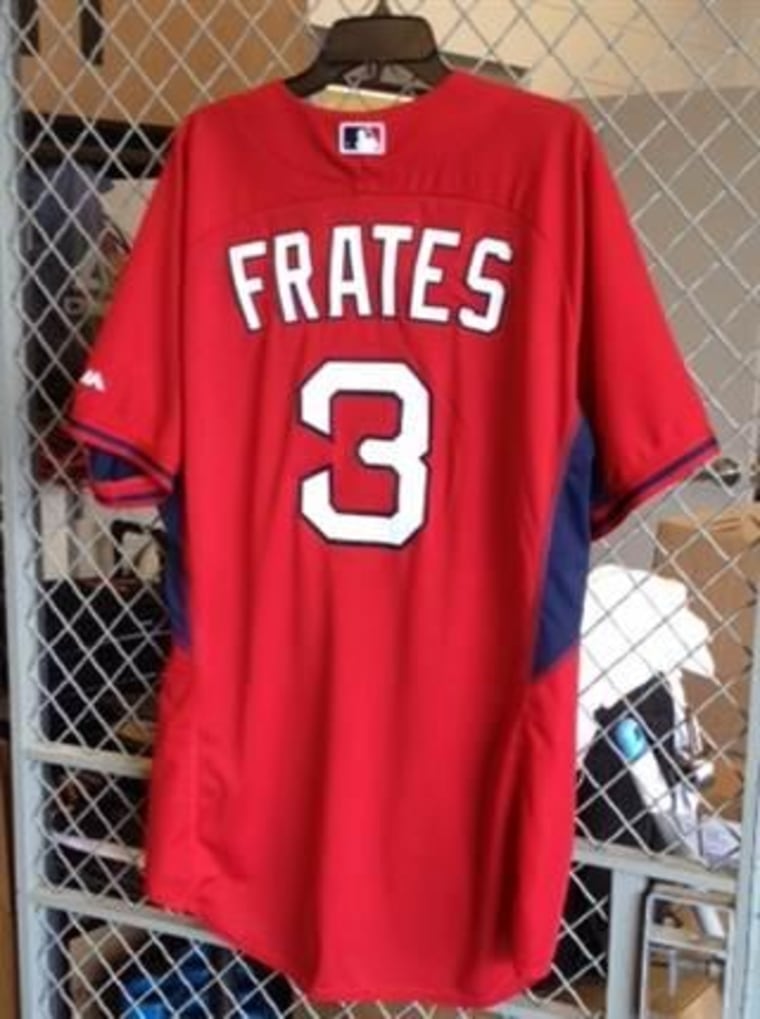 Gambino said he emailed Red Sox executive Sam Kennedy a few weeks ago to see if the club would join in BC's uniform tribute. "I went to a meeting, and came back an hour and a half later, and there were, like, seven emails from Sam and a whole bunch of people on there who said, 'Hey, we love the idea. Let's go,'" Gambino recalled.
In addition to facing Red Sox pitchers Curt Schilling and Daisuke "Dice-K" Matsuzaka at the Major League Baseball club's spring-training facility in Florida, Pete loves Boston's Fenway Park, where, as a player, he clubbed one of his 11 collegiate home runs, and, as an advocate, he took the Ice Bucket Challenge for the first time.
Pete has been hospitalized with pneumonia since mid-February, according to his brother, but is excited to tune into Tuesday's game, which his parents and wife plan to attend.
Even if the Ice Bucket Challenge is a passing fad, the Frates family is looking ahead. Beyond Tuesday's game, the family is promoting BC baseball's ALS Awareness Game on May 4 and a "Pints 4 Pete" fundraiser on May 7.
In the meantime, Tuesday's game, according to Red Sox Executive Vice President Charles Steinberg, reflects his franchise's dedication to Pete and his cause.
"From the moment he launched a booming home run into the right-field bullpen at Fenway Park for Boston College versus Harvard in 2006, Pete Frates has had an unusually close connection with the Red Sox," Steinberg said in a statement to TODAY.com. "That relationship, remarkably, has only grown as Pete and his family inspire us with life-affirming and life-changing gestures. … And now, we are eager to say thank you again, and we hope to celebrate his commitment to ALS awareness for years to come."
Follow TODAY.com writer Chris Serico on Twitter.
This article was originally published Mar. 2, 2015 at 6:54 p.m. ET.