He's not a dating expert, nor an advice columnist, psychologist or relationship therapist. His expertise lies in the field of market research and he applies his scientific skills to educate women with all they need to know about men.
In his book, "Why Men Marry Some Women and Not Others," author John Molloy says that women will discover the proven facts and figures that will help them find and marry Mr. Right. Here's an excerpt: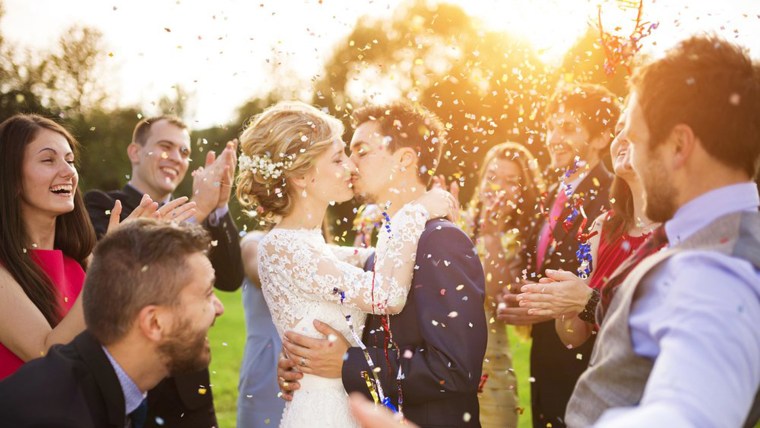 The Marrying Kind
When Beth, one of my better researchers, said that men who were averse to commitment were drawn to her like bees to honey, I gave her a copy of the summary report of my research on "why men marry." The report showed that the primary reason a man asks one woman to marry and not another is that each woman treats him differently.
After looking it over for about fifteen minutes, Beth returned the report to my desk and told me I was a male chauvinist.
I was taken aback for a moment. I was fond of Beth and trying to help her, so after I recovered, I asked her what made her think that.
She said, "You reinforce the myth that the reason men don't commit is that the women in their lives do something wrong. That's nonsense. In most cases, it's the man in a relationship who decides he isn't ready or doesn't want to get married, and he makes this decision without any help from the woman."
After telling Beth that more than three hundred women had worked with me on the marriage research and not one had made the comment she just offered, I apologized. I had to admit she had a point. My interviews with single men had shown there were men who would not commit. Beth was also right when she said that if I could help women identify which men were more likely to commit, I would be performing a real service. As a reward for her insight, I put her in charge of the project.
Looking for Mr. Right
My researchers approached this project the same way we had others. First, Beth reviewed the literature and research we had on file. With this in mind, I reviewed our interviews with men and women who were planning to marry and videos of two focus groups we had run with single men.
We then broadened the study by surveying and then running focus groups of single men who at that time had no intention of getting married. At first, we had young single men do the interviews, but so many of the interviewees gave macho answers that we doubted their reliability. In fact, we threw out the entire study and started again.
The second time we tried teams composed of men and women, but that produced mainly politically correct answers, which we also questioned. Finally, we had men in their sixties ask the questions, and that solved the problem. The responses they elicited were generally straightforward. The single men apparently did not feel an obligation to give these interviewers macho or politically correct answers.
Is he old enough to marry?
This survey uncovered some interesting facts. The first was that there is an age when a man is ready to marry-the Age of Commitment. The age varies from man to man, but there are patterns that are easily identified:
Most men who graduate from high school start thinking of marriage as a real possibility when they are 23 or 24.
Most men who graduate from college don't start considering marriage as a real possibility until age 26.
When men go to graduate school, it takes them longer to get into the working world, and they're not ready to get married until a few years after that.
Ninety percent of men who have graduated from college are ready for the next step between ages 26 and 33; this is when they are most likely to consider marriage. But this window of opportunity stays open only for four to five years, and then the chances a man will marry start to decline.
A majority of college graduates between 28 and 33 are in their high-commitment years and likely to propose.
This period for well-educated men lasts just a bit over five years. The chances men will commit are sightly less when they are thirty-one or thirty-two than when they were between 28 and 30, but they're still in a high-commitment phase.
Once men reach 33 or 34, the chances they'll commit start to diminish, but only slightly. Until men reach 37, they remain very good prospects.
After age 38, the chances they will ever marry drop dramatically.
The chances that a man will marry for the first time diminish even more once he reaches 42 or 43. At this point, many men become confirmed bachelors.
Once men reach age 47 to 50 without marrying, the chances they will marry do not disappear, but they drop dramatically.
Still, there is no one-to-one correlation. For example, when a man goes to law school, which takes three additional years, he usually starts considering marriage around age 27 or 28. That's also the age when most doctors, who spend four years in medical school and at least one year as an intern, start seriously thinking about marriage.
The single men we interviewed explained that when they get out of school and get a job and start making money, new possibilities open to them. For the first time, a majority of them have some independence. All of a sudden, they have a nice car and an apartment and an income. They're reluctant to even consider marriage for a few years, because they want to sow their wild oats.
Many look at time spent as a carefree bachelor as a rite of passage. So for the first few years that they're on their own, their primary goal is having fun, which translates into dating without any serious thoughts about marriage.
Just because you're ready doesn't mean that he is
One of the most common mistakes young women make is to assume that because they're ready for marriage in their early or mid-twenties, the men they date are, as well. But as the above research shows, that's usually not the case.
If a woman is seriously trying to find a husband, she should date men who have reached the age of commitment. She can date men slightly before they reach that age, because by the time she's gone out with a man for a year, he may have reached the point of being receptive to the idea of marriage.
But this is taking a gamble that the man is typical, because the figures I've just given are educated estimates. Not all men mature at the same rate, and other factors can and do affect a man's readiness to marry.
Even among men who are positively inclined toward marriage and are from identical educational and socioeconomic backgrounds, 20 percent will reach the age of commitment a year or more before our estimates, while another 20 percent will only consider marriage as a real option two to four years later. So if you're dating a man much younger than the commitment age, the chance he'll commit is relatively small.
There's one exception to this rule: Men and women who are seriously committed couples while still in school often get married shortly after they finish their formal education. This is usually an arrangement agreed to by the man but devised by the woman. Such couples, however, represent a very small percentage of today's singles.
Signing off on the scene
When we conducted a focus group with 12 men who had just proposed to women, we learned that men were far more likely to marry when they got tired of the singles scene.
Our original intent was to determine how men at different ages reacted to single women they met at social gatherings. We started by asking the men about their lives before they met their future wives. How often and whom had they dated, where had they met the women, had they gone to singles places and, if so, how often? The first thing that struck us was that about a third of them said that for six months to two years before they met their brides-to-be, they were not dating or going to singles places as often as they had been just a few years earlier.
They had not stopped dating. It's just that they were no longer going to singles hangouts and trying to pick up women several times a week. Picking up women was no longer their main reason for going out. A majority of them hadn't admitted it to themselves, but their answers revealed they were trying to meet someone with whom they could have a serious relationship. They told us the singles scene was not as much fun as it used to be.
The next step
The men had not completely given up on the singles scene, but they were ready for "something else" or the "next step." Those two phrases caught my attention. Four of them used one phrase or the other, and ten of twelve men in our focus group said they felt the same way: The singles scene had lost some of its appeal. The "next step," as a majority of them admitted reluctantly to our researchers, was a serious relationship and possibly marriage.
We asked them why they weren't enjoying the singles scene, and at first the only answer we got was, "Been there, done that." Even though most of the men we met after they picked up a marriage license were between 27 and 34, we did meet men from 17 to 77 who were about to marry. Indeed, there was such a wide range of ages that at first we didn't think age was a factor.
But it became clear that they weren't going to singles places as much as they had in the past because most of the people there were much younger than they were. Many men reluctantly admitted that for more than a year, they had felt uncomfortable in the singles world where they had been hanging out for the past five years.
The singles world for professionals obviously is an older and more sophisticated crowd than that for men whose formal education ended in high school, but eventually men from both groups had the same experience.
Three young men who had graduated from the same high school were in one focus group made up of men who were about to marry. Two had taken some technical training; the third hadn't. One was a plumber, one worked repairing computers, and the third was a store manager. Each said he had begun to feel uncomfortable in his favorite singles place about two years earlier.
For two of them, their singles place was a bar and pool hall where they and their single friends hung out and met women. The third man was a very active member of a large Baptist church. For him, the singles scene was church meetings and church singles functions. Interestingly, he and the fellows who frequented bars and pool halls made the same comment.
One said that the singles bar he used to visit was filled with teenyboppers, and he felt out of place. He didn't say he had outgrown the bar; instead he complained that they weren't checking IDs anymore. The Baptist man observed that church dances were now attended by a bunch of "kids." All three admitted under questioning that when they had started hanging out in "their" singles place, they too were teenyboppers or kids. They had simply gotten too old for the crowd.
There were two single professionals in the same focus group, one a doctor and the other an engineer with a master's in electrical engineering and business administration. It surprised us when they reported feelings identical to those of the younger high-school-educated men. The places the professional single men went drew an older crowd.
Among the professionals, the youngest women were college graduates and probably at least 22. Professional men-unlike the younger men who had only completed high school-were perfectly at ease in their favorite singles places well into their thirties. Still, 30 percent of the single men with a postgraduate education said that as they approached thirty, they began to feel they no longer fit into their singles scene.
So there is a point at which men are likely to be ready for the next step, but the specific age depends on the man's maturity, education, and profession.
There were two notable exceptions to the age guidelines: men who were balding or heavy. Losing hair or putting on weight often makes men look older, and when a man looks older in singles places, he is often treated by the women as if he doesn't belong.
Many men in their mid-twenties who were getting bald said they weren't as interested in the singles scene as their buddies, and they were ready for a more serious relationship. A 24-year-old man who was almost completely bald explained that he had felt uncomfortable in the singles scene after he had approached a young woman in a singles bar and asked if he could buy her a drink.
Her response was to tell him, loud enough for everyone in the bar to hear, that it would be a good idea if he went home and kissed his wife and played with his kids. When he protested, she became sarcastic.
He could see he was losing the argument not only with her but with the entire bar. He walked out and never went back. It is not how old they are that makes men uncomfortable, it is how old they feel, or how old others make them feel. Once a man decides he's too old for the singles scene, that part of his life is over, and he is more likely to marry.
Not your average Joe
Joe's experience was not unique. An attorney, he told us he had been going to a restaurant for three years on Friday nights. It was a hangout for attorneys, judges, and others who worked in the court system. Joe explained that the restaurant was usually full, and on Friday nights the bar area was crowded with young singles, while most of those seated at tables were older and married.
When he showed up one Friday night, there was a new hostess seating people. Without asking, she seated him at a table, assuming he wouldn't want to join the singles at the bar. Joe was too embarrassed to contradict her, and he realized she was right — he no longer belonged at the bar.
Most of the men we interviewed, however, asserted that they hadn't become convinced they were too old for the singles scene because of one incident. It was a series of small incidents over a period of time that turned them off-usually comments made by one or more young women that made them realize they no longer fit into the place they had frequented for years.
One of the focus groups composed of men about to marry said that if a woman wants to know whether a man is ready to get married, she should ask him how much he enjoys the singles scene. If he says it isn't as much fun as it used to be, he's a very good prospect, because he's ready to move on to the next step. They were right, but there's more to it than that: The woman should also ask the man a number of questions, including his age.
Bachelors for life?
It's easy to spot a confirmed bachelor. He's so used to living alone that he will list the pleasures of the solo life-coming and going as he pleases, not answering to anyone as reasons for not marrying. But there's still hope.
Thousands of former "confirmed" bachelors get married each year, usually to women they've known for less than a year or whom they've been going with for many years. Once men reach age 47 to 50 without marrying, the chances they will marry do not disappear, but they drop dramatically.
Please keep in mind that I'm talking about men who have never been married. Men who have been married before are open to remarry much later in life. They have entirely different relationships with women.
If a woman in her forties or older who has never been married is dating a man who has never been married, the chance of him marrying is still good. But at that time in her life, most eligible men are either widowed or divorced, and their chances of marrying again are substantially higher than those of men of the same age who have never married. In other words, if a woman meets two men in their late forties, one who has been married and the other a lifelong bachelor, she should choose the one who has been married before.
Although the first man may on the surface appear more cautious, he's far more likely to marry than the second. Many single women say divorced men are often bitter and defensive, so they don't date them. That's usually a mistake.
Handling stringers
If you're dating a man who has had one or more long-term relationships with other women and didn't marry them, there's a real possibility he's a stringer. A stringer is a man who strings women along. He likes having a woman, sleeping with a woman, eating with a woman, possibly sharing his life with a woman without ever making a real commitment. He often tells women, up front, he never intends to marry, so if and when he decides he wants to cut out, she has no reason to complain.
If you think you may be involved with a stringer, establish a deadline. If he doesn't commit to you within six months, get rid of him. Pay no attention to his excuses. He may tell you that you're coming on too strong. He may complain that the two of you haven't been going together long enough, that he doesn't know, that he hasn't made up his mind. In fact, he is likely to tell you anything that will get you to stick around without his needing to make a commitment. Don't fall for it. The chances a stringer will marry are very slim; he is simply not the marrying kind.
Earlier I mentioned those men who went with one woman for a time, then shortly thereafter went out and married another. This was the pattern, in fact, that initiated our research.
So we questioned the couples in which the man had gone with one woman for years and was marrying another. The women who married these men insisted they commit early in the relationship. If you meet a man who has had a long-term relationship, make it clear to him that if he dates you for a certain length of time, you'll expect a ring. If he doesn't understand that, you haven't done your job. Don't think his affirmative response to such a declaration is a precursor to his making a commitment. He's strung many women along, and he may try it with you. If after six months you don't have a firm commitment, leave.
We ran across at least fifty men we could identify as stringers. They can be very dangerous. I estimate each one is responsible for at least two women remaining single. They are destructive because they con women into wasting their time during the years when they are most attractive and most likely to get a proposal. They stay with women, live with women, promise them marriage, and string them on and on indefinitely.
There is one surefire way to identify these men-they are usually repeat offenders. If a man had even one long-term relationship with someone else, he's very likely to be a stringer. If he does not set a firm date, be on your guard.
Biological clocks
We spoke to 121 men in their forties who were marrying for the first time. Their reason for marrying was different than that of the younger men we interviewed. Many of these older men were eager to marry because their biological clock was running.
Obviously, a man's biological clock isn't the same as a woman's, but men are often in just as much of a hurry to have children. They're not worried about physically being able to father a child, but about being a father to the child. Men forty-two and older who were about to marry looked forward to having children, and they almost unanimously pictured themselves as fathers of sons.
They want to be young enough when their sons come along to teach them all the things fathers traditionally teach their sons-to ride a bicycle, to fish, to play ball, and so forth. The most important reason these men had for marrying was that if they waited much longer, they wouldn't be able to be active fathers. So if you meet a man in his forties who tells you he's eager to have a son so he can do those male-bonding things, know that these things are very important to him, and they'll dramatically increase his readiness to marry.
Unpolished jewels
We talked to dozens of men in their late thirties and early forties who had given up on the idea of marrying. Most lacked one of three things-looks, height, or social skills. They had been rejected so often that they had despaired of ever finding a woman who would love them or even put up with them. Many had been treated cruelly by women.
If I heard it once, I heard it a dozen times: "If I could find a nice woman, I'd marry her tomorrow." If you meet a man who has never been married and seems excessively shy, it doesn't mean he's not interested in you, particularly if he's in his late thirties or older and not socially gifted. If you signal your own interest, you may find a nice guy who would love to settle down.
These men have been rejected and demeaned for years by women because they weren't tall enough or handsome enough or smooth enough. It's easy to understand why they're so reluctant to put their egos on the line once more. If you meet a man who appeals to you, don't let his lack of social skills dissuade you from showing you're interested in him.
Only after being convinced you like him will he be able to summon the courage to ask you for a date. You may even end up having to do the asking, but it might be worthwhile: These "diamonds in the rough" are often strong candidates for marriage.
There are literally hundreds of thousands of men and women in their forties and fifties eagerly seeking mates, but somehow they can't seem to find each other. The main reason, I believe, is that those in both groups have been emotionally battered in the dating game, and they're very gun-shy. If you can help a man overcome these feelings, you may find a real diamond in the rough. I know it's a hard thing for a woman to do, but if you can put yourself on the line just once more, you might be rewarded with a wonderful guy.
One thing impressed me: The men who were not married were just as nice, just as intelligent, just as hardworking as the men who were. Maybe that's why seven out of eight men aged 50 and over who were about to marry for the first time were marrying women who had been divorced. These women told us they saw lack of social skills or a few inches in height as a minor detail, because they had already had a man who was tall or suave, and he hadn't made a very good husband.
Bad investments
There is a possible drawback to dating a man aged 40 or older. Many men at that age begin to look at women and marriage as a poor financial investment. There's no other way of putting it. When you ask them why they're not married, they tell you they spent most of their lives building a nest egg, and they're not about to share it with some "babe." In our interviews, they often used such derogatory terms when speaking of women. They talked as though a woman's only interest in a man is what she can get out of him.
The irony is that many of the men who spoke this way really didn't have all that much anyway. Today, many of the women whom these men think are after their money earn far more than they do. If a man talks of marriage as a financial game in which women are out to make their fortunes, don't just walk away-run! Such men are hardly ever going to be the marrying kind.
I'm not suggesting money is a subject that couples shouldn't discuss when they're thinking about marriage. All couples need to discuss money, especially when either partner has assets and responsibilities. Just don't base the discussion on the assumption that either one is out to take advantage of the other.
Parents' marriage
Another factor that determines whether a man is likely to get married is the success, or lack thereof, of his parents' marriage. This, of course, affects women as well. We found that many single men and women in their late thirties and forties were products of divorce. With the men, in most cases their parents' marriage broke up when they were young, and it seemed to have affected the way they looked at life. The difference between older children of divorce and other confirmed bachelors is their reason for not being married. Older single men whose parents had a good marriage say, "I'm not getting married because I'm not ready," "I'm not the marrying type," "I enjoy being single."
Older unmarried men who are products of divorce com-plain about marriage itself. They'd like to get married, they say, but they don't have much faith in the institution; it's not all it's cracked up to be. They believe in living together, because in their minds, once people marry, the romance ends. They usually don't keep their feelings a secret.
If you talk with them about marriage, they tend to be very open about what they believe. Men from divorced homes do marry, but they're a bit reluctant to do so. Often the women had to drag them to the altar. Obviously, since it plays such an important role in a man's decision making, the marital status of a man's parents is one of the first things you want to find out.
(If you'd like to investigate further the effect of divorce on adult children, read The Unexpected Legacy of Divorce by Judith Wallerstein, a book I discovered after I had completed my research.)
None of this is to suggest that if you meet a man whose parents were divorced, you should immediately cross him off your list. About half the people in America fall into that category, and you'd end up with a very short list. But it's definitely one of the things you should bear in mind and ask about when you are dating a man you're considering marrying. I can't tell you exactly how much impact it will have on any particular man's decision to marry, but I know it can be a big stumbling block.
Socioeconomic factors
Another crucial factor that influences the chances of a couple marrying is socioeconomic mix. If both members of a dating couple come from the same or a similar background, they're substantially more likely to get married than if their backgrounds are dissimilar. Date men who will fit in with your friends and business associates. Opposites may attract, but men and women from similar backgrounds marry.
So bear in mind that a man is much more likely to marry you if he is from the same socioeconomic background as you are.
When religion and politics mix
Other factors that contribute to the likelihood of a relationship leading to marriage are religious beliefs and political persuasion. Each of these has a relative value. If a man is deeply committed to his religion, he probably won't marry outside that religion unless the woman gives in to him on religious matters. The same goes for a woman with strong ties to a religion; her fiancé may need to accept her faith. In some cases, this means one person converting to the other's religion.
The most common impediment to marriage is one party's insistence that the children be raised in his or her faith. So if you're dating someone from another religion and both of you hold your religious beliefs very strongly, it dramatically reduces the chance that you will marry.
Couples coming out of marriage license bureaus confirmed these findings. A number of them told us that before they met their intended, they had had a serious relationship in which religious differences caused one party to break it off. I'm not suggesting there aren't interreligious marriages; I have friends and family whose interreligious marriages work very well. But it's a statistical fact that commonly held religious beliefs increase the likelihood a couple will marry.
Therefore, if you have a choice of dating two men who seem equally desirable, but one holds the same religious beliefs you do and the other doesn't, you're better off dating the man with beliefs similar to yours. Your chances of marrying him are much greater than your chances of marrying the other man. The importance of belief systems cannot be underestimated, and this is also demonstrated in political areas.
Men and women often do not cross "party lines" on the way to the altar: Republicans generally marry Republicans, Democrats marry Democrats, conservatives marry conservatives, and liberals marry liberals. Of course, there are exceptions. One of the most public party-crossing couples is conservative pundit Mary Matalin and Democratic campaign manager James Carville, who worked for opposite sides when Democrat Bill Clinton challenged GOP incumbent George H. W. Bush for the presidency.
In the focus group we put together to investigate political alignments in marriage, we discovered that many married couples were politically divided. We know more women vote Democratic than men, and more men vote Republican than women. Political disagreements are a significant factor only when they're grounded in core beliefs. Differences of opinions on core values such as abortion, capital punishment, or even disciplining children can divide a couple.
So if your deeply held values and beliefs, religious or political, clash with those of your man, it's less likely that you will wed. Think it over. People with similar beliefs and values tend to have similar outlooks on life and are usually more compatible.
Living at home
Men who live at home with their parents are less likely to marry than men who have their own places. This is more significant in some communities than in others. In communities where circumstances make it difficult for young people to find a suitable place to live-for example, an expensive suburb where there are no rentals-it isn't as important.
Nevertheless, a man who lives alone is more likely to marry than one who lives with his parents. We also discovered that men who have never lived away from home are less likely to marry than men who have. Men who have gone away to college or have worked in a different city are more likely to marry than men who have never left their parents' home.
Following the pack
Another important question a woman should ask a man before getting serious is whether any of his male friends have married in the last year or so. If so, there's a substantially higher chance that he himself will tie the knot within the next two years than if none of his buddies has recently renounced bachelorhood. More than 60 percent of the men we questioned coming out of marriage license bureaus told us they had a friend who had married within the last year.
After we asked men in singles bars if any of their friends had recently married, and if they themselves were considering getting married, we saw a reason for this correlation. Seeing their friends marrying had clearly caused a change in their thinking. Those who said none of their male friends was married were two to three times as likely to tell our researchers they were not ready to marry.
Of those who had seen even a few male friends get married recently, a majority said if they met the right woman, they might think seriously about getting married. There's no question men play follow-the-leader when it comes to marriage.
Keeping it in the family
A follow-the-leader factor can also be seen in families. Single men who had unmarried older siblings-particularly if the siblings were still living at home and past the prime marrying age-were less likely to find a spouse than men whose older siblings were married, or those men who had no older siblings. Men usually will tell you what they think. If a man says he does not see himself married, could never see himself married, doesn't think marriage is for him, you should look elsewhere.
Date only the marrying kind
To dramatically increase your chances of marrying you must seek out and date the marrying kind.
Statistical Truths About the Marrying Kind
Most men will not even consider marriage before they reach the age of commitment. For 80 percent of high school graduates, the minimum age of commitment is 23, whereas for 80 percent of college graduates, it's 26.
The high-commitment period for most college-educated men is from ages 28 to 33.
For men who go to graduate school-doctors, lawyers, and the like-the high-commitment period runs from 30 to 36.
After age 37 or 38, the chance that a man will commit diminishes. After 43, it diminishes even more.
Most men think sowing their wild oats is a rite of passage and will not even contemplate marriage until they have been working and living as independent adults for several years.
Men are most likely to marry after they become uncomfortable with the singles scene.
Men have biological clocks. They want to be young enough to teach their sons to fish and play ball, and to do the male-bonding thing.
Men who look at marriage as a financial arrangement in which women have the most to gain are not likely to marry-nor are they good prospects. Run... Fast. Men whose parents divorced when they were young are often gun-shy about marrying.
Men often marry women whose backgrounds — religion, politics, values, socioeconomic status matches theirs.
Men who have their own places and have lived as independent, self-supporting adults are more likely to marry.
Men whose friends and siblings are married are more likely to marry.
If a man over the age of 40 has been married before, he is more likely to marry than a 40-year-old man who has never been married.
If you wish to facilitate a trip to the altar, meet and date only the marrying kind!
Excerpted from "Why Men Marry Some Women and Not Others" by John T. Molloy. Copyright © 2003 by John T. Molloy. Published bt Time-Warner Books. All rights reserved. No part of this excerpt can be used without permission of the publisher.
RELATED: