Two Japanese teenagers posted a video in mid-November, which started a new craze — the condom challenge. While ER doctors are split over whether it's just a harmless fad or there are "real risks", either way, it's probably a good idea for parents to be aware.
To do the challenge, one person sits, preferably in a tub, while the other holds a condom, filled with water over the seated person's head. The standing person drops the condom, which envelops the person's face in a bubble. It produces a cool effect before bursting and spilling water everywhere.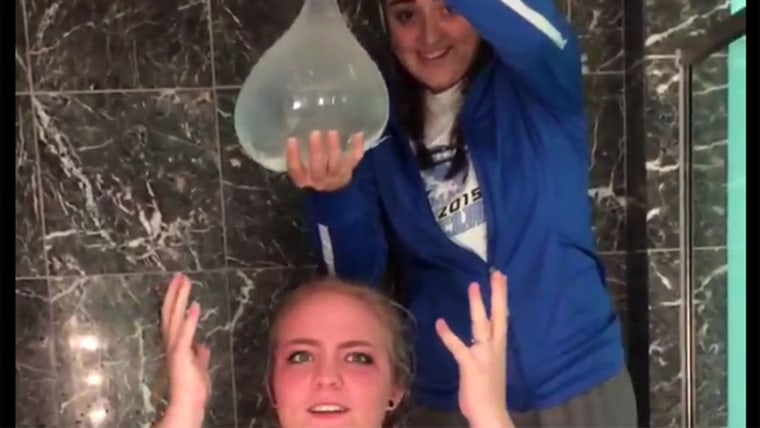 The video has been viewed a half a million times, and an Instagram hashtag shows dozens of successful and less than successful attempts. An associated Twitter account has since been removed.
RELATED: 8 useful gifts from wine condom to heated gloves
Like the cinnamon challenge, the Kylie Jenner lip challenge, and the planking challenge, people worry about the dangers to teens. While some challenges prove harmful, emergency room doctors haven't yet seen injuries related to the condom stunt.
"I personally haven't seen it in the emergency department," says Dr. Mark Reiter, president of the American Academy of Emergency Medicine and residency director at the University of Tennessee Murfreesboro/Nashville.
But, he warns against the challenge because the condom covers the nose and mouth, which could cause suffocation.
"It doesn't sound like a particularly good idea and there are probably safer, smarter ways to spend one's time," he says.
James Bryant, associate chief nurse for emergency services for Cleveland Clinic, says latex does not break effortlessly, making it easier to form an airtight seal around the mouth and nose.
When the condoms break teens might inhale small pieces of latex, spermicide, and lubricant that could cause irritation or infection in the airways.
"A tiny piece of [latex] could be impossible to see," he says. "There are real risks involved with this prank."
But Dr. Jason Kodat thinks the condom challenge seems fairly harmless
"It's a relatively silly thing," says the emergency room doctor with Allegheny Valley Hospital. "I have seen things that are a thousand times more dangerous. Just driving to the store is more dangerous."
RELATED: Zac Efron drops a condom on 'The Lorax' red carpet
He believes that the challenge can be conducted safely — and almost always is — because there are two people involved.
The person who drops the condom should watch the person covered by the condom. If it doesn't break in a few seconds, the friend should pop the condom. Even if people did it solo, their natural defenses would kick in,says Kodat.
"It would maybe be a little bit dangerous if you did it completely alone. You have a membrane over your face that is preventing breathing," Kodat says.
But, he thinks people would tear the condom off their faces before passing out.
"It wouldn't harm people with normal reflexive actions," he says.
Bryant worries that people who do the challenge alone might slip, fall and lose consciousness while the condom covers their faces, leading to suffocation.
Still, he hasn't heard of any injuries from the challenge, yet.
This isn't the first condom challenge. A few years ago, teens snorted condoms up their noses and pulled them from their mouths (another thing to make sure your teens aren't trying).
RELATED: Taylor Kinney: Watching fiancée Lady Gaga's sex scenes is awkward
There might even be an upside to this viral teen trick: it shows how strong condoms are and makes them seem fun and normal, says Kodat. That's important: more than 20 million new sexually transmitted infections occur each year among young people, ages 15-24, according to the Centers for Disease Control and Prevention.
"Back in the day you were embarrassed to buy [condoms] and now you can walk in and say 'I'm buying them for the condom challenge,'" Kodat says.