Like many parents in the Baltimore area, Bryan Bartlett was struggling with what to do about the Ray Rice jersey his kids had been wearing before scandal engulfed the Ravens' running back.
So he decided to transform it with a positive message.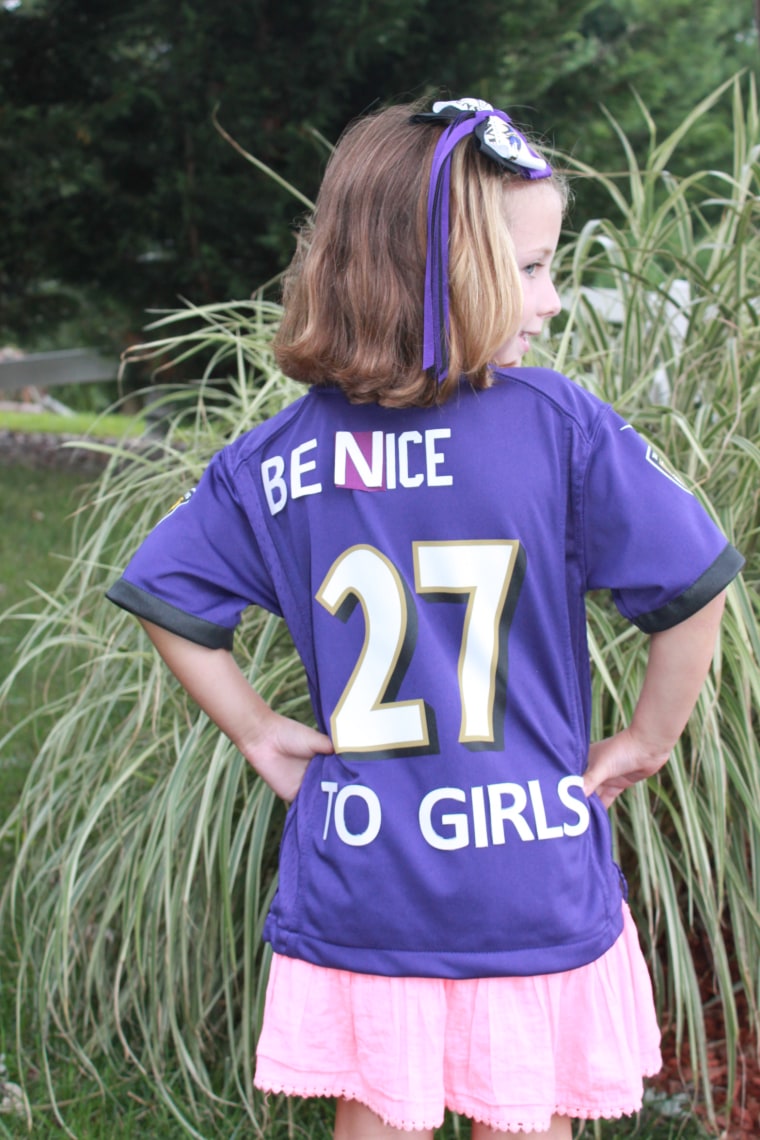 Some people have been cutting up the shirts, while others have been burning them ever since a video emerged of Rice punching his then-fiancée, and now-wife, in an Atlantic City hotel elevator in February, knocking her unconscious.
Bartlett called the clip "horrible," noting that he and his wife made sure their two kids — 6-year-old daughter Brynn and 9-year-old son Bryson — didn't watch it.
But the Bartletts are Ravens fans, and each child had received a Rice jersey as a Christmas present two years ago.
"It just seemed over the top to destroy it," Bartlett, who lives in Ellicott City, Maryland, told TODAY Parents. "It just kind of popped into my head: Rice, nice."
He glued a few letters to his daughter's shirt so the Ray Rice jersey now reads: "Be Nice To Girls." After Bartlett's wife posted a photo of Brynn modeling the shirt on her Facebook page, the image went viral.
"I was just hopefully teaching my daughter that we expect that guys always are nice to you and treat you with respect and that you don't put up with anybody being mean or hitting you or anything like that ever. It's just never acceptable," Bartlett said.

Then, there was a broader lesson for both children about the consequences Rice faced.
"When they're kids and something happens, they may get a time out or they may lose a privilege, or something like that. But when they're older, the consequences are a lot more severe and you can lose everything."
Now that Rice has been dismissed by the Baltimore Ravens and suspended by the NFL, there are plenty of opportunities for fans to rid themselves of his jersey. The Baltimore Ravens are hosting a jersey exchange next week.
Meanwhile, one Baltimore restaurant is inviting customers to trade their Rice jersey for a free pizza, while a local tavern is offering a $10 bar tab for anyone who surrenders their Rice shirt. Both establishments have also promised to donate to domestic violence prevention.

Parents who want to turn the incident into a teachable moment should tailor answers to their level of maturity and follow their cues about how deeply they want to dive into the issue, advised TODAY Parents contributor Amy McCready, author of "If I Have to Tell You One More Time."

"For younger kids, explain it in very simple terms: a man got very angry and let his anger out in a bad way, by hitting someone he loved. Remind your kids that it's OK to be really angry or frustrated — everyone feels that way from time to time — but it's never OK to hit another person or hurt them intentionally," McCready said.
"For older kids and teens who may be dating, a frank discussion about domestic violence is essential. Explain that no matter what happens in a relationship, hitting a spouse or significant other is never justified, in fact it's against the law. Then discuss appropriate strategies your teen can use when he gets angry with his girlfriend."
And of course, always model respectful conflict resolution at home so your kids see that adults will disagree, but there is always a peaceful, productive way to solve the problem, McCready added.