Armed with a black belt, a Michigan rabbi is helping kids fight cancer with kicks, punches and a relentlessly positive attitude.
Rabbi Elimelech Goldberg, affectionately known as Rabbi G, has helped more than 5,000 children with cancer conquer pain, fear and stress through martial arts, meditation and breathing exercises.
In 1999, Rabbi G created Kids Kicking Cancer, a nonprofit that offers free classes to children as young as 3 years old who are battling serious illness. As part of the "Hope To It" series on TODAY, his students showed how kicking cancer has helped them through a difficult time.
RELATED: High school students throw sweet 'senior prom' for nursing home
"Karate makes me feel stronger and powerful to myself and to everything I've been going through,'' student Nakia Thomas told TODAY Tuesday.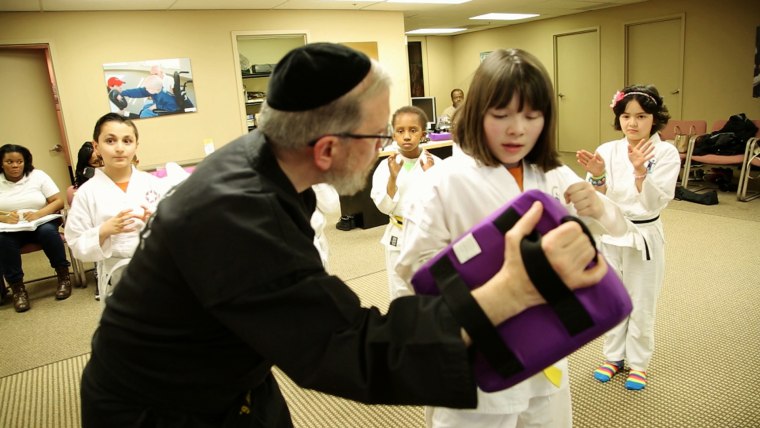 For an 8-year-old girl named Lexi, who was diagnosed with leukemia in 2013, the program helped her face the constant rigors of her treatment with a mantra of power, peace and purpose. She now is a yellow belt who is cancer-free.
"When I power breathe, they really help me when I have to get like finger pokes,'' she said. "It's where you have a needle, and they poke it in your finger and you wear it on your body. It's something that makes the poke like you don't even feel it."
RELATED: Kids too sick to travel are seeing the world — without leaving the hospital
Rabbi G, who has a first-degree black belt in the martial art of Choi Kwang Do, founded the non-profit in 1999.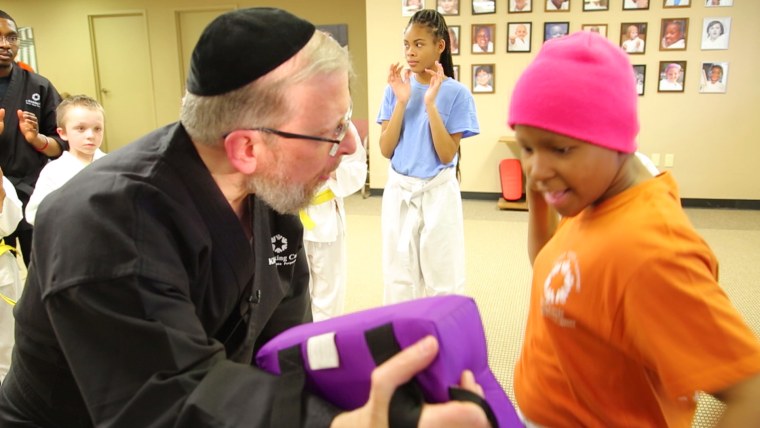 "The children of Kids Kicking Cancer every day are teaching no matter what we face in our lives, we can respond with greatness,'' Rabbi G said. "And that's an incredible power."
He was inspired by teaching breathing techniques to kids at an oncology camp after his daughter, Sara Basya, died from leukemia in 1981 at age 2.
"We don't do any contact because children have very brittle bones, especially with chemotherapy,'' he said. "It's really the inner power of the martial arts that becomes the metaphor for their energy to battle disease."
Classes are not only available at the headquarters in Southfield, Michigan, but also at hospitals and clinics around the world. Rabbi G also visits students at Children's Hospital in Detroit if they are too sick to attend a class.
One of Rabbi G's first students, Michael Hunt, is now a karate teacher for Kids Kicking Cancer. After beating cancer himself, he helps kids like Israel Colvard, who credits martial arts with helping reduce the stress of his treatments.
"We change the image of being a victim to become a victor,'' Rabbi G said.
Follow TODAY.com writer Scott Stump on Twitter.