Most people know Karamo Brown as the inspiring culture expert and life coach on the Netflix show "Queer Eye." But he thinks of his role as a kind of "resident therapist," a job he loves (which is fitting since Brown worked as a social worker for nearly two decades).
But that doesn't mean he hasn't struggled with mental health issues himself. In fact, at one point, he thought about suicide.
"When I was 22, going on 23, I just got out of MTV's 'Real World,' it was my first time on television, and literally after that show, I went through a very strong amount of depression to the point where I actually contemplated suicide," he told TODAY.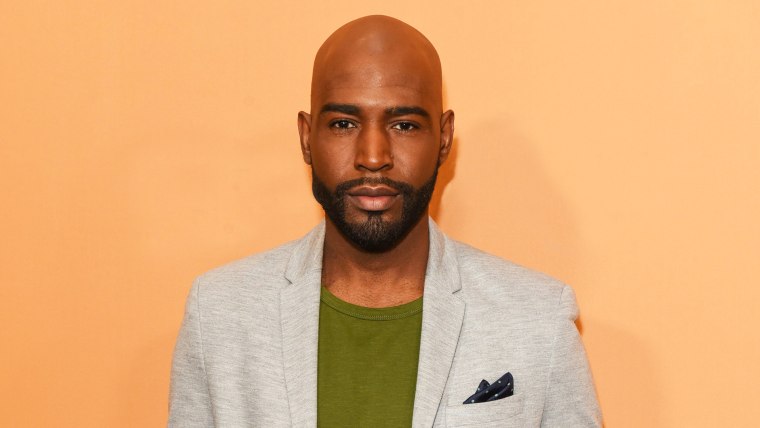 Having spent years in the party culture at college, coupled with the fast-paced world of entertainment and his own negative feelings, Brown began using alcohol and drugs.
"I was trained when I was in college that it was OK to go out and get drunk and maybe do a pill because I still got up and went to class, I still made an 'A.' And I was like 'Oh, this is OK. this is normal.'"
Like many young Americans, that damaging behavior began and continued for multiple years.
"There was so much coming at me, I didn't know how to handle (it), mixed with the fact that I started using cocaine at the same time. It was a very hard time for me," he said.
Studying to be a mental health professional in college didn't mean he was immune to his own struggles, and neither did early success as an on-air personality.
"If it wasn't for my roommate, who I had been best friends with since I was 16 years old, calling my mother, I don't know where I'd be right now ... It didn't register to me that I had to check in with myself and I had to work on my mental health."
The fact that his friend stepped in to talk to his mom, and that his mom and Brown talked, made the difference and showed him an important lesson: People need to support each other.
"Literally, I look back on it now and I often think to myself, 'Karamo you should have done better.' But that's the thing, when you're in that dark space, you can't do any better. And it's for people around you to say: 'You know what, I need to check in with you and be there to support you,'" Brown said.
At least 1 in 5 adults in the U.S., around 43.8 million, experience mental illness in a given year, according to the National Alliance on Mental Illness. Experts warn that even when someone "looks" like they're doing fine, they can be dealing with mental issues.
"I know a lot of people who are depressed and they walk around and they're smiling every day, but no one's asking them how they're really doing," Brown said, adding that he wants things to change.
Experts say checking in on friends or even suggesting a shared activity like going for a walk or playing a sport can help someone struggling. Suggesting a person reach out to a therapist or other professional can also be very important. In some cases, as Brown himself can attest to, sometimes reaching out to a person's loved ones or a professional can be necessary if you feel the person is in danger.
"The funny thing is, we teach, as a culture, we teach people that it's OK to talk about your fitness goals ... Like I want to be more physically fit, I want to drop 10 pounds, but no one's talking about how I can spend 10 days to get happier. How can I spend this next year to get over my anxiety and depression? You know like 'Hey this the therapist I'm talking to,'" Brown said.
"We're shy, it's like we have to hide it," he said. "And I think we need to have a shift in culture when we start talking about those things."
Editor's note: If you or someone you know needs help, please contact the National Suicide Prevention hotline at 1-800-273-8255, anytime.