/ Source: TODAY Contributor
When Amy Felts met her pit bull Goody, the professional dog trainer felt she could offer the dog something others could not: patience and experience. An abusive owner had amputated Goody's hind legs, meaning the poor pup got around by pulling herself with her forepaws.
And while Felts worked hard on rehabilitating Goody both physically and mentally, it seemed that the dog would always struggle to move.
"It's not good for her, but she is amazing. [She has] incredible upper body strength so she carries herself, her entire weight on her front paws," Felts told TODAY. "I can tell that it is painful to her. But she is very stoic and stubborn."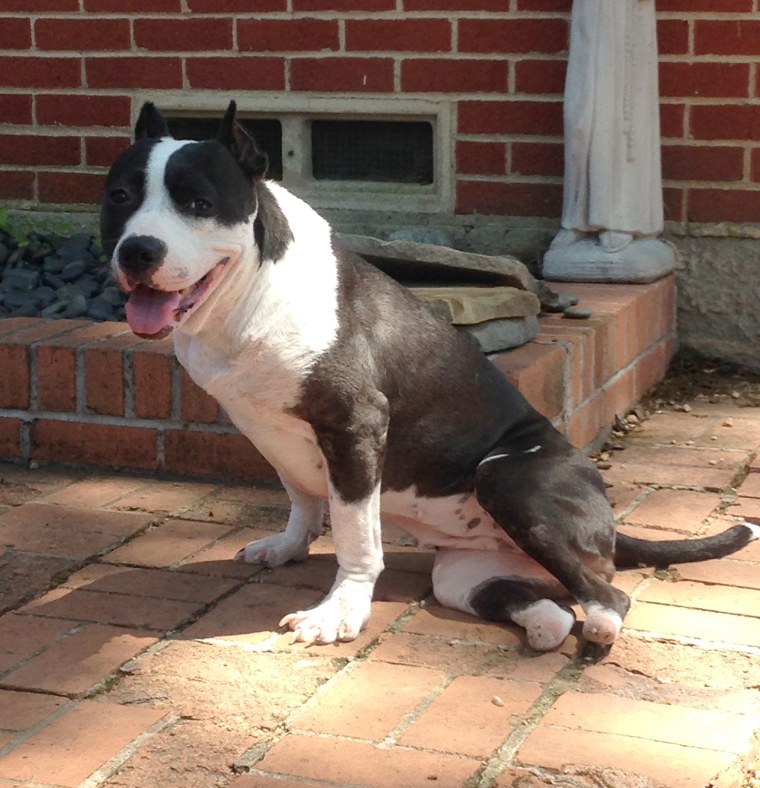 But Goody might soon be able to do as much as she wants — including run. She received a new pair of prosthetic legs making it possible for her to walk, run and play just like any normal dog.
"This will give her an opportunity to go on walks and go places and slowly start to learn to trust people again," Felts said.
OrthoPets, the company that provided Goody with the legs, got its start in Martin Kaufmann's garage 12 years ago after his cousin's dog, Walt, lost the ability to use his front legs because of a stroke. The vet suggested amputation, but Kaufmann thought there was be a better way. Drawing on his experience working with human prosthetics, Kaufmann fashioned a device that allowed Walt to keep his legs.
"Walt did the same as one of my human patients would have done post stroke and Walt walked around with four legs like a normal dog," Kaufmann said. "And I thought, 'Well shoot, that was pretty simple. I wonder if we can do other things the same that we do for our human patients as well?'"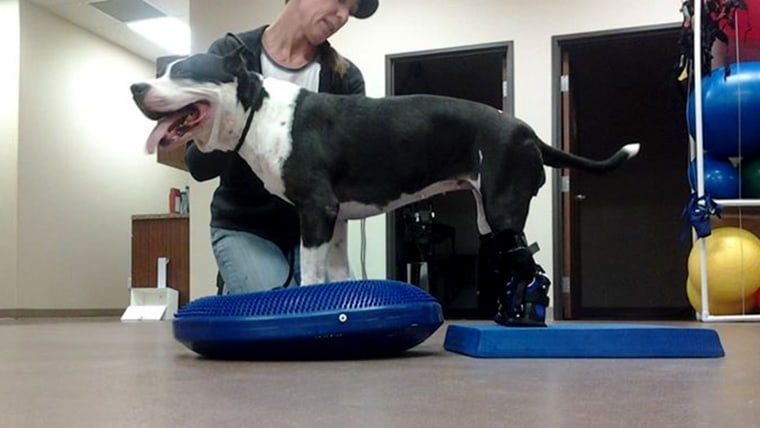 Today, OrthoPets makes prosthetic limbs for pets from all over the world. Using casts of Goody's legs he received from Douglas Strammel, a vet in Dallas, Kaufmann and his team create the legs. They scan the molds, allowing the creation of a 3D model. This digital representation helps the team sculpt and shape the legs to assure the best fit, while also giving them a sense of how the prosthetics will move. After perfecting the 3D model, they send it to the carver, which carves the leg shape from polyurethane foam leg that becomes the basis for the prosthetic.
"At the very end stage almost like a little miracle occurs," Kaufmann said. "All of a sudden these parts and pieces get attached and then poof there's the finished prosthetic."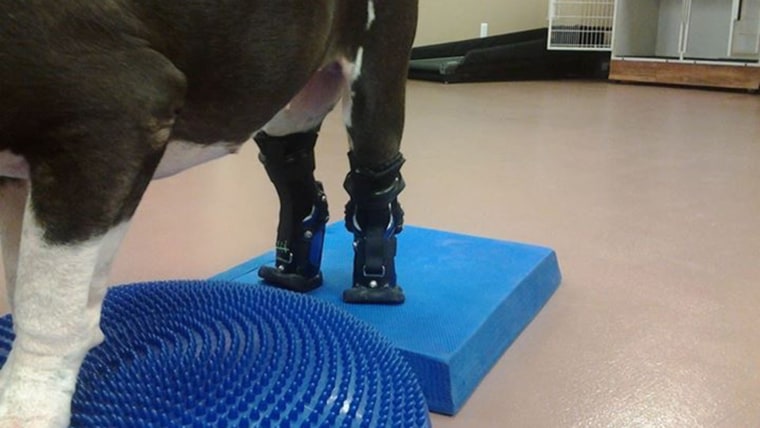 When the legs returned to Dallas, Strammel helped Felts strap them on Goody. Immediately, Goody began to walk naturally.
"Amazing... truly amazing, she's, she's a good dog and what's she doing, I was not expecting this," Strammel said. "I was hoping we would get them on, I was going to be thrilled if she would stand, and she's standing there without issues going, 'OK mom, let's walk.' She's a trooper."