When it comes to prostate cancer, there can be as much confusion as anxiety for men worried about a diagnosis.
As part of our series "No-Shave TODAY," we're devoting November to raise awareness of men's health issues.
One of the biggest is prostate cancer — the most common cancer among men after skin cancer. There will be almost 181,000 new cases this year, with more than 26,000 men dying from the disease, the American Cancer Society estimates.
About 14 percent of men will be diagnosed during their lifetime. Most will be over 65, but as actor Ben Stiller revealed last month, younger men can be affected, too.
RELATED: Ben Stiller reveals he had prostate cancer at age 48
Still, aggressive treatment may not be needed and here's where the confusion comes in.
The majority of men, 79 percent, believe it's likely someone with prostate cancer will die without surgery, according to the TODAY-commissioned report "State of Men 2016," a Berland Strategy online survey of 1,001 adult males.
But the correct answer is that not all prostate cancers need surgery or radiation, said Dr. Michael Crupain, medical unit chief of staff for The Dr. Oz Show.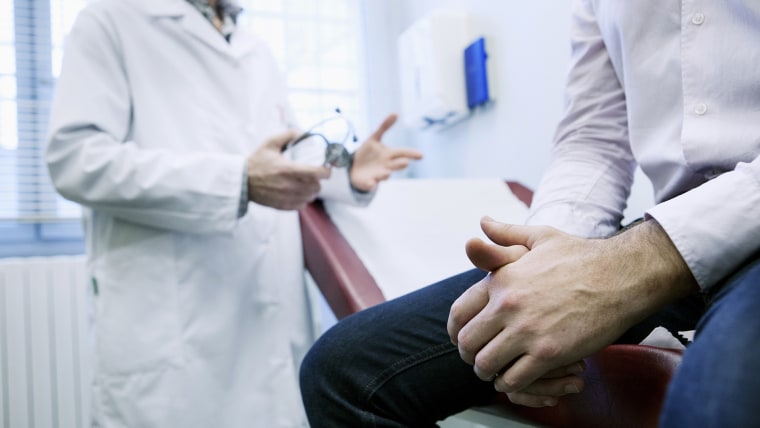 "A lot of the research is showing now that watchful waiting is an important tool," Crupain told TODAY. "Obviously, men don't quite understand that yet."
A recent study found the three common approaches to prostate cancer — surgery, radiation or watchful waiting — are about equally effective. That's because prostate cancer often grows very slowly and may never cause any problems.
RELATED: Dr. Drew Pinsky reveals he beat prostate cancer
A prostate-specific antigen (PSA) test — a simple blood test — can help detect the presence of a tumor. The majority of men in the survey, 61 percent, think they should regularly have a PSA test. But the test is controversial.
"It can't recognize the difference between a cancer that's very aggressive and one that's not very aggressive," Crupain said.
The U.S. Preventive Services Task Force recommends against PSA screening, noting that it often produces false-positive results and "overdiagnosis," which can cause unnecessary stress and lead men to undergo biopsies and other invasive procedures with serious side effects.
The American Urological Association has an age-based approach, noting the greatest benefit of PSA screening appears to be in men 55-69 years old. It recommends patients in this age group discuss the risks and benefits of testing with their doctors. It does not recommend routine screening for younger or older men.
RELATED: Learn to check yourself for testicular cancer
Most men diagnosed with prostate cancer do not die from it, but it becomes more dangerous if it spreads to other parts of the body. Prostate cancer is the second leading cause of cancer death in American men, behind lung cancer, according to the American Cancer Society.
Remember: Movember is the month when millions of men around the world grow their facial hair to raise money for men's health charities. For more information and to donate, go to Movember USA.