Bridget Hamilton was 10 weeks pregnant when Guillain-Barré syndrome struck in 2012.
The Dubuque, Iowa, mom spent 84 days in the hospital, much of the time paralyzed and in severe pain, away from her three other children. Guillain-Barré is a rare neuromuscular disease, affecting about 1 in 100,000, but higher rates have been reported in Brazil, where an outbreak of the Zika virus has been linked to birth defects.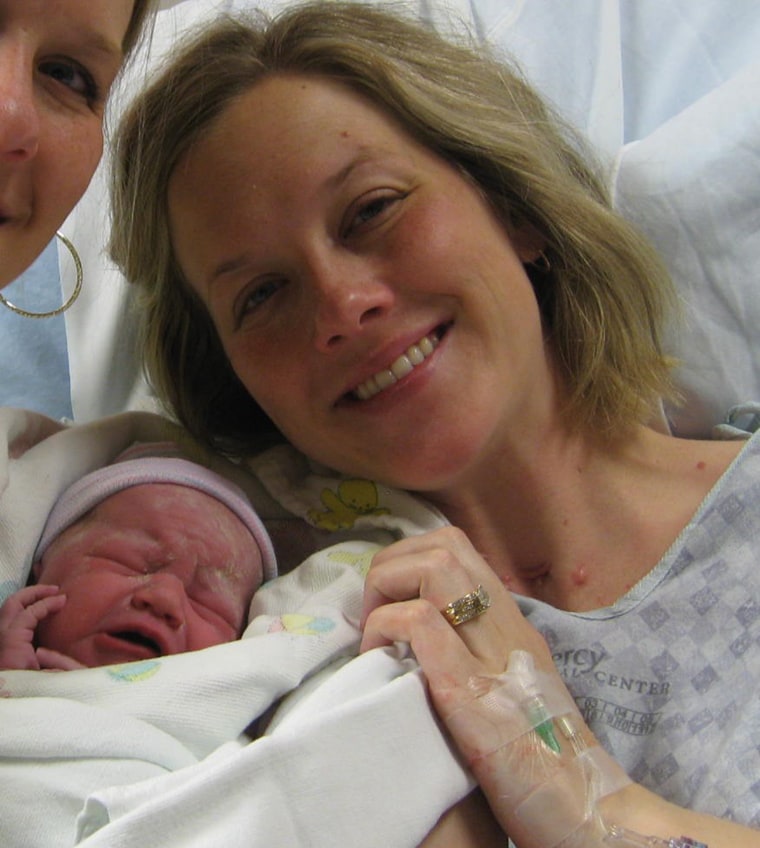 Typically, there is an immune system trigger like a virus, but experts say pregnancy and the postpartum period may also cause Guillain-Barré. Such was the case with Hamilton, whose 2-year-old daughter Georgiana was born healthy.
The 33-year-old school math coordinator shares her story with TODAY:
I count my blessings every day. I still can't wrap my head around how I have a healthy girl.
Being diagnosed with Guillain-Barré is a life-changer. My heart stopped at one point and I was on life support for 50 days, but it altered my life in so many positive ways. I will always remember how fortunate I am.
Today, seeing the news about the Zika virus is hard to watch. I can relate to the unknown stresses families are having over their unborn babies. It's also scary to think about the possible link to Guillain-Barre. But I want others to know: "You will get better."
Pain in every single joint
It all started on a Friday night, when my sister, brother-in-law, husband and I went to a Carrie Underwood concert and my feet fell asleep. I could move them, but I couldn't wake them up. I put it all down to the pregnancy, but by morning there was tingling in my hands and arms.
By Sunday morning, I couldn't walk up steps; my legs were not strong enough.
At the hospital, they tested me for Guillain-Barré and admitted me. At the time, I thought I would need five rounds of plasmapheresis (removing, then recirculating the plasma in the blood) for 10 days and things would be back to normal.
I was in shock. Now, I was going to spend Thanksgiving in the hospital. There was pain in every single joint of my body.
I wanted to rip my arms and legs off it was so excruciating.
They couldn't get my blood pressure under control — it was 60/30 — so they rushed me to the intensive care unit. By Wednesday, I was being airlifted to the University of Iowa ICU. Then my lungs collapsed. I was on life support for 50 days.
Here I was — an otherwise perfectly healthy 30-year-old. On Friday I was at a concert; not even a week later, I was crashing.
I was never sick before, but was told that sometimes a pregnancy can trigger GBS. It's the only thing that makes sense to me.
I was completely paralyzed, including my diaphragm. I could use my eyes, but I couldn't move my neck. I was intubated — completely awake. But the only communication I could do was blink my eyes or move my lips around the tube.
Luckily, my identical twin sister and I can read each other's thoughts, so I would start to stay something and she would speak out my words.
I constantly worried about the baby. The doctors told me, "If the mom is not alive, the baby is not alive, so we will stop treating you as an OB patient."
That was devastating to me. We had lost our first child when I was 12 weeks pregnant, and at one point, I thought I had lost this baby. We had to be big advocates to get the fetal heartbeat checked. I wanted to know someone was keeping an eye on her.
After they stabilized me, I was able to transfer back to Dubuque Hospital. There, as an in-patient, I spent the last five weeks doing intense occupational therapy.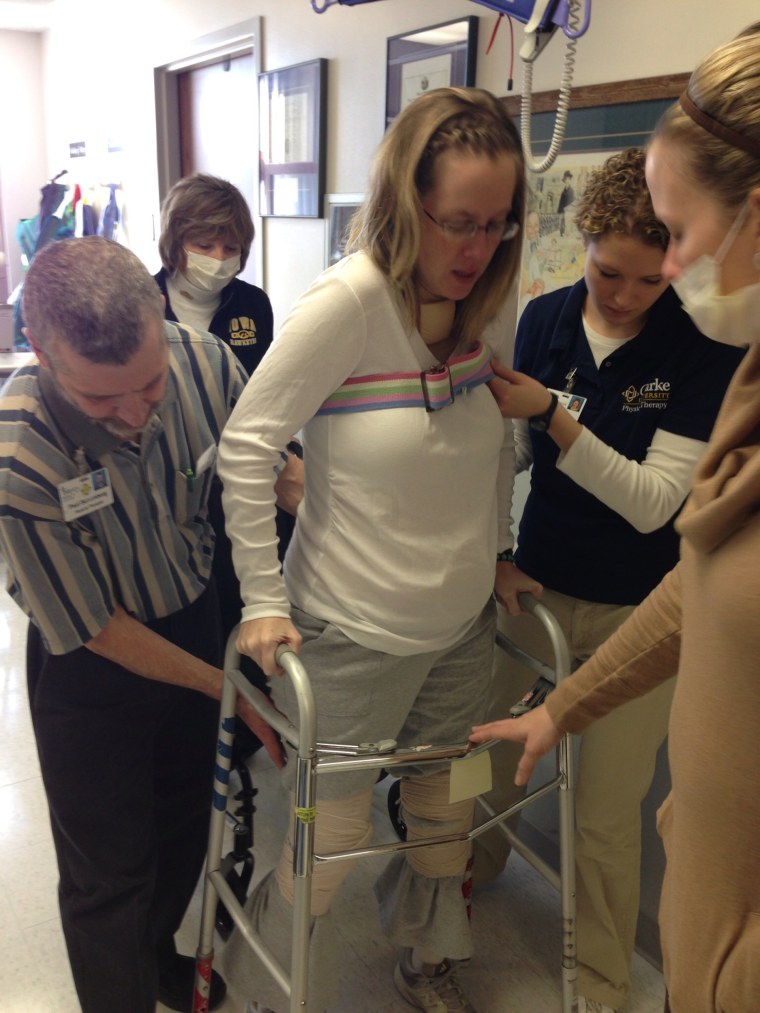 The transition to the real world was hard. Once you move to a wheelchair, walker or cane, it turns into an invisible disease.
Amazingly blessed
I looked normal, but my body felt like a 70-year-old. My joints ached like I had run a marathon every day.
Today, I am almost 100 percent. I don't have the strength I used to; I get fatigued and have a lot of neuropathic pain. But I have medications to control that. I still don't have all the feeling back in my hands and feet, but that may come back in time.
Related: Should we cancel our honeymoon? Your Zika questions answered
Georgiana was born June 7, 2013. She is perfectly healthy, but does have low muscle tone, possibly because my oxygen levels were all over the place in the hospital.
I feel amazingly blessed.
Even though she is petite, she runs around with her three siblings (7, 6 and 4) and you would never know the difference.
Being sick brought my family closer together. My children know they are loved and they are the center of my world. I have a more positive outlook on life. We have learned to live in the moment, not knowing what tomorrow will bring.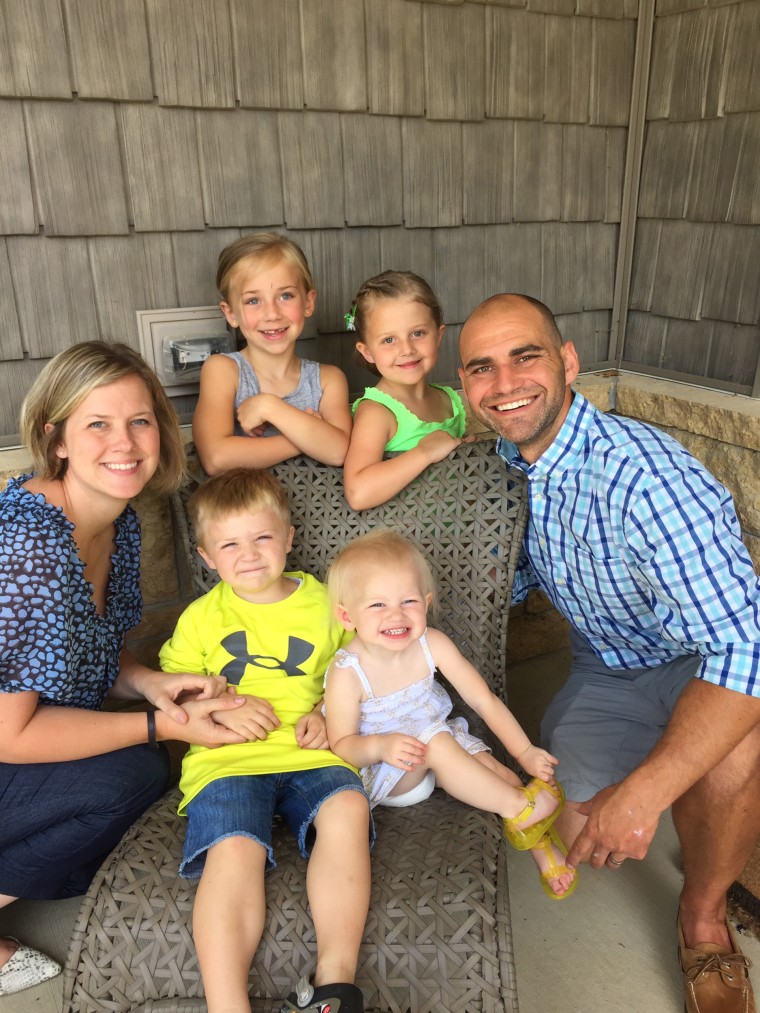 Now, I am paying it forward through the GBS/CIDP Foundational International, helping others with Guillain-Barré and rare illnesses that are just as emotionally trying. I am not a medical expert, but I am an available ear and I can speak to my own experience.
I am telling my story because I want to raise awareness and research dollars. I was fortunate enough to have great insurance and great doctors.
I had a picture of my three children taped to my bedside and that was my motivation to get better. I had missed my son's first birthday and my daughter's third.
That's why I did so well — nothing was going to prevent me from getting back to my children.
For more information, go to: GBS-CIDP Foundation International