Tammi Curtis Carr, a mother of three from Ann Arbor, Michigan, is looking for a miracle and she's turned to Facebook for help.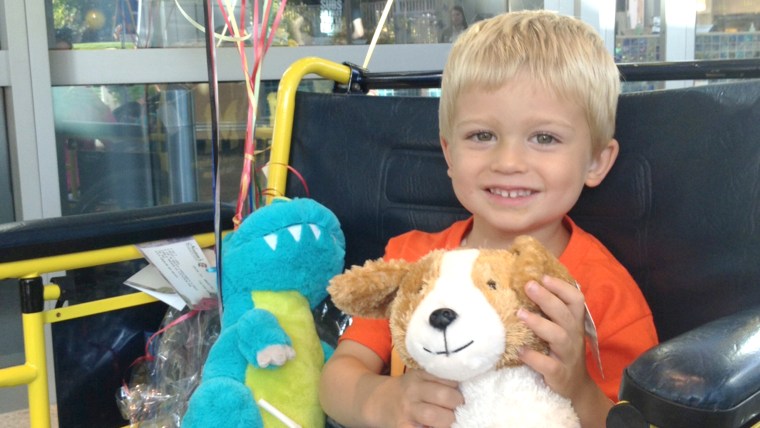 Her 4-year-old son Chad, the grandson of former Michigan football head coach Lloyd Carr, has an inoperable brain tumor and could die within a year.
With such a grim prognosis, Carr created the Twitter hashtag #ChadTough and the Facebook page "Pray for Chad, and has asked as many people as possible to pray for her "precocious, beautiful, smart" boy.
Since Chad's Sept. 24 diagnosis, his struggle has gone viral, resonating beyond the athletic world to people of all faiths across the globe who are sharing his story. 
On Facebook, Oakland Raiders free safety Charles Woodson, he shared a photo of himself wearing a #ChadTough prayer bracelet that had more than 47,417 "likes," 976 comments and 3,785 shares.
"We had no idea what the response was going to be," Tammi Carr, 38 told TODAY. "But we've got Jewish people praying for us, Muslims praying and even [nuns at] convents in France — not just one, lots of them."

Chad's cancer, diffuse intrinsic pontine glioma or DIPG, is one of the deadliest, and little progress has been made in survival rates.
In a sad irony, Chad is being treated with radiation in the Coach Carr wing of the University of Michigan's C.S. Mott Children's Hospital, where he is also enrolled in a clinical trial. His grandfather served as chairman of the hospital's capital campaign for the cancer unit.
For 11 years, Tammi Carr was a fundraiser for the hospital, so on Oct. 3, C.S. Mott created the #ChadTough pediatric research fund. In just a week, the fund has raised nearly $90,000.

"It's going up every day," said Mary Masson, spokeswoman for the hospital. "Most people like to know what they can do."
"I don't know where it all started," said Carr, but Chad's Facebook page was getting "tens of thousands" of views, and people started sharing photos of themselves with orange prayer bands, which the hospital and university's athletic department had created to benefit the pediatric cancer fund. They sold 5,000 in the first week.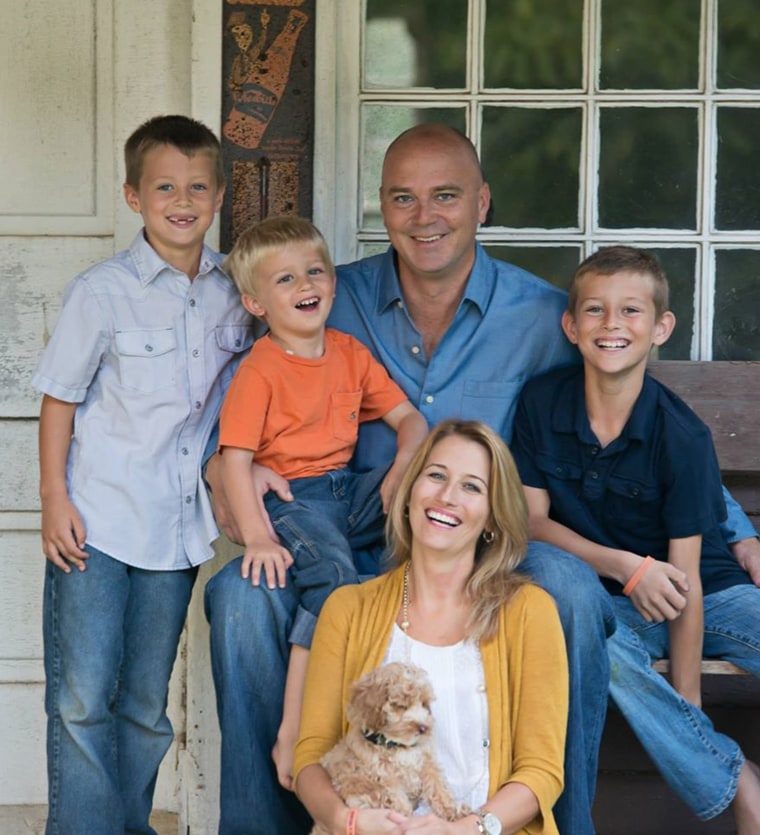 Chad has two brothers, ages 7 and 9, and orange is his youngest sibling's favorite color, according to Carr, "so Chad said it was his, too."
It was just two weeks ago, when the Carrs' life was turned upside down.
Chad fell and broke his nose, so his parents took him to the emergency room. He was sent home, but tripped again that night.
Chad's mother remembered the boy had fallen several other times recently, and she was convinced something was wrong. The Carrs returned to the hospital the next day and urged doctors to do a brain scan.
"For two or three hours we were just sitting there," she said. "I was terrified and when the anesthesiologist came out, she couldn't look me in the eye. I knew right then it was not good."
During her sleepless night, Tammi Carr had an epiphany.
"When they tell you there isn't much you can do, I knew I had to get as many people praying for him as possible," said Carr.
Dr. Valerie Castle, a pediatric oncologist at C.S. Mott who is a friend of the family, but did not treat Chad, said that research for pediatric cancers is desperately needed. Only about 4 percent of all research dollars are allocated to children's cancers.

Meet the 'momcologists': The fiercest warriors against childhood cancer
"We are devastated every time a child has cancer," Castle told TODAY. "But this really hits home."
Cancer is one of the leading causes of death among children, according to the American Cancer Society, and brain stem cancers are especially deadly and difficult to treat with traditional chemotherapy.

"The brain stem is essentially the control center of all the nervous system," said Castle. "All the major all major nerves flow through — breathing, the heart, essentially all the primary functions of the body."
Because it is so tightly compacted with vital nerves, surgery is not possible. "If you do attempt it, you risk the child's life," she said.
Radiation can slow down the cancer, but in most cases, it recurs in a year to 18 months. Castle said oncologists have seen children survive this type of cancer, "but the majority sadly don't."
She said the Carrs were lucky to have a "big network" of family and friends whom they had urged not only to pray, but to make donations to the #ChadTough fund.
Now, when people "like" Chad's Facebook page they will get daily reminders about the boy's condition.

The initial vomiting and headaches have now subsided and the boy is "eating like a pig," said his mother. But he still has problems with his mobility.
Carr said Chad is "too young" to know that he has cancer. "He is so oblivious that's it's a blessing and I don't want him to be scared," she said.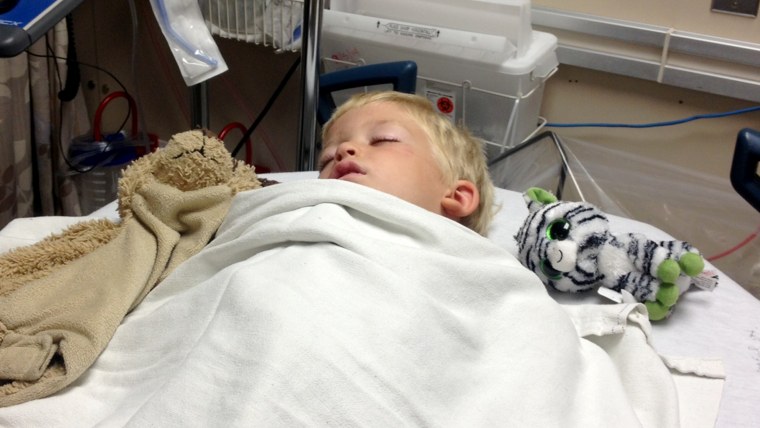 But the boy does love all the recent attention. His parents gave him the dog he had asked for on his recent birthday, and Chad has received messages and jerseys from sports teams around the country.
"The celebrity of my father-in-law brings some attention to it," she said. "But I am a fundraiser and when people see our gorgeous little boy, they fall in love with him."
Carr said she and her husband believe there is a reason why #ChadTough has touched so many — the power of "connections" that are possible today through social media.
"We have to hold on to hope," she said. "Look what people have done in just a week in a half. It's growing bigger. Even people who are not religious are praying. It can't hurt."
"There are miracles," said Carr. "This can happen."