Two years ago, Shirley Webb, 78, could barely make it up the stairs without grabbing the railing and catching her breath.
Now the grandmother from East Alton, Illinois, is a record-setting weightlifter for her age, wowing people with video of her deadlifting 225 pounds. Not only that, she did three repetitions at that weight.
She had never picked up a weight in her life until she was 76 years old, and she can now deadlift up to 245 pounds.
"I've seen such a remarkable difference in myself,'' Webb told TODAY.com. "I'm glad that people are getting inspired by me doing this. I had one lady come in the gym and say, 'I saw your video and I decided to come down and join this club.' That makes me feel good."
Webb first came to the Club Fitness gym in nearby Wood River when her granddaughter talked her into joining in April 2014.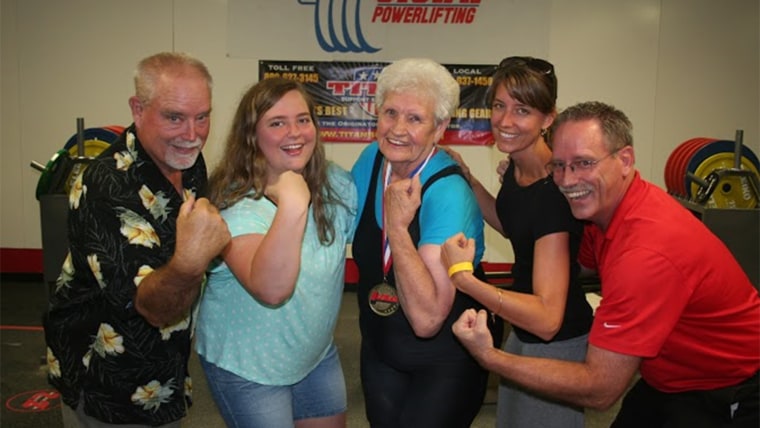 "At the time, I couldn't walk up the stairs unless I held on to the handrail, and if I got on the floor, I couldn't get up without a chair,'' she said. "Now I can come right up off the floor. The harder I work out, the better I feel."
Working with personal trainer John Wright, she soon found that the deadlift was her specialty.
"My trainer realized that I was kind of strong, so he kept adding weights,'' she said.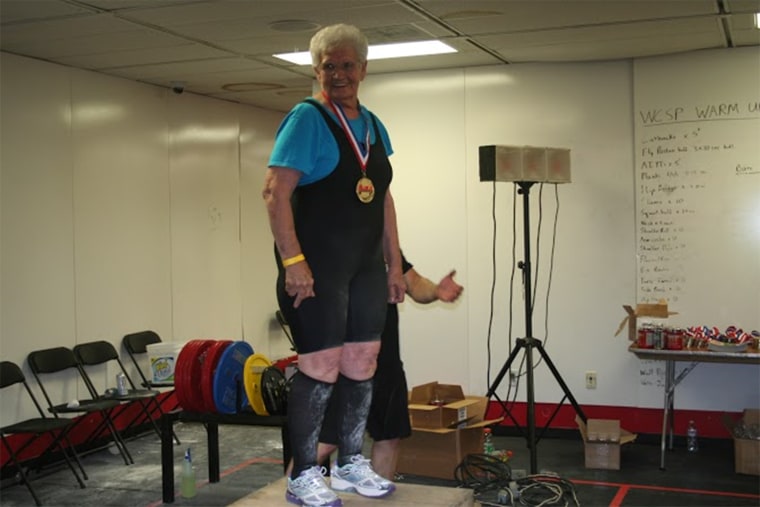 In June 2015, she competed in the Missouri State Powerlifting and Midwest Open in St. Louis in the 75-and-older division. She also was required to do bench press and squats in the competition, which she successfully completed, even though she had never attempted them in training.
She also won her division with a 215-pound deadlift as her family cheered her on. She has been married to her husband, Dick, since 1957 and has two sons and two granddaughters.
In November 2015, she deadlifted 237 pounds at a competition in Belleville, Illinois, setting a state record for her age group.
"I have nieces and nephews who are going crazy about it,'' Webb said. "They are absolutely thrilled with me. I get nervous during the competition, but I enjoy it because my family and my nieces are just so happy that I'm doing this."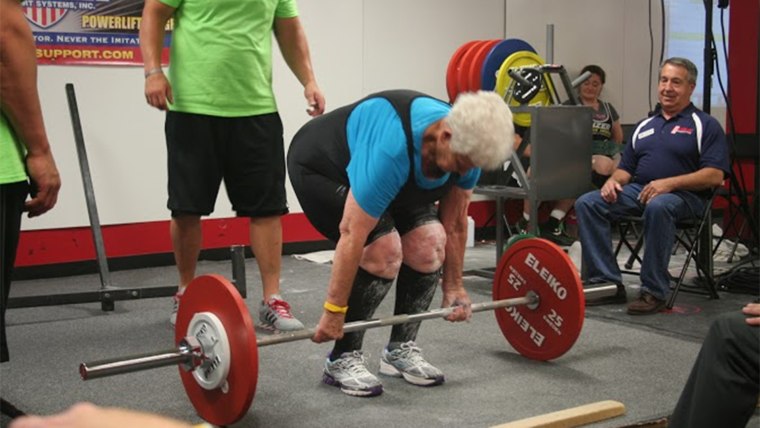 Webb's next competition is on June 4, where she hopes to set a personal best and another record with a 260-pound deadlift.
"I feel fantastic,'' she said. "I work out twice a week with my trainer, sometimes three times, and I'm just feeling great."
Follow TODAY.com writer Scott Stump on Twitter.