Pamina Brassey was so nervous before the photo shoot that she made sure she had a little bit of wine on hand, just in case she needed it.
But when the photographer showed up at her home, she wound up being so resolute about what she was doing that she posed nude without any liquid fortification.
"That bottle never opened," Brassey said. "I just knew that I wanted — I needed — an iconographic picture for women who have breast cancer."
That's exactly what she got. Brassey, 49, a jewelry designer from London, England, made arrangements to be photographed six months after undergoing a mastectomy and reconstructive surgery. Since that night, the photo has rocked her world and the worlds of scores of women — and men — who have reached out to thank Brassey for demystifying a terrifying disease.
Funnily enough, a recruiter for Playboy magazine approached Brassey in a restaurant when she was 17 years old and asked her whether she'd consider posing naked.
"It was a giggle at the time and very flattering, but I didn't want to do it," she said. "And here I am 31 years later, after breast cancer, after a mastectomy, and now I'm taking my clothes off? It's making me laugh, obviously. But the difference is that now I have something to say."
'An incredible image'
Brassey's seminal photo shows her torso only, with her arms raised above her head and her surgery scars still visible. In April 2008, she had a mastectomy and reconstruction on her right breast, as well as an implant in her cancer-free left breast so that both sides would be the same size.
The photo has had an inspiring and reassuring effect on many people who have seen it. Taken by photographer Brian Usher, it made its debut in Usher's Extraordinary Portraits exhibit at the Chelsea Arts Club in London.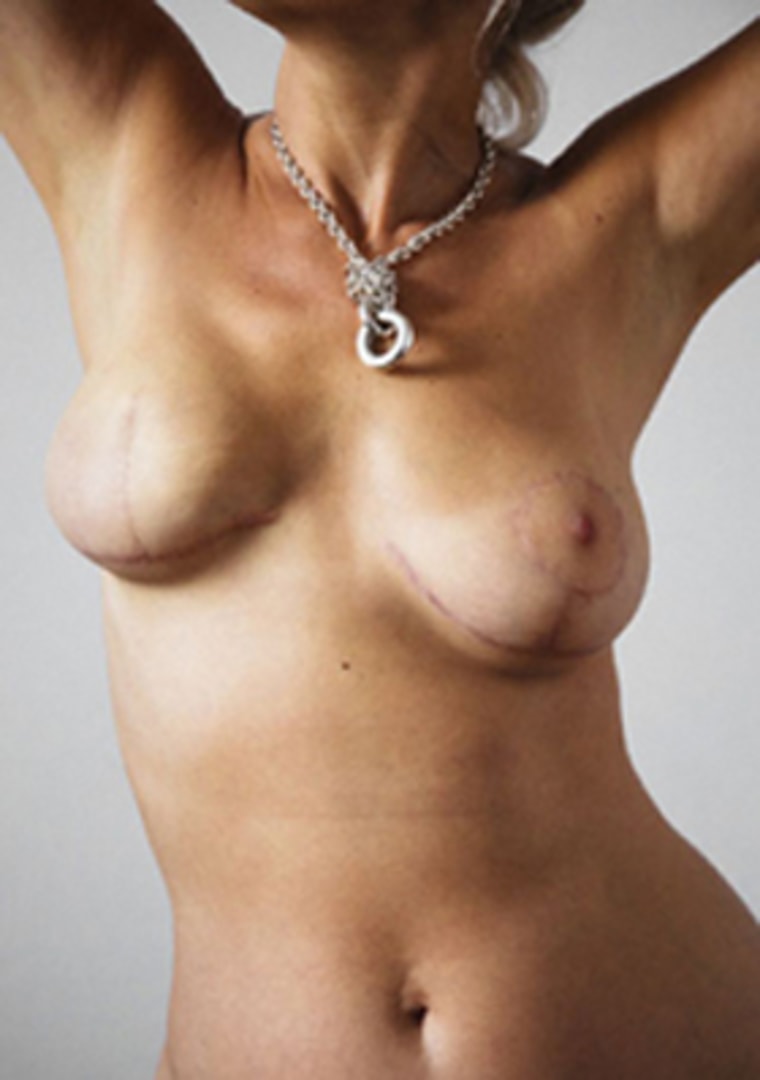 "It was terrifying for me to show up ... in front of my peers with my picture up on the wall," Brassey recalled. "But the minute I walked into the show, someone came up to me and congratulated me and gave me a big hug. Since then, people have been so supportive."
The photography exhibit tipped off the local media, and soon the Daily Mail and Evening Standard newspapers were giving prominent play to Brassey — and her photo. Readers' reactions to the image were swift and overwhelmingly positive, with only a few exceptions.
"What a brave lady," wrote Derek from the United States. "I think you look great and would rather snuggle up to you than Posh Spice."
"So powerful! It's an incredible image of strength and beauty that flies in the face of fear," wrote Ava of Oxfordshire, England.
A reader named Melanie from Lancashire, England, echoed the sentiments of many women who live with a gnawing fear of breast cancer.
"I have been worried about getting breast cancer as a few in my family have had it," Melanie wrote. "My main worry was losing a breast. I think these pictures are great at raising awareness. I think she looks very beautiful and I'm sure it will dismiss many worries breast cancer victims have."
And David of Cheshire, England, summed up the way many men actually feel about women's so-called "imperfections."
"Wow, how unutterably sexy does this woman look!" David wrote. "All of you women who worry about aging and wrinkles ... should read this comment and understand what sexy and attractive really means. Men who truly love women actually see the imperfections in a female body that may have been a result of pregnancy, life, operations and aging as a source of beauty."
Doggedly pursuing a diagnosis
Brassey almost failed to learn that she even had cancer. Over the Christmas holiday in 2007, she visited her family in the United States and kept worrying about the pain and strange sensations she was feeling in her right breast. As soon as she returned to England, she went to see a doctor about it.
"I felt like I was going to lactate," Brassey recalled. "The doctor told me what I was feeling was cyclical and said I didn't have anything to worry about. ... I wasn't happy with that."
Actresses, singers and a politician's wife who've all been diagnosed with the disease reveal their strength to keep fighting.
Brassey contacted the Royal Marsden Hospital, a London hospital that specializes in cancer treatment, and made arrangements to have some follow-up tests done in February 2008.
"They said that I was very lucky to be there," Brassey said. "It was an earth-shattering diagnosis to be told that I had cancer, but it was a relief because I really knew something was wrong with me."
Brassey's cancer was caught early — at stage 1, rather than at a later, more progressed stage. She said her tumor was large enough that the best course of treatment was to have her breast removed entirely rather than have lumpectomies done.
Today, Brassey is in remission; after her surgery, her lymph nodes were clear of cancer, so she did not need to undergo chemotherapy and radiation. She still shudders when she thinks of how differently everything could have gone had she not pursued additional tests.
"I could have gone home that day and taken the ill advice of that doctor," she said. "I could have progressed on to I don't know what stage."
Still, she consistently tries to find the humor in almost every aspect of her situation.
"I had an amazing surgeon, and she rewarded my positive attitude with larger implants than I expected," she said. "I mean, I'm 49 years old. I'm not a young woman. And I became a 32 double-D, so it was a great thing in a way! That's pretty exciting!"
'I feel very strong'
In addition to running her jewelry design studio in London, Brassey tries to spend as much time as she can with her 22-year-old son George, who lives in New York City, and her recently widowed mother, who lives in Boston. She's also actively supporting Handbag Amnesty, a money-raising charity effort for Cancer Research UK.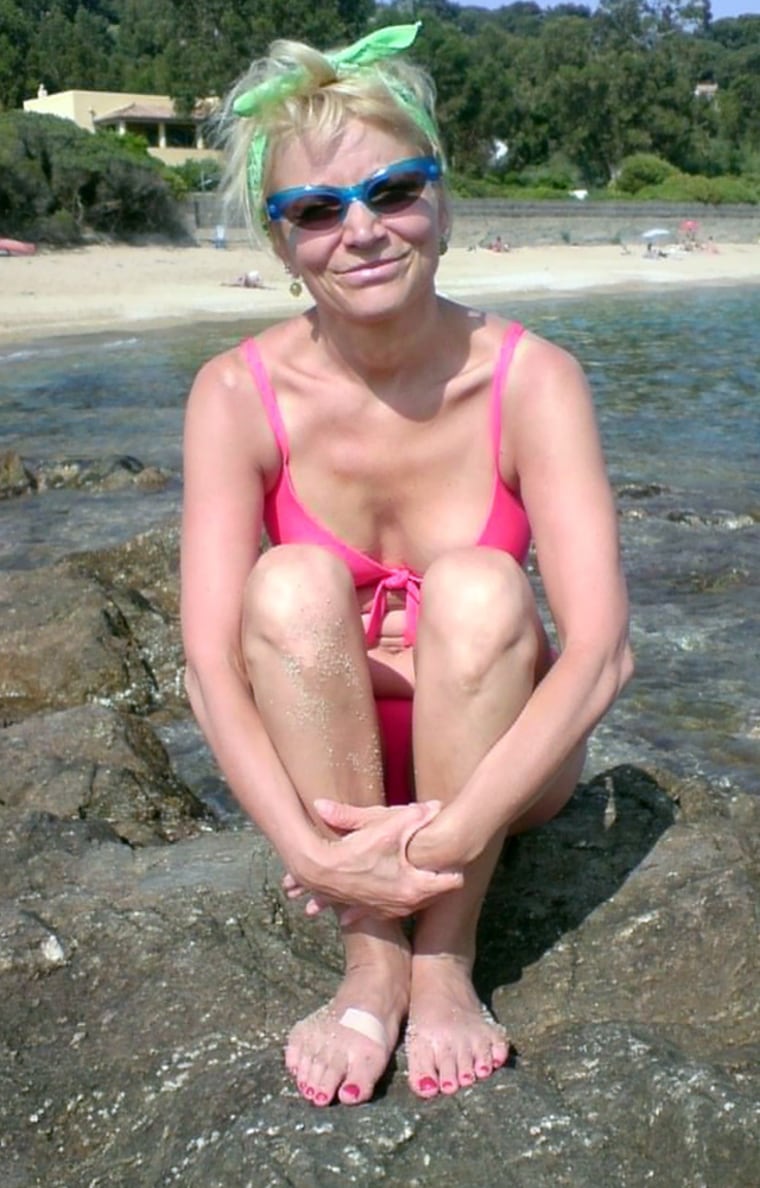 Along with an array of celebrities that includes Scarlett Johansson, Annie Lennox, Paris Hilton, Mischa Barton and Heidi Klum, Brassey has donated a handbag to the cause. People can bid on celebrities' handbags on eBay.com throughout the month of October and help raise money for cancer research.
Brassey also is continuing to collaborate with photographer Brian Usher. When Usher first approached her about participating in his photography exhibit, he didn't even realize she was dealing with a cancer diagnosis. She simply hadn't told very many people.
"I'm a jeweler and I think he thought I'd wear some crazy jewelry," Brassey said. "Then I told him, 'I have a really serious story,' and he said, 'Let's go for the serious story.' He kind of appeared at the right time."
Since that first photo shoot, Usher has continued to document Brassey's ongoing recovery. She had another surgery in January of this year to install a permanent implant and also to reconstruct a nipple for her right breast.
Brassey has written a memoir about her experience and feature Usher's photos in the book. She said her aim is to stress three important points to other women who have breast cancer:
1. You are not alone.
2. Never give up hope.
3. Cancer isn't sexy but survival is.
"The breast is an object of female beauty and male adoration and when this happens, it throws you for a loop," she said. "But now I look at that photograph every morning and it empowers me. ... I just feel very strong when I see it, and I never would have imagined that I'd even want to look at it again."