Looks like the Pope's on a diet!
After noticeable weight gain in the past few months, ANSA, one of Italy's leading news services, reports that Italian doctors have asked the pontif to cut back his pasta consumption to just two meals a week.
Amidst his hectic travel schedule and frequent public engagements, he has also been advised to take more time for walks and exercise.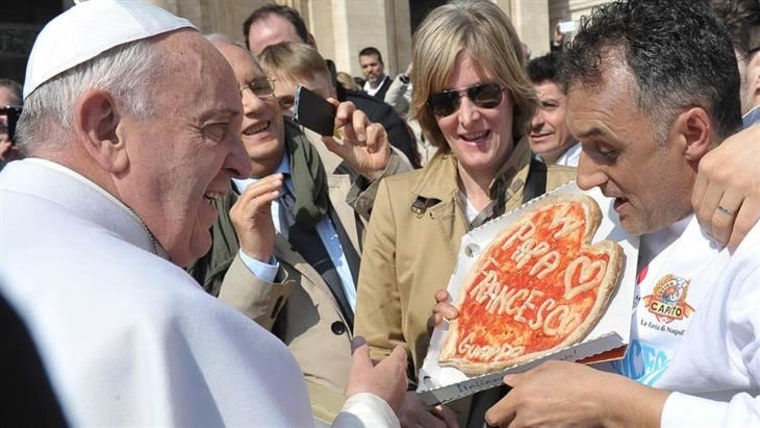 The reports are arriving just a week after the pope accepted a gift of pizza from inside his moving motorcade. The brave pie donor was Enzo Cacialli from Pizzeria Don Ernesto.
The news also follows the October 2014 publication of "Buon Appetito, Swiss Guard," a cookbook documenting the culinary tastes of past pontiffs. Written by two soldiers of the Guard who work to protect the Vatican, David Geisser and Erwin Niederberger, the book reveals that one of the current pope's favorite dishes is the classic "dulce de leche," a sugary, caramel-like dessert that originated in Latin America and translates roughly as "milk candy." He also enjoys empanadas, roast sirloin steak (or "colita de cuadril"), and other delicious, if heavy, Argentina-inspired meals.
Pope Francis has acted as the leader of all 1.2 billion Catholics worldwide and the sovereign ruler of the Vatican City State since March of 2013. During a Mexican television interview in March, he confessed candidly that he believes his time in the Vatican "will be brief," drawing wide suspicion about and concern for his health. However, given his advanced age (and despite the rampant pasta-eating), he is reportedly in fine health.
Pope Francis starts his Easter celebrations tomorrow with a Holy Thursday mass.