/ Source: TODAY Contributor
Famed for hilarious parodies, the Holderness family has produced spoofs of hit songs covering everything from unkind Internet commenters to the "Frozen" Halloween costume craze of 2014.
In the latest effort, "Cough and Gag," however, the foursome is only half-joking as they parody the Macklemore hit "Thrift Shop" while venting their frustrations over the high pollen counts and seasonal allergies that are par for the course across the country at this time of year.
In the catchy, heavily pollen-filled tune, the entire family is covered in the dreaded yellow stuff as they attempt to visit the playground, clean off their car and do yard work.
"I'm gonna cough and gag 'cause this city is covered in pollen. Momma is sneezin'. Little girl wheezin'. This is flipping awful," Penn and Kim sing, as Lola, 8, and Penn Charles, 5, write naughty words in the pollen that has gathered on the family car.
Kim Holderness tells TODAY Parents all four members of her family suffer from allergies. Having grown up in Florida, she says she is amazed every year at the volume of pollen that descends on their hometown of Raleigh, North Carolina.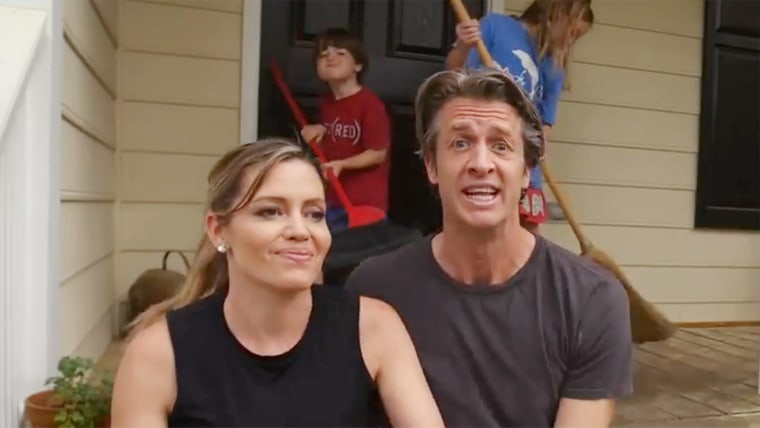 "The idea (for the parody) came from all over – literally. There are a couple of weeks every spring where there are visible clouds of pollen moving through the air. Our kids are now old enough to talk about it, and how much fun it is to write on the windows. Any time our kids like to talk about it, we like to write a song about it," Kim said.
But how much worse is the pollen this season? David Shulan, a retired allergy and asthma physician who practiced in Albany, New York, for nearly 24 years and currently serves on the aerobiology committee for the American Academy of Allergy, Asthma and Immunology (AAAAI,) says the best way to answer that question is to check the National Allergy Bureau (NAB) website for local pollen counts in your area.
On the whole, however, Shulan says the snowy winter experienced by several states this year could be causing a higher-than-normal pollen count in many areas.
"Plenty of snow and moisture with a quick warming can trigger trees to pollen at one time, making for high counts. The yellow pollen coating everything in the Northeast is usually pine pollen, which is heavy and settles out quickly, usually by May or June. The oak, birch, poplar, and maple pollens are lighter and stay in the air longer, causing a greater allergy problem," Shulan explained.
Shulan's tips for families looking to alleviate allergy symptoms include staying indoors during peak pollen times (typically during the morning on dry, moderately breezy days,) and looking into antihistamines and nasal steroids to manage symptoms. Shulan, who also headed a pollen counting station during his time in practice, also recommends exploring the online patient library offered by the AAAAI, where various articles offer additional tips for finding some relief from the effects of pollen.