After mastectomy, women usually have two choices: Learn to love your flat chest or surgically reconstruct the breast (or breasts) that were taken away.

But some breast cancer survivors are choosing a third option, adorning their scarred chests with intricate and colorful tattoos, transforming what can often be a landscape of pain into something beautiful, powerful and unique.
Perhaps the most well-known example of the post-mastectomy tattoo belongs to Inga Duncan Thornell, a 50-year-old Seattle life coach who chose to have a prophylactic double mastectomy in 1993, shortly after her stepmother died from the disease and her mother was diagnosed with it.
The tattoo, inked in segments a few hours every month, took nearly two years to complete and has since taken on a life of its own, appearing in an MSNBC documentary, a book and earlier this year launching an online brouhaha when it was first removed — and then officially approved — on Facebook.
"I'm a shy person, but the tattoo really isn't," says Thornell. "I can't remember the last party when I didn't end up in the bathroom or spare bedroom with someone or half a dozen somebodies, showing my tattoo."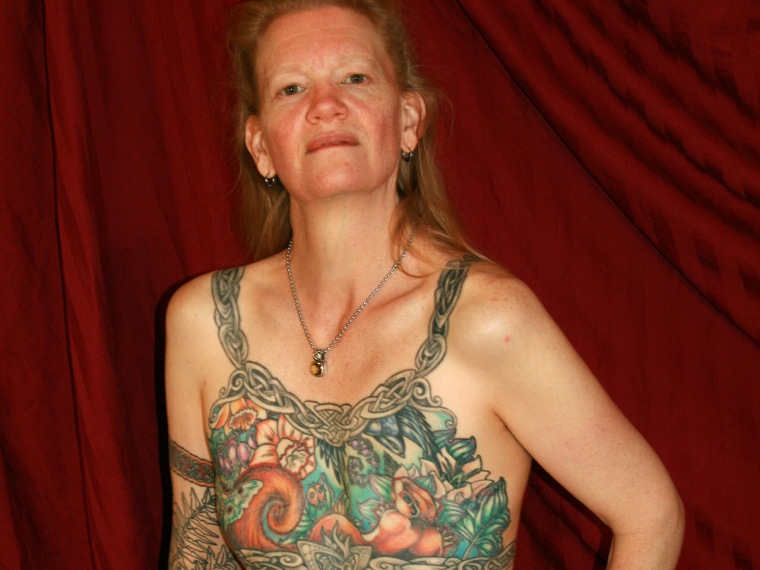 Thornell says many survivors seem to gather strength and healing from her tattoo.
"I think it's a neat option," she says. "You step out of the shower and you look like yourself. You don't look scarred. I understand why women would reconstruct and totally respect their decision to do that to be more normal, but the thought of having more surgery, more discomfort, didn't appeal to me at all."
'Something beautiful'
Other women, like Wendi Duvall of Houston, Texas, use tattoos to make their reconstructed breasts completely their own.

"I broke my plastic surgeon's heart when I decided I didn't want to do nipples," says Duvall, a 42-year-old crime victims advocate who had a double mastectomy and immediate reconstruction in 2006 after being diagnosed with triple negative breast cancer. "They would be always erect and I didn't want to have 'headlights' on all the time. He said, 'Do you really want to be 99 years old and have flowers on your [breasts]?' I didn't know what I wanted, but I knew I wanted to be nontraditional."
It took three years for Duvall to figure out what felt right: a pair of lotus blossoms that cover the nipple area of both breasts. For her, it was all about the symbolism.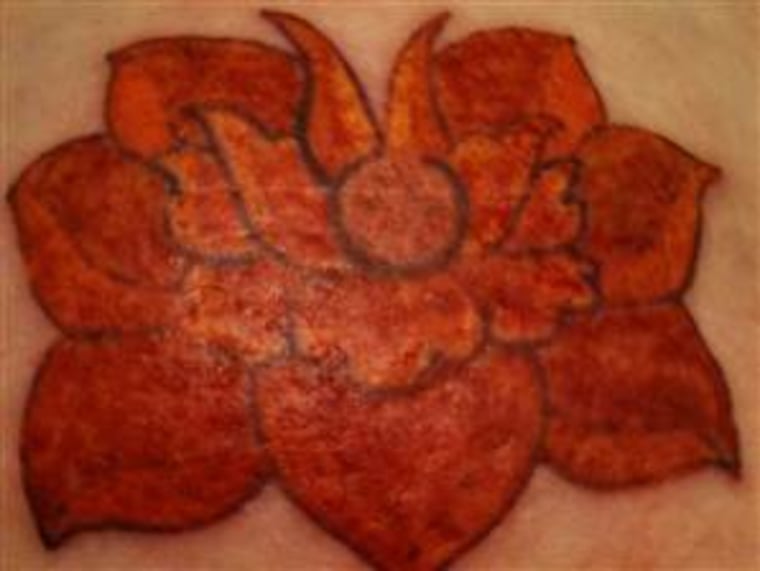 "Lotus flowers have to grow in mud, not in clean water, which is a beautiful metaphor for cancer," she says. "Something beautiful coming from something so ugly. I liked the person I was before cancer, but I really loved the person I became after cancer. It changed me in beautiful ways."
In a similar fashion, post-mastectomy tattoos change surgery- and treatment-ravaged chests into floral gardens, undersea landscapes or scenes from fairyland. Lotus flowers are a popular meme among survivors who've been tattooed, as are cherry blossoms, morning glories, butterflies and birds.
"Most of my designs tend to be things from nature," says Vyvyn Lazonga, a Seattle tattoo artist who specializes in designs that cover mastectomy scars. "I've done dogwood flowers with a robin sitting on one of the branches for one of my mastectomy pieces. I've done tiger lilies down a woman's side."
'A place for inspiration'
Growing interest in post-mastectomy tattoos has even led to an annual event in New York City that connects survivors with tattoo artists. Founded by Noel Franus, a Boulder, Colo., ad agency executive whose sister-in-law opted for a tattoo following her diagnosis, treatment and breast reconstruction, P.INK (Personal Ink) features nearly 1,000 images of post-mastectomy tattoos which he hopes will "become a place for inspiration and hopefully action" for breast cancer survivors. In addition to sharing information and images, the organization is sponsoring its second annual P.INK Day, which will connect 10 breast cancer survivors with 10 tattoo artists in New York on Oct. 21. Survivors will fly there on their own dime, but the tattoo artist's fees (which can run up to $2,000 for an involved design) will be covered by a crowdfunding campaign.

"Women say it's given them a chance to reclaim their identity, to take back something they thought cancer had taken from them," he says. "They have a chance to put their own badge on an experience they had no control over."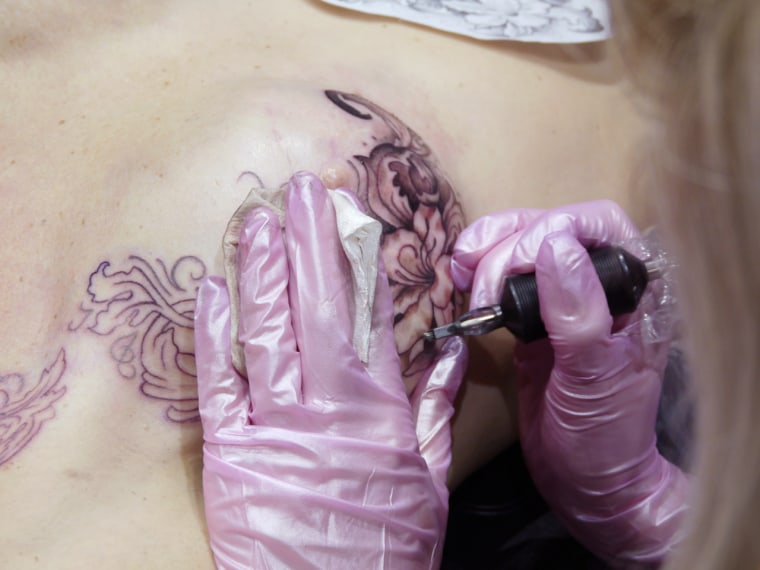 Tattoos aren't exactly pain-free, of course, even for women who've had a nerve-decimating mastectomy. Thornell says she felt pain in certain spots but nothing in others.
Duvall, who refers to her lotus-blossomed breasts as her "tattoobies," says she didn't have pain during her tattooing, but did experience some bittersweet moments afterwards.
"My breasts are numb so all I felt was a little bit of pressure, but while they were healing, I actually had sensation in that area again," she says. "It resembled nipple sensation. Once they were healed that went away, but I got to re-experience that again, which was nice. It brought tears to my eyes."
Dr. Claire Buchanan, a breast cancer surgeon with the True Family Women's Cancer Center at Swedish Hospital in Seattle, says breast cancer survivors should check with their doctors first if they're considering a tattoo. "Some of the skin being tattooed may be altered by surgery or radiation," or they may have compromised lymphatic systems, she says. But overall, she says, "I don't believe that a tattoo after mastectomy or lumpectomy would impair our ability to detect a recurrence."
And while she's only seen a handful of tattoos in her patients, there is "genuine delight in showing something beautiful about themselves and that's a wonderful thing to see."
Diane Mapes is a frequent contributor at nbcnews.com and TODAY.com. She's also the co-author of the parody, Fifty Shades of Brains, and writes the breast cancer blog, doublewhammied.com.