Editor's note: Sen. John McCain has announced he has glioblastoma, an aggressive form of brain cancer. He's one of about 12,000 Americans to be diagnosed with the highly malignant tumor each year and the prognosis is often bleak. What's it like to battle such a deadly disease? An Atlanta couple chronicled their experience in photos.
This is Jenna and Josh Buehler's love story.
Interrupted by brain cancer just months into their marriage, uplifted by the birth of a long-awaited baby and strikingly photographed by a brain tumor survivor determined to show what it's really like for families to live with the diagnosis.
The photo series — titled "This is…" by Jennifer Keenan Giliberto — chronicles the couple through joy and heartache with more than 300 frank, sometimes searing, images.
"It displays that a life cut short doesn't have to be a life forgotten," Jenna, 30, told TODAY.
"It means that my daughter has the opportunity to see her father's fight. She gets to see how much her parents loved one another and how much she was wanted. Josh wanted her so badly… He didn't fight for him, he fought for her."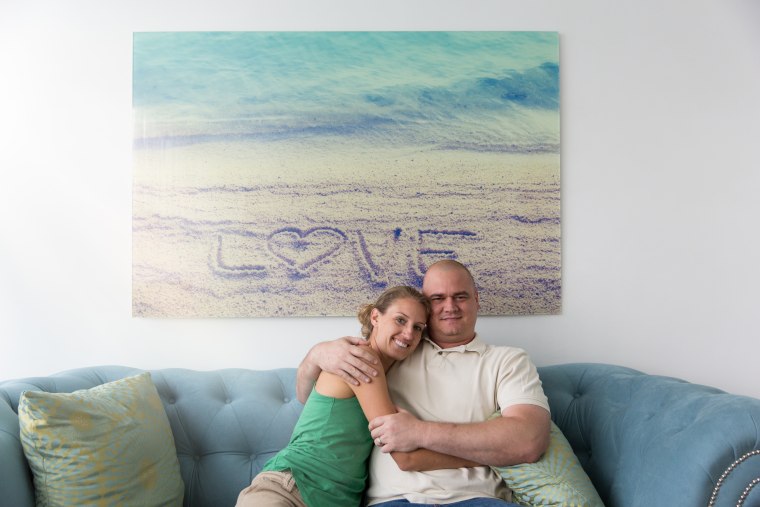 The newlyweds from Atlanta were on their honeymoon in Taiwan in March of 2015, when Jenna noticed Josh — 39 years old and, up until then, the picture of good health — seemed confused, forgetful and tired. When they went to a local hospital, doctors discovered a brain tumor.
The couple returned to the U.S. the next morning and within days, Josh's tumor was confirmed to be glioblastoma — brain cancer.
As doctors prepared to operate, Josh's neurosurgeon connected the couple with another patient — Jennifer Keenan Giliberto, an Atlanta-area photographer and brain tumor survivor who was looking to capture the journey on film.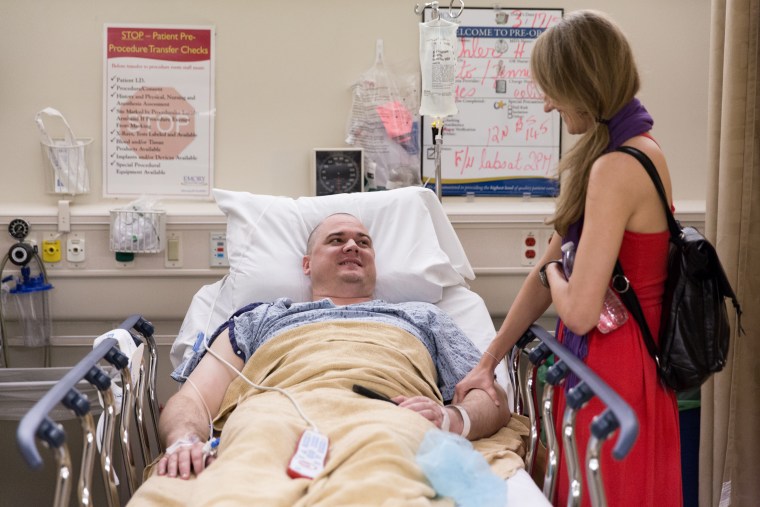 "As a patient, I have often found it difficult to express how a brain cancer diagnosis impacts not only the patient, but their family and loved ones, too," Giliberto said.
"[Josh and Jenna] felt as strongly as I did about opening the door, pulling the curtains back and exposing the viewer to the entirety of the brain cancer experience."
The couple met Giliberto on the morning of Josh's surgery at Emory University Hospital Midtown in Atlanta on March 17, 2015. The photo series starts that day.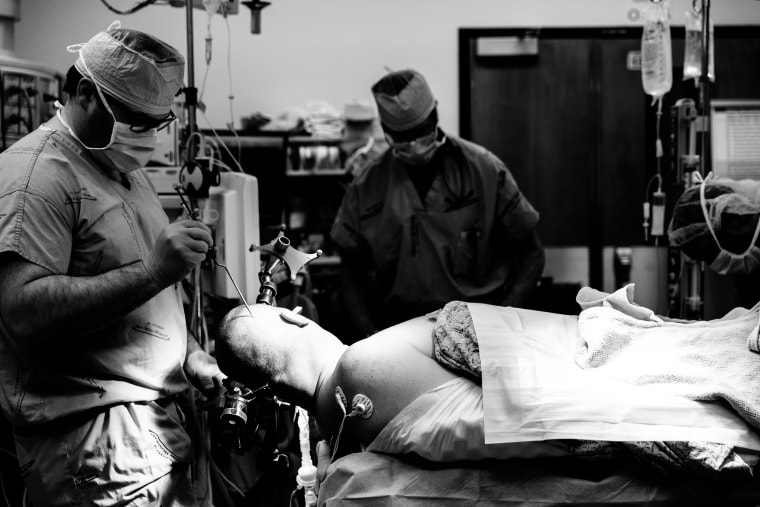 The operation was considered successful, Jenna said. More than 90 percent of the tumor was taken out, but since glioblastoma grows tentacles into the brain and some of them ran over Josh's motor strip — the part of the brain that controls muscle movement — cutting out more risked paralyzing him. Some of the aggressive cells had to be left behind.
Josh underwent radiation and chemotherapy, and life went on. He was answering business calls the day after surgery. He sent emails during chemo infusions.
"He just kept going and he truly believed that cancer might get someone else, but it wasn't going to get him," Jenna said. "I was going to be an expert at making my husband survive."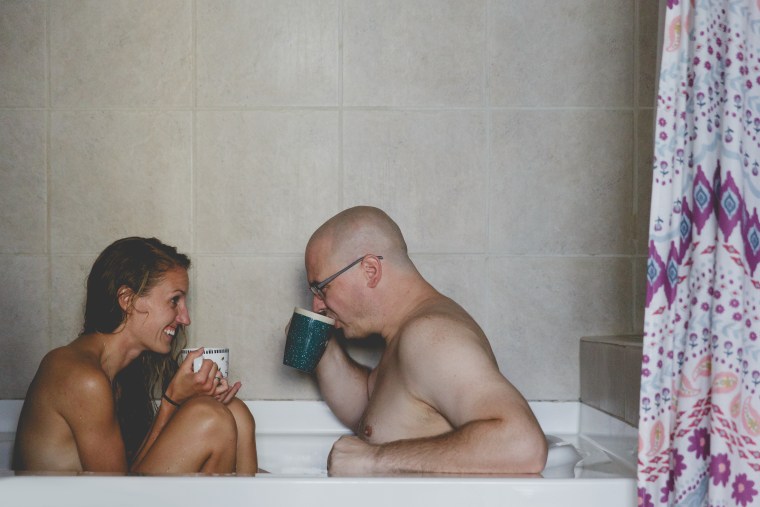 They overhauled Josh's diet and lifestyle. Besides receiving treatment from traditional medicine, he visited Ayurvedic and homeopathic doctors. The couple explored every possible solution.
In January of 2016, Jenna became pregnant with the help of IVF. It was literally a dream come true, she said.
But that June, they faced the worst news: Josh's cancer had come back. It was so serious that doctors advised him to stop working and initiate hospice.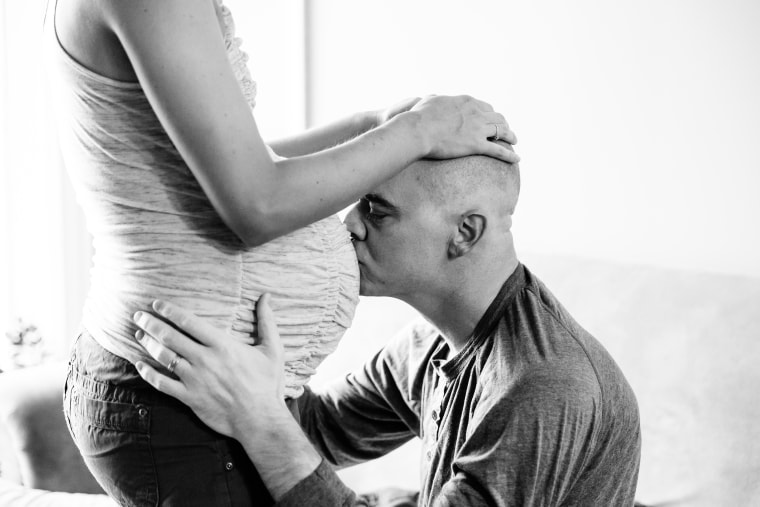 It was one of the only times Jenna allowed herself to cry in front of her husband.
"I said, 'Josh, please don't make me labor alone," she recalled. Desperate, the Buehlers asked to take part in clinical trials or experimental treatments — anything to fight Josh's cancer, but were shocked there were no more options.
"Josh would have done anything to know that he could raise his child… (but doctors) said there are no clinical trials."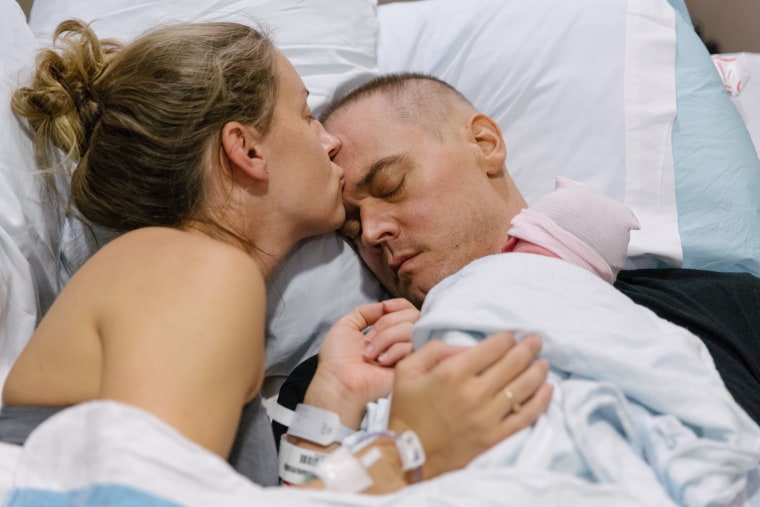 Josh's health was deteriorating by the time Jenna gave birth to a baby girl in September. The hospital arranged for him to lie in a bed facing hers in the delivery room, but anti-seizure medication made him groggy during the birth.
When he woke up, Jenna asked: Would you like to meet your daughter? She laid baby Reilly on his chest and he kissed the little girl's head. He was never able to hold her by himself, but he was always aware she was there, Jenna said.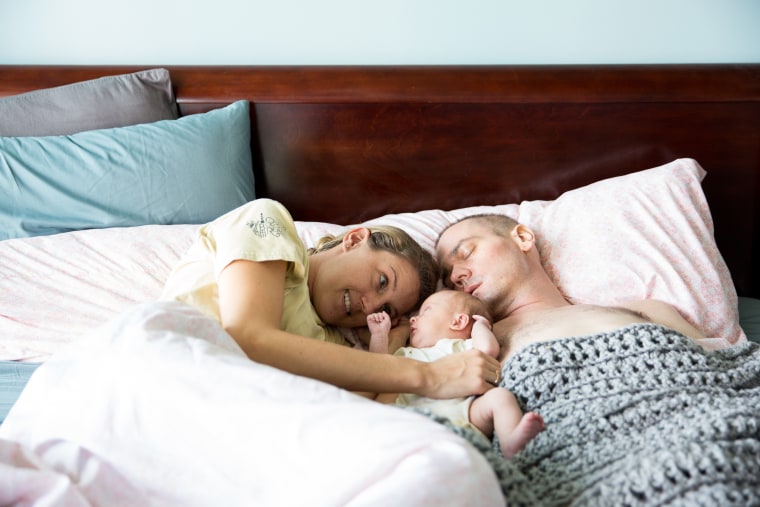 Josh passed away on November 6, 2016. He was 41.
Jenna treasures the photos taken by Giliberto and hopes they spur action: more clinical trials and more effective treatments to fight brain cancer, which also claimed the life of Joe Biden's son, Beau Biden, and led Brittany Maynard to end her own.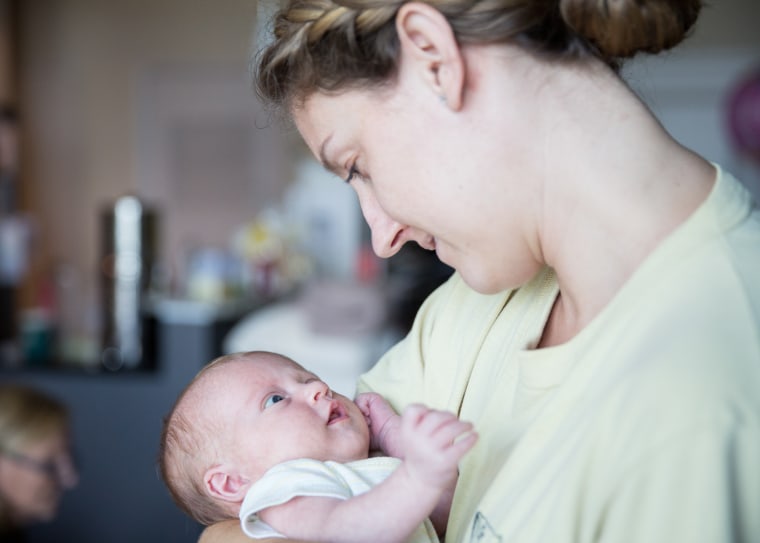 "There are a lot of cancers that receive a lot of research, a lot of funding. And somehow, we still don't have answers to brain cancer," she said. "I really hope that Josh's life makes a difference."
This story was originally published in December 2016.