What began as a moment of friendship for two young girls who have faced cancer has become an international symbol of hope, thanks to a mom who realized the moment warranted a photograph.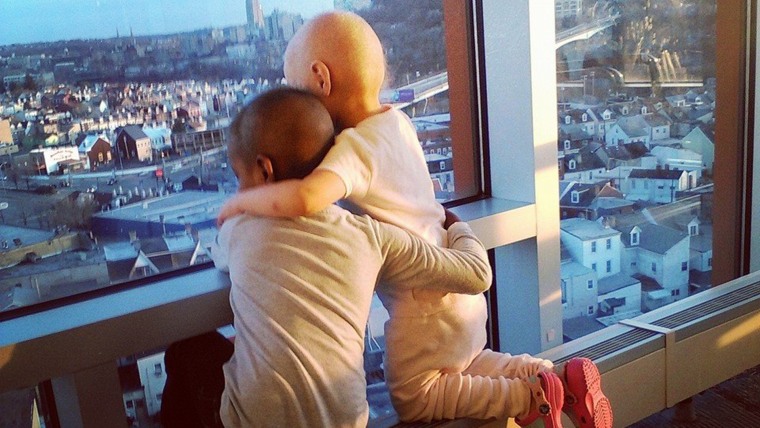 Tazz Jones told TODAY.com she snapped the photo a few weeks ago, when she noticed her 5-year-old daughter, Maliyah, gravitate toward another cancer-battling girl, Madelina, and hug the 2-year-old as they looked out a window at the Children's Hospital of Pittsburgh. Doctors diagnosed Maliyah with neuroblastoma three years ago, when she was 2; Madelina's family learned she had acute myeloid leukemia in November, when the younger girl was 23 months old.
"That was their first time meeting," said Jones, who lives in Pittsburgh. "They clicked instantly."
She posted it on Facebook on May 3, encouraging everyone to caption and share the picture of Madelina and Maliyah. "So many people have been telling me to submit this picture, get it blown up, and that it touched [their] hearts," Jones wrote. "This is the perfect example of love."
The image has since gone viral.
"I thought it was a cute picture of the two girls who had just met and would have never imagined how much attention it has gotten," wrote Kristin DeLuca, Madelina's mother, in an email to TODAY.com. "It makes you realize that it's the little things in life that really count and really make a difference."
A resident of Moon Township, Pennsylvania, DeLuca said Madelina — nicknamed Mina — endured four one-month hospital stays for chemotherapy treatments, according to her mom. "Madelina has always been a happy and active little girl, even when she was receiving her chemotherapy at the hospital," DeLuca wrote. "She had very few bad days and was always the life of the oncology floor."
That might be why Maliyah gravitated toward her, and why Maliyah's mom was inspired to take the now-famous photo.
"For some reason, they both went over and sat down on this little ledge that they have, it's like a little heater [by the window], and then Maliyah put her hand over her [shoulder]," Jones recalled. "It was just amazing."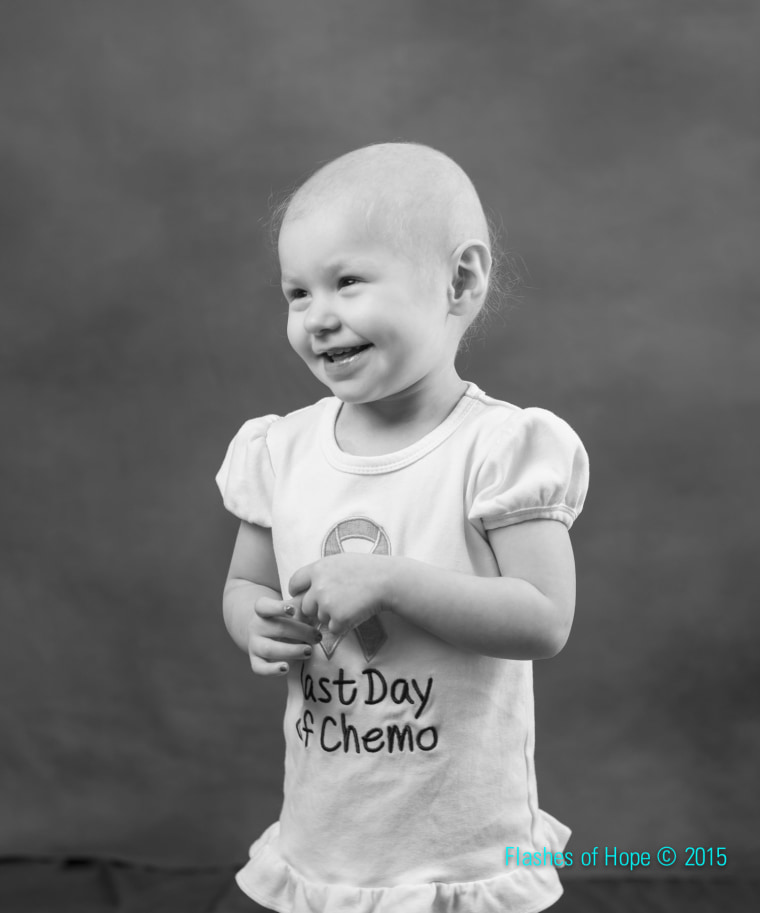 Both girls are making progress in their cancer battles, bolstered by separate fundraising pages set up in Maliyah and Madelina's names.
Madelina had her last bone marrow biopsy about two weeks ago. "The results showed no signs of leukemia!" DeLuca wrote. "She will still have some close monitoring over the next few months to watch for any recurrence, but she is in great spirits and feeling well."
Maliyah is continuing her fight. On Thursday, she was recovering from a bone-marrow biopsy at Memorial Sloan Kettering Cancer Center in New York City, where she'll stay through Monday and return for future treatments, Jones said. But mom and daughter found some relief and a little glamour at the hospital's recent prom for patients and family members.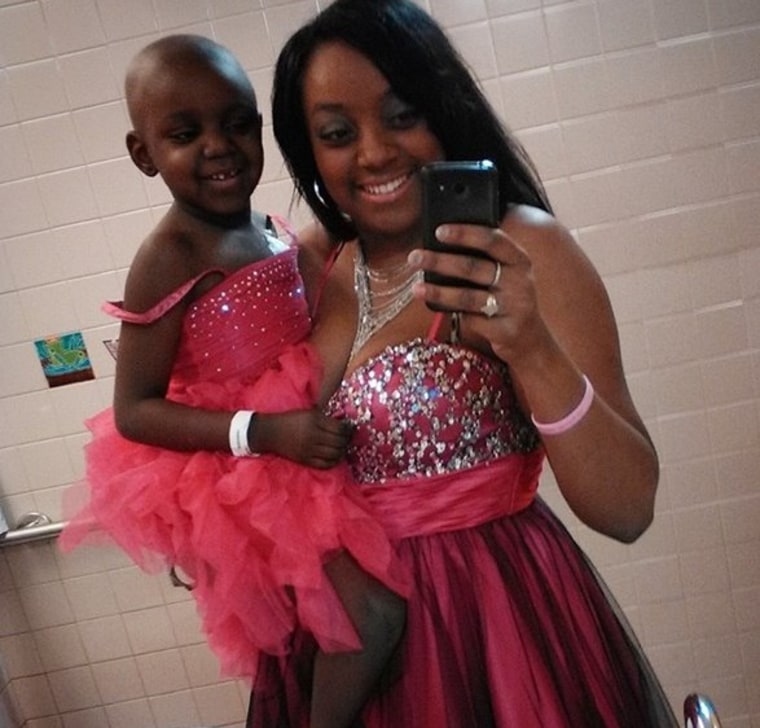 "In spite of everything she's been through, she's happy and healthy, besides her condition," Jones added. "She plays like any normal child. ... You can look at her, and if she had all her hair, you would never know that there was anything wrong with her."
Jones said she's hoping not only to reunite with the DeLuca family when she returns to Pittsburgh, but also to foster the new friendship that could last a lifetime.
"In the long run, I really think that when they do get older and become really good friends, they can look back on this picture and say, 'Wow, we clicked and became friends.'"
While the girls are in different stages of their cancer battle, they'll forever be linked by the photo that brought them, and their worldwide supporters, a little closer together.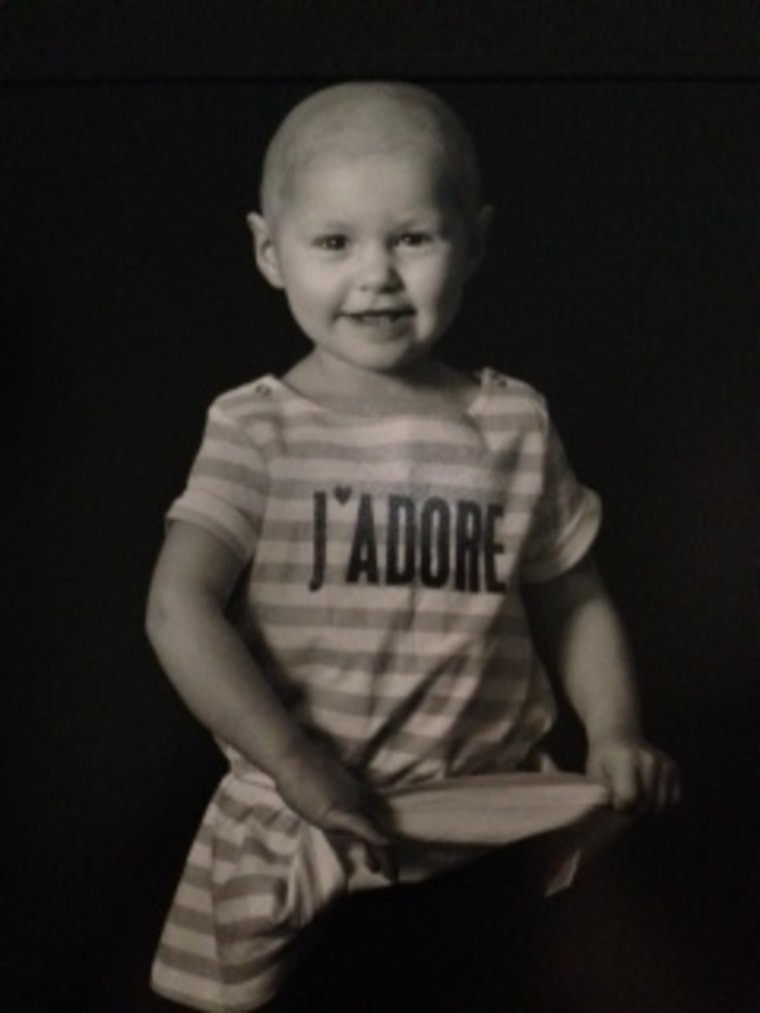 "I hope people will take time to realize just how precious life is and also no matter the circumstances, there is always someone looking out for you," DeLuca wrote. "These girls may be young but the battles they have already fought and continue to fight is something that makes them our warriors. Their bravery and strength through the difficult times during treatment shows the fighters that they are!"
Jones has specific wishes for everyone who sees her viral photo.
"I want people to feel hope," she said. "I want people to know that there's always someone out there for you, always a friend. It doesn't matter if you've known them for 50 days, for your whole lifetime, or for just a few hours; there's always someone there for you."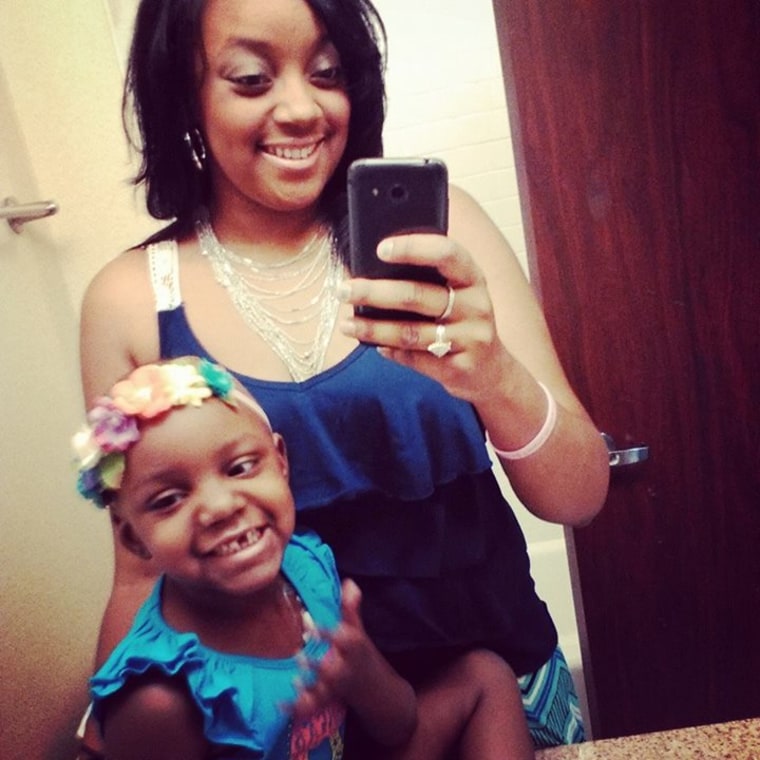 Follow TODAY.com writer Chris Serico on Twitter.