/ Source: TODAY Contributor
You may be able to fool friends and family with that fake smile, but your phone can tell if are depressed, a new study suggests.
Behavioral data that can be collected by your smartphone, such as how many minutes you spend using the device, how much time you spend away from home and how well you stick to your daily schedule, can give a pretty accurate picture of your mental state, researchers reported Wednesday in the Journal of Internet Research.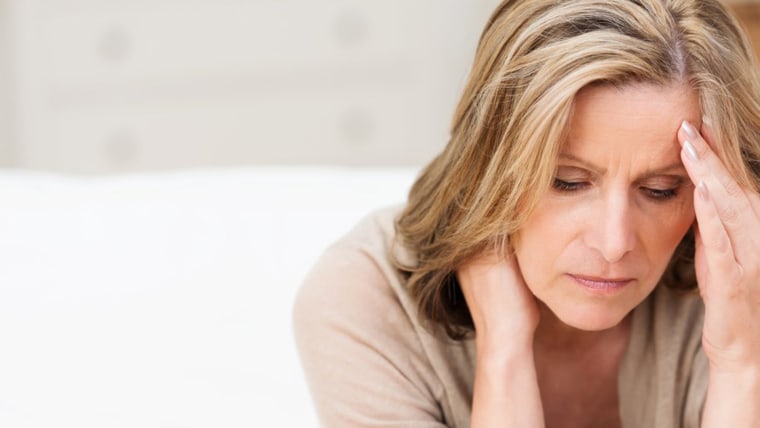 The more time people spent on the phone, for instance, the more likely they were to show symptoms of depression. The average daily phone usage, excluding actual calls, for depressed individuals was about 68 minutes as compared to 17 minutes in those who were not depressed.
Read more: Depressed dads: Learn about the illness that affects 10 percent of new fathers
Experts said the technology, though not yet ready for prime time, may eventually become a helpful tool in monitoring patients at risk of pregnancy-related depression and in keeping track of the status of patients already diagnosed with it.
People might even want to use the phone to monitor their own mental health, said the study's lead author, Sohrab Saeb, a computer scientist and postdoctoral research fellow at Northwestern University.
"You could think of it as a therapist in your pocket," Saeb said. "I think the most important aspect of it would be that we could use it to passively and objectively monitor people without the need to ask any questions."
Bigger and longer lasting studies will need to be done before this "therapist in your pocket" is ready to use, Saeb said.
Read more: How to calm your brain and find peace during a busy day
For the new study Saeb and his colleagues rounded up 40 volunteers through a Craigslist ad that offered a small amount of money to people who were willing to download an app that would keep track of data gleaned by certain phone sensors. The app would then relay the information back to the researchers during the two weeks of the study. The volunteers were asked to fill out questionnaires designed to ferret out symptoms of depression at the beginning of the study.
Ultimately the researchers were able to use data on only 28 of the initial 40 because of issues with data transmission. Of the 28 participants, 14 showed no signs of depression, while 14 showed symptoms ranging from mild to severe depression. Overall, the phone app was able to spot signs of depression with 87 percent accuracy, the researchers reported.
Read more: Depressed? Botox just might help you feel better
"I think it's a very clever idea," said Dr. David Brent, academic chief of child and adolescent psychiatry at the University of Pittsburgh School of Medicine. "It uses GPS data to look at every day rhythms and looks at how they correlate with depression symptom scores. It's based on the idea that people who are depressed won't be as active and don't move around or socialize as much."
"If you asked me ahead of time, I would have predicted that all those things would have correlated with depression, but I was surprised at how strongly they were correlated," said Brent who is unaffiliated with the new study.
Dr. Ian Bennett is currently involved in a trial of a similar app, though he is unaffiliated with the new research.
"We are running a trial to see if it can be useful within the clinical setting, especially for perinatal depression" said Bennett, a specialist in pregnancy-related depression and an associate professor of family medicine and community health at the Perelman School of Medicine at the University of Pennsylvania.
"A tool like this could be really helpful. About half of those at risk will be fine and we don't know which ones they are. It could ideally provide a relatively efficient way to keep an eye on people who might be getting worse and not spending time on those who are doing fine."
Still, Bennett said, while this type of research is "really important, it's very, very early on."
Linda Carroll is a regular contributor to NBCNews.com and TODAY.com. She is co-author of "The Concussion Crisis: Anatomy of a Silent Epidemic" and the recently published "Duel for the Crown: Affirmed, Alydar, and Racing's Greatest Rivalry"