To say Nick McGee got excited about becoming homecoming king may be an understatement.
The Pennsylvania teenager raised his hands in victory upon the announcement before running to the field bleachers and leading an already pumped crowd into a cheering frenzy. He then made his way back to the football field to give a bear hug to his friend, homecoming queen Lily Bowman, who, like him, has Down syndrome.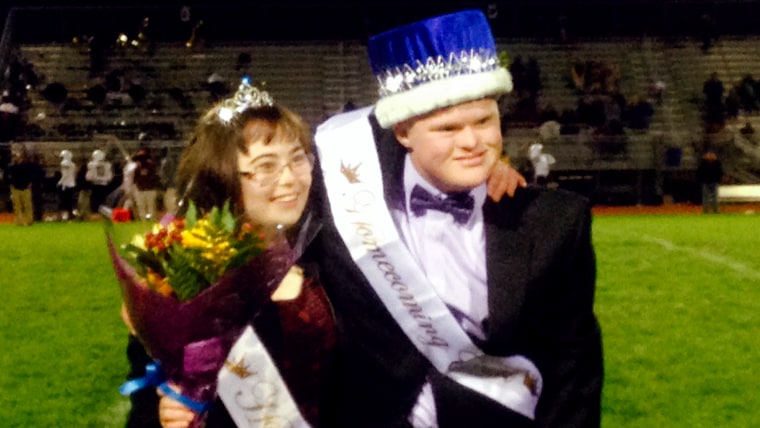 "There's probably a thousand different reasons why they were chosen in a class of over 600 students," said Scott Davidheiser, principal of Central Bucks High School South, where the two students are active members of the student body. "I think everything's reciprocal in life."
A video of the moment from last Friday has gone viral on Youtube. In the clip, Nick can be seen running to the stands to rouse a cheering section that he is normally a part of every Friday night. He leads students into a chant, "I believe that we will win," and the crowd goes wild.
"It was very exciting and everybody was in tears," Kim McGee told NBC10 in Philadelphia about the moment.
Among those crying was Taylor Dunn, who accompanied Nick on the homecoming court.
"I had my fingers crossed and when his name got called I just started crying because it was probably the most amazing moment of my entire CB South career," she told the station.
Davidheiser said the school has received a "tremendous" amount of attention the past two days because of its homecoming nobility.
"It just shines light on the importance of caring for kids, and the way kids care for kids," he said. "Schools are built for academic success, obviously, but we know a lot of things go into making success possible."
Follow TODAY.com writer Eun Kyung Kim on Twitter.