It's no illusion: Magician Penn Jillette is much slimmer these days.
He details how he lost the weight in his recent book, "Presto!: How I Made Over 100 Pounds Disappear and Other Magical Tales." About to turn 60, topping the scale at 330 pounds and alarmed by his high blood pressure, Jillette set out to slim down last year.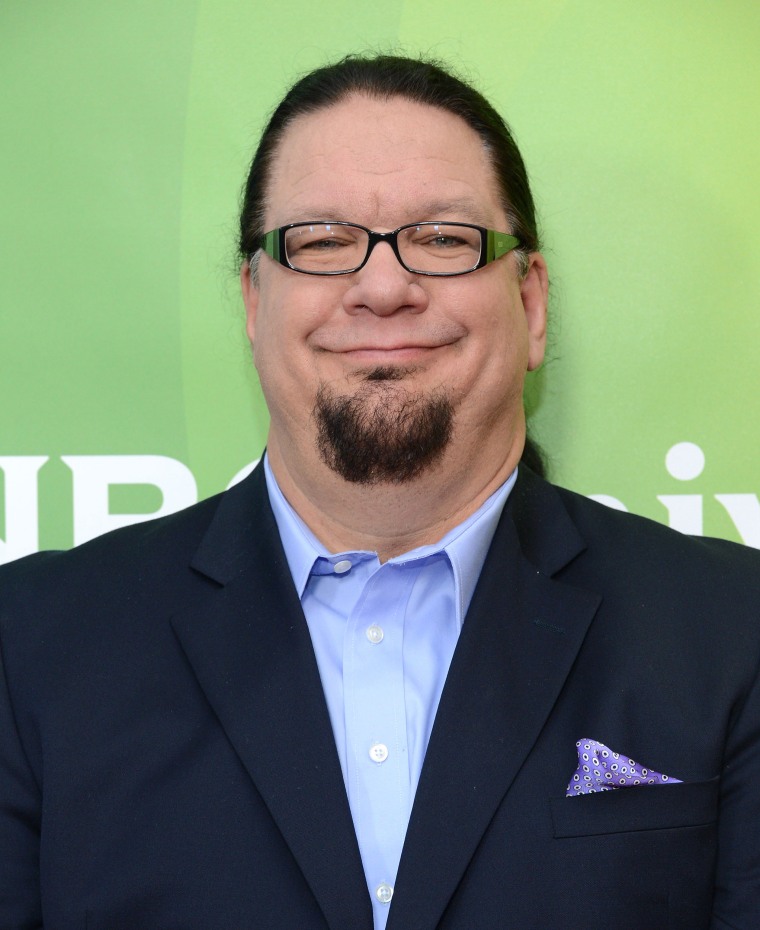 Did he ever. Within a few months of drastically changing his diet, Jillette weighed 225 pounds. But even he admits the way he started was "very extreme."
"I did a mono diet for two weeks, which could have been anything. I did potatoes because they're funny," Jillette writes, according to People magazine.
As the name implies, mono diets involve eating only one food. Some people have turned to bananas or watermelon; in Jillette case, he only consumed potatoes — about five a day — for the first 14 days of his diet. The goal of that first phase was "to interrupt his current relationship with food," a scientist advising Jillette told the New York Post.
RELATED: Are you really hungry? 5 questions to ask yourself before you eat
Devotees say mono diets can jump start weight loss, but nutritionists warn against them, noting mono diets can be potentially damaging to your health.
"The desperation of wanting to lose weight — and see results quickly — will lead people to choose a plan that makes no biological sense," said NBC News Health and Nutrition Editor Madelyn Fernstrom. "This is not an advisable plan."
RELATED: 8 healthy swaps to maintain your weight loss
Why would anyone choose a mono diet?
It's a way to reduce calories and feel in control — usually at the expense of nutrition. In Jillette's case, he was eating around 600-700 calories with his five daily potatoes, so of course he would drop weight quickly, Fernstrom noted.
But while potatoes are rich in vitamins, minerals, and fiber, they are very low in protein. Jillette was likely eating up to 75 percent less protein than he needed for good health. After about 24 hours, his body would have taken the amino acids it needed to function from muscle, which is unhealthy, Fernstrom said. Such a low protein diet, even for two weeks, can impact brain chemistry, which uses amino acids from protein for normal function.
That two-week period would be very rough for the body and mood for anyone who tried it, she noted.
Why would a mono diet jump start weight loss?
Studies show that when people eat the same food items and keep a structure with the same set of meals without a lot of variety, it seems to help restrain their desire for excess sugar, salt, and fats found in tasty high-calorie indulgent foods, Fernstrom said.
"People feel a sense of control when they are limiting variety. A sense of control coming from severe structure: No choice. One item. Easy," she noted, even though they're making an unhealthy choice by sticking to only one food.
"Sadly, many people are willing to try anything for the promise of quick early weight loss," Fernstrom said.
RELATED: Read inspiring weight-loss journeys
If you are set on a single food jump start:
Here are Fernstrom's recommendations:
Discuss with your doctor if — and what kind of — jump start is right for you. Someone who is severely obese often needs that boost to get started on a more moderate, balanced plan, After a jump start, people are much more willing to follow a "slow and steady" approach.
Consider a series of daily high protein shakes containing 100 percent of the recommended daily intake of vitamins and minerals.
Stick with around 800-1000 calories, depending on your starting weight. Follow this routine for one week and see how you feel.
As for Jillette, after the two-week mono diet, he added other vegetables, fruits and grains to his eating plan. He says he now avoids eating animal products, refined grains, salt, sugar, and oil.