When Wendy Eldridge was about 14, she was flipping through a magazine and spotted an ad for pen pals. The Melbourne, Australia teen had pen pals in the past, but they never stuck. So, she signed up for a new one and met Chuck Baeten, a 14-year-old student at Holy Cross Catholic School in Kaukauna, Wisconsin.
"It was never meant to last forever. You'd write and exchange some letters," Baeten, 61, told TODAY. "For whatever reason … We just kept writing to each other."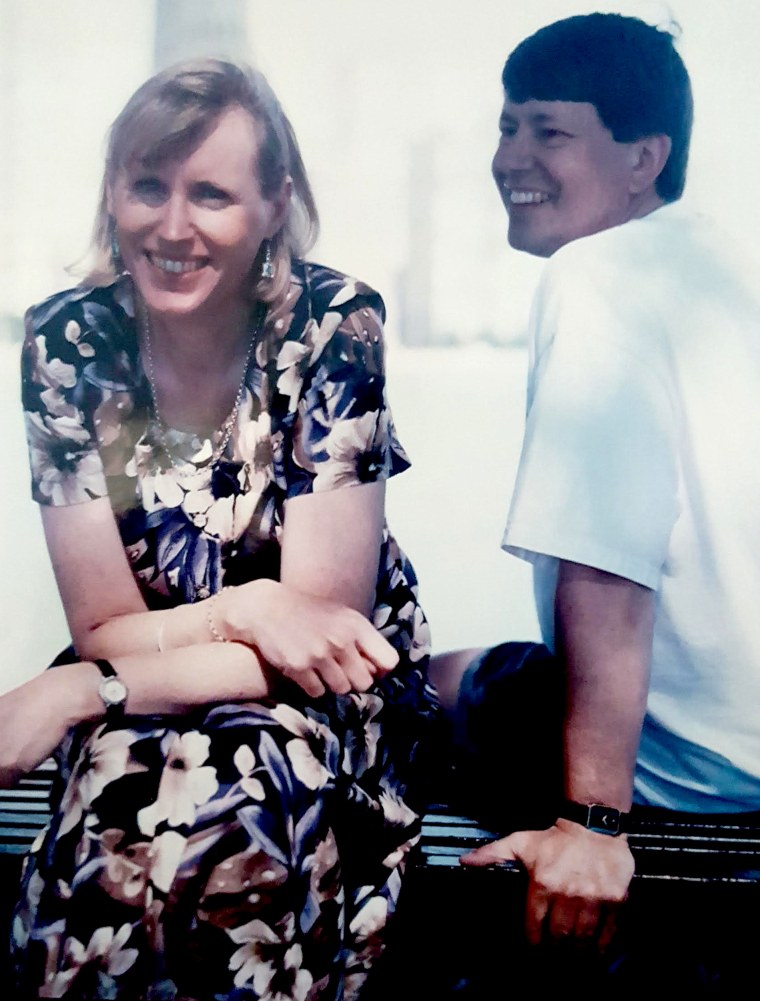 Their correspondence started in 1970 and over the past 47 years, handwritten letters evolved into emails, phone calls and trips abroad to visit each other. They chatted about college, dating, then marriage, children and their careers. Eldridge works as a nurse at Yarrawonga District Health, which is north of Melbourne, and Baeten, now retired, worked as a project manager in Downers Grove, Illinois, outside of Chicago.
"Chuck was always dedicated in writing back," Eldridge, 61, told TODAY. "It was like having a brother and talking to a brother."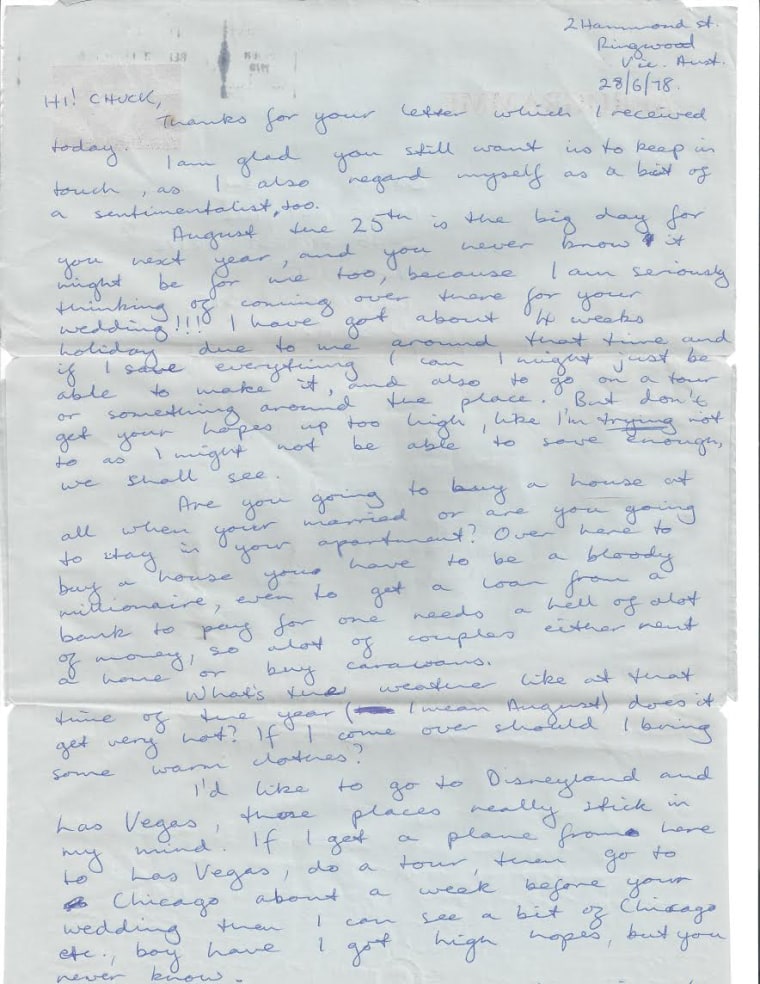 Over the years, Baeten shared that he had polycystic kidney disease, like his mother and two sisters, but little else about his condition. Then on Christmas Eve 1999, when the two were on the phone for their holiday chat, Baeten shared some upsetting news.
"He said to me he'll need a transplant and he said his blood type was prohibitive, he was O negative. And his wife and family couldn't donate," Eldridge said.
Eldridge told him she also was O negative.
"She just kind of jokingly said 'Well, I will give you a kidney,'" he said. "I just laughed it off."
But a few weeks later, she called back.
"She said 'I am serious about this kidney thing, what do I need to do to make this happen?'" Baeten recalled her saying.
So, Baeten started the process. Eldridge had blood taken by her doctor in Melbourne and then shipped to the United States. When testing revealed they were a match, the two decided on a date, July 5, 2000, and Eldridge went to Chicago for the procedure at Northwestern Memorial Hospital.
"It fell into place. I think it was meant to happen," she said.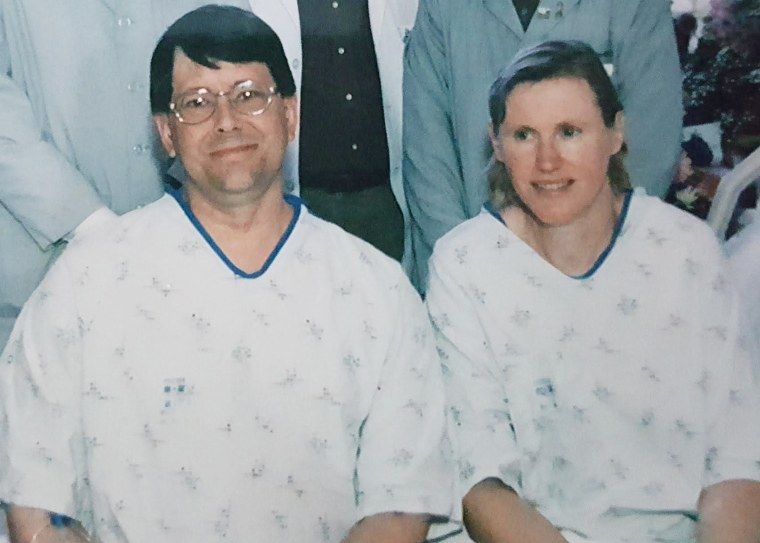 It wasn't the first time they had met, but it certainly felt like the most memorable visit. Eldridge visited the United States in the late 1980s and Baeten and his family visited her in the early 1990s. But the successful transplant bolstered the relationship between the two, who already felt as close as family members.
"It is more like we are cousins," Baeten said. "We are probably going to be friends to the end."
Eldridge agrees.
"After all this time, it is not something you want to give up," she said. "I would be devastated if he stopped writing or keeping in contact."
Baeten admits that the story might sound unbelievable to some.
"If I step back and look at it, it is pretty weird so many things came together and allowed us to do it," he said.
As to why she'd travel thousands of miles to donate a kidney to a friend, Eldridge once admitted to Baeten she did it because a friend of hers passed away while she was traveling and she felt bad she couldn't help.
"I was next in line," he said.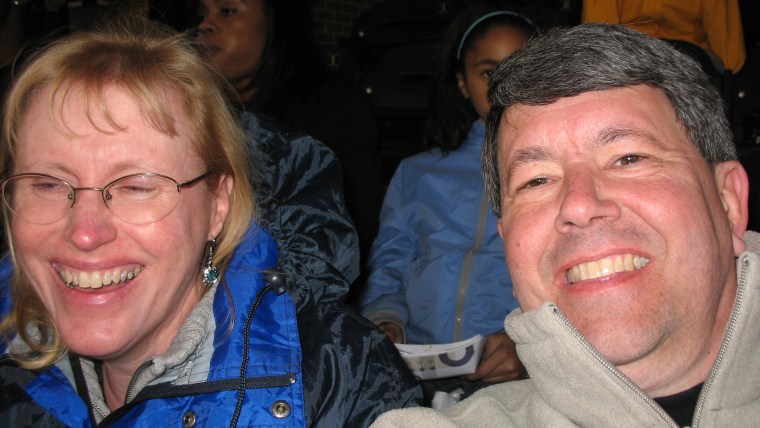 Since the surgery 17 years ago, Baeten has not had any problems with his kidney. Eldridge visited in early May and took a road trip with Baeten and his wife.
The two hope their story inspires other people to become organ donors.
"You can be a living organ donor. I am still leading a happy healthy life," she said.
To learn more about living organ donation visit the U.S. Government Information on Organ Donation and Transplantation site.
RELATED:
Woman drops 40 pounds so she can donate her kidney to ailing friend
Dad dying of cancer sees 2-year-old son get a kidney from high school classmate
Mom of 7 kindly donates kidney to co-worker she barely knows