There are now more cellphones in use in the United States than there are people. But how safe are they?
U.S. government agencies including the FCC (which decides how much radiation mobile phones are allowed to emit) say there is little to be concerned about.
But others beg to differ. Earlier this year 190 independent scientists representing 39 countries (including the United States) appealed to global health organization to strengthen cellphone guidelines and ensure the public be "fully informed about the potential health risks from electromagnetic energy." These scientists, who have collectively authored more than 2,000 papers on the topic, add to a growing number of prominent experts and government agencies around the world who are holding up a caution sign for consumers — particularly when it comes to kids.
CTIA, which represents cellphone manufacturers, tells NBC News that mobile phones are tested at independent labs to ensure they meet the FCC's mandatory radiation exposure limits. But the FCC does not independently test cellphones for safety; they base their guidelines on information provided by other government agencies and independent experts.
The guidelines were last updated in 1996. In a letter to the FCC, the American Academy of Pediatrics urged the agency to adopt U.S. standards that protect children's health, reflect use patterns of cellphone users today, and "provide consumers the information they need to make informed decisions."
"Children are not little adults," Dr. Gisela Mercada-Deane, chair of radiology at the American Academy of Pediatrics, said. "The amount of radio frequency that children will be exposed by the time they are our age [an adult] is exponential to the amount of radiation, radio frequencies that we ourselves are being exposed to in a lifetime."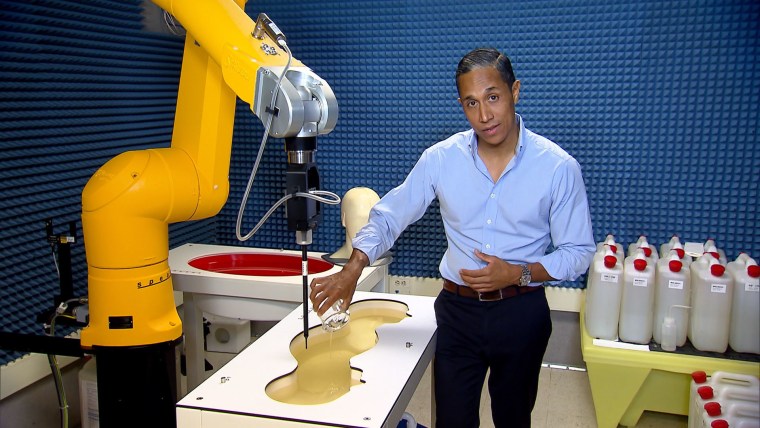 The current FCC test does not take into account that children's skulls are thinner and can absorb more radiation, Mercada-Deane added.
A 2012 report by the U.S. Government Accountability Office also recommends the FCC standards be reassessed to account for current usage. "By testing mobile phones only when at a distance from the body, FCC may not be identifying the maximum exposure, since some users may hold a mobile phone directly against the body while in use," the report notes.
While the FCC maintains there has not been sufficient evidence to warrant a change in the radiation or usage guidelines, they did open a formal Notice of Inquiry in 2013. They're exploring whether recent research and usage patterns of radio frequency emitters of all types warrant a reexamination of the FCC's current exposure limit.
"The U.S. has among the most conservative standards in the world," wrote the FCC in a statement to NBC News. "As part of our routine review of these standards, we are soliciting input from multiple stakeholder experts, including federal health agencies and others, to guide our assessment."
The good news is, even critics of the FCC's current cellphone radiation guidelines do not suggest people stop using their devices. Instead, they offer common-sense precautions. Here are the basics you need to know:
Your phone radiates like a microwave. Smartphones today have multiple antennas inside. When in use, the phone emits non-iodizing radiation — not the type you would get from an X-ray; more like a low-powered microwave oven.
"Phones are transmitting radiation so long as they are connected to the Internet or connected to Wi-Fi, and even if you're not talking on your phone, your phone is talking to the tower," Dr. Devra Davis, a former White House senior health adviser, said.
Be aware that your phone is, in essence, always transmitting. Experts suggest that if you plan to watch a movie on your device, download it first, then switch to airplane mode while you watch in order to avoid unnecessary radiation exposure.
Distance is your friend. Chances are you have not read the fine print of your cellphone safety manual. Most of them tell consumers not to keep their phone directly against the body.
The Samsung Galaxy S6 manual reads: "Body-worn SAR testing has been carried out at a separation distance of 1.5 cm [.6 inches]. To meet RF [radio frequency] exposure guidelines during body-worn operation, the device should be positioned at least this distance away from the body."
Bottom line: if you're carrying your phone in your pocket, sock, bra or anywhere against your body, the manufacturers can't guarantee that the amount of radiation you're absorbing will be at a safe level. Distance is your friend.
Get wired (or use the speaker). Countries such as Israel, France, Russia and Canada provide additional cellphone safety recommendations for adults and children. The most consistent advice: Use a wired earpiece or talk on speakerphone.
Experts say for every inch you keep your phone away from the body, the amount of radiation your body or head absorbs goes down exponentially.
Avoid radiation hot spots. Your phone doesn't always give off the same level of radiation: The weaker your cell signal is, the harder your phone has to work and the more radiation it gives off.
So when you're in an elevator or a mall or a rural area with a spotty signal, your phone's power output automatically increases as it searches for a signal. If radiation is a concern for you, experts say its better to wait until you're in an area with a stronger signal before using your device.