Beauty may be ageless, but when it comes to our own looks, sadly, our best days are behind us. Or so we believe. 
Most of us — both men and women — say the age we feel the best about our bodies is 27, according to the TODAY/AOL Ideal to Real Body Image Survey released this week.  

Not only is 27 our magic age, we feel best about our overall appearance at age 28. And when do we believe we experience the "most success"? Age 34. 
So, is it all downhill from there? That could be one interpretation of the survey findings. Two-thirds of all adults name an age younger than their current age when asked when they felt best about their body and appearance, according to the national survey of 2,000 adults and 200 teens.
But the thing is, as we get older, we're so much easier on ourselves about our appearance and imperfections. We stop worrying so much about the way we look — and everything else, for that matter, according to our survey. 

When it comes to an acceptance of how we look and how much we care about what others think of our looks, the older we get, the more we come to the astute realization that there is more to life than glowing skin and ripped abs. Millennials may be in the prime zone for their bodies, but they're too worried about their looks to enjoy it: 69 percent of 16- to 34-year-olds say they regularly worry about their appearance. However, people ages 50 to 68 said they worried less about everything on the survey — appearance, finances, health, family or relationships or personal success — than younger respondents.
Emma Nicholson, 51, a massage therapist from Charlottesville, Va. no longer obsesses about the advent of crow's feet or laugh lines and has come to accept that she is never going to be super-model thin. "I've really learned that looks don't define a person, and how people perceive how you look doesn't define you either," says Nicholson, who publishes the blog Hot Flashes of Inspiration.  "It's not that you don't care about how you look when you get older, you just care less."
Indeed, survey results are in line with Nicholson's take on body image and aging.
About 80 percent of women under age 24 worry about their appearance on a regular basis, but by age 55, that number drops to 52 percent. (It seems that many people are never really quite comfortable with their bellies or behinds, two body parts many of us worry about no matter what our age.) 
Only 35 percent of baby boomers, those ages 50 to 68, give a hoot about other people's opinions about their looks. That compares with more than 60 percent of millennials, ages 15 to 34, who worry about being judged for their appearance.
Slightly more than 50 percent of Gen Xers, adults ages 35 to 49, stress about being judged for their looks.
Older adults also seem to stop the often-tedious conversations about looks that were so pervasive when we were younger. (Come on, admit it, you know you whined about not looking like Kate Moss.) And as we get older, we stop beating ourselves up: Only 16 percent of adults 55 and older regularly grumble about their appearance, compared to 34 percent of 25- to 34-year-olds.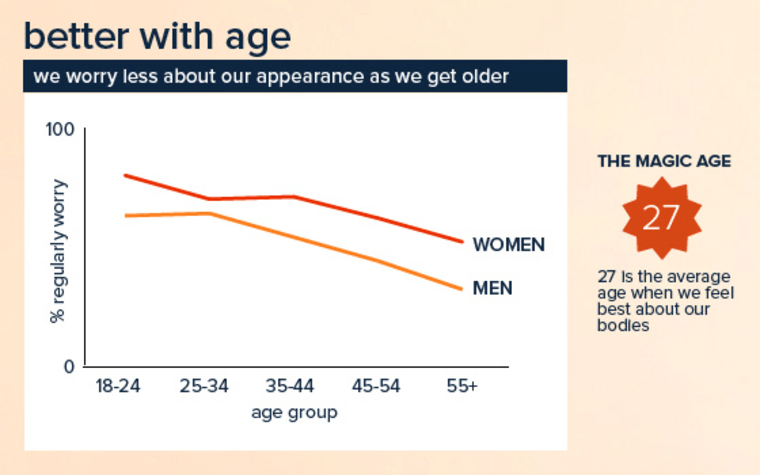 Aging seems to bring with it an innate satisfaction with things that have little to do with appearance. "Life happens, and the emphasis on appearance does tend to diminish when people get older and they find other things in their lives where they get nourishment, enjoyment and happiness," says body image expert Sarah Maria Dreisbach, author of "Love Your Body, Love Your Life." Those "things" can include becoming parents, grandparents, employment and good health. "I think people need to remember that aging is a great gift," she says. "Always look for where your beauty is in each phase of your life."
That's what Emma Nicholson is doing. "I don't want to scare little kids, so I try to work with what I have most days of the week," she laughs. "Sure, some days I wished I still looked like I did when I was 25. Some days, I still wish I looked like I did when I was 45. But most days, I am absolutely happy with who I am and how I look. It's all good." 
Check out the full results of the TODAY/AOL Body Image survey
All week, TODAY will be exploring the issues we all face with body image on a daily basis, hoping to help you change the way you see yourself. Everyone from Cameron Diaz to Jacqueline Bisset to Michelle Obama will weigh in. Follow the series at TODAY.com/LoveYourSelfie.
We also want you to get in on the action. Share your makeup-free photos on Twitter, Instagram and Facebook using the hashtag #LoveYourSelfie.