From cereals to smoothies to energy bars, pea protein is everywhere. What's driving the craze is the hunger to find an easy-to-digest plant-based protein that is less apt to cause allergic reactions, like gluten or soy.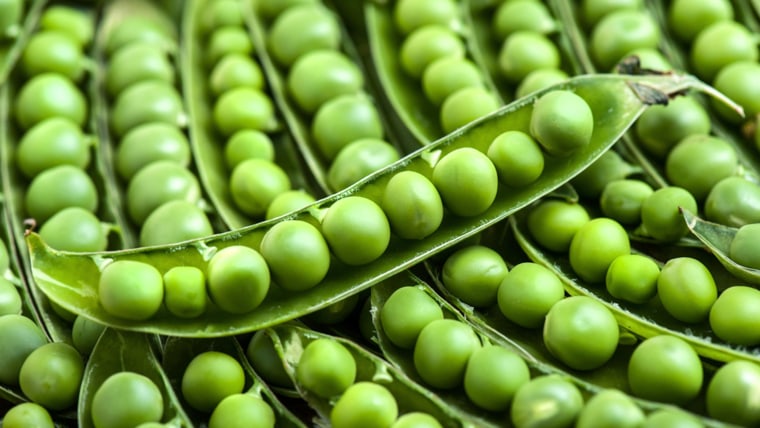 Pea protein is a supplement derived from the same kinds of dried peas you'd use to make soup, says Judith Dodd, an assistant professor of nutrition and dietetics at the University of Pittsburgh Medical Center. These kinds of peas have a high protein content.
The one downside: It's not "a complete protein," Dodd says.
Unlike other popular protein products, soy and whey, it doesn't have all the amino acids we need that our bodies can't make, Dodd says. So to get the full nutritional value, it needs to be combined with something like rice or bread, she adds.
Still, a major attraction to pea protein is that "it is not derived from one of the commonly allergenic foods such as milk, eggs, peanuts, tree nuts or soybeans," says Dana Hunnes, a senior dietitian at the University of California, Los Angeles. Further, "the pea protein craze may in part be due to the increased desire for plant-based options."
It also contains soluble fiber that can lower cholesterol levels. "The protein in pea fiber can also help keep you feeling satisfied," says New York nutritionist Bonnie Taub-Dix, R.D.
There's a growing body of evidence that plant-based diets can reduce the risk of obesity, high blood pressure, diabetes and the risk of early death. A report recently released at an American Heart Association meeting found that people who got 70 percent or more of their food from fruits, vegetables and grains had a 20 percent lower risk of dying from heart diseases.
And pea protein has the added benefit that it is more environmentally friendly, Hunnes says.
"Producing pea proteins is better for the environment than milk or egg proteins because fewer resources—water, other crops, fertilizers—are needed to make them, and they return nitrogen to the soil reducing the need for fertilizer," she explains.
But a supplement, even one as nutritious as pea protein, is not as good as the real thing.
"I'd rather have a bowl of pea soup and a hunk of crusty bread than pea protein added to something I'm drinking," says Dodd.