At age 8, Tess Fitzgerald met with her first nutritionist. Even at such a young age, she weighed 154 pounds. The nutritionist's advice: Eat fewer processed carbs and add lean protein and veggies to her diet.
She followed the tips, but kept gaining weight.
By 14, she weighed 240 pounds. Her mother, Mary, worried her daughter may have a hormone imbalance and took her to the gynecologist. The diagnosis revealed why Fitzgerald struggled to lose weight: She has polycystic ovary syndrome (PCOS).
"That can cause weight gain," the 21-year-old from the Boston area, told TODAY. "I was always hungry ... The weight was pouring on."
PCOS is an umbrella term for a hormonal disorder, which can cause insulin resistance, weight gain and irregular periods in women. A specialist prescribed an anti-diabetic medication to Fitzgerald to treat the insulin resistance, but it made her sick and she couldn't take it. Fitzgerald was unhappy and unwell — and she turned to food for comfort.
By the time she graduated from high school in 2014, the 5-foot-7-inch woman weighed 315 pounds.
"I was depressed," she said.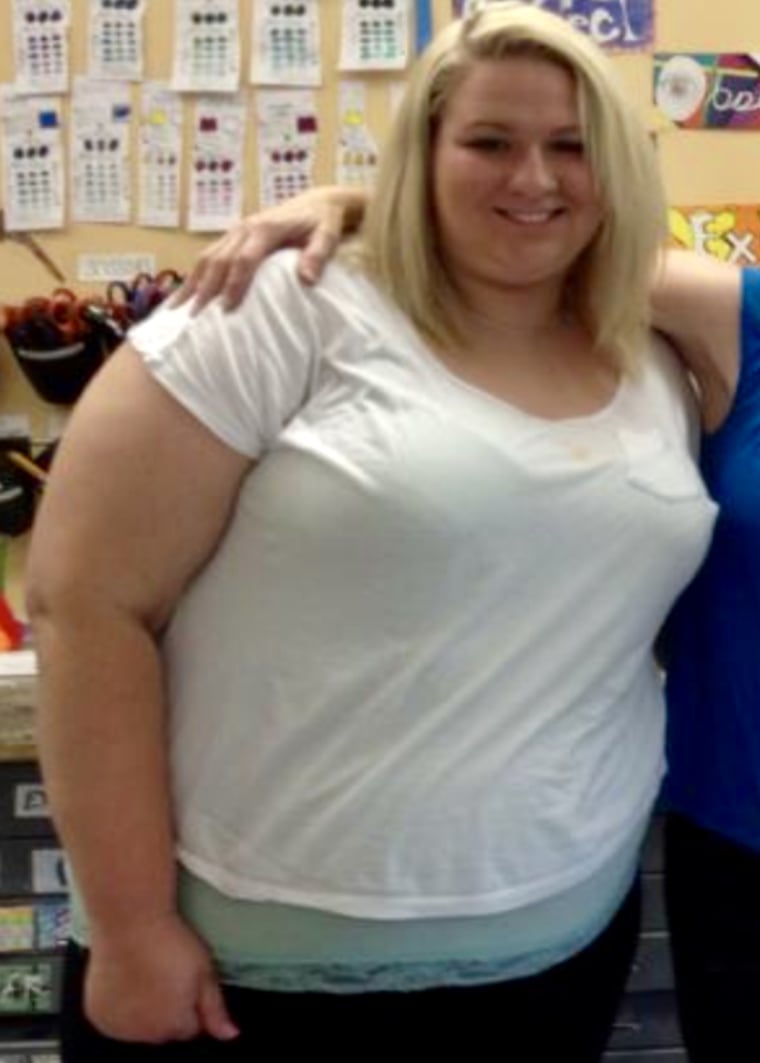 Fitzgerald hoped college would be a fresh start. But she had to squeeze into the lecture-room seats. Her discomfort was a constant reminder of her weight. Life felt just as hopeless.
"I was just thinking 'I am stuck in this desk for the next hour-and-a-half' and I couldn't breathe. Every day I got more discouraged," she said.
'Lots of walks and hikes'
Mary Fitzgerald and her husband, Dan, worried about their daughter and enrolled her in a program at Massachusetts General Hospital in Boston to help Fitzgerald lose weight. She would eventually undergo gastric sleeve surgery after losing 40 pounds on her own. When she started the program, she was the heaviest she had been at 347 pounds. By the time of the surgery she was down to 307 pounds, thanks to a high-protein diet.
Maintaining a high-protein, low-carb diet with lots of fruits and veggies after surgery helped Fitzgerald continue lose weight. While she felt better, she struggled to add exercise into her routine at first.
"I tried to go to the gym but I was still up in the 200s and I felt so uncomfortable. I took a lot of walks and hikes," she said.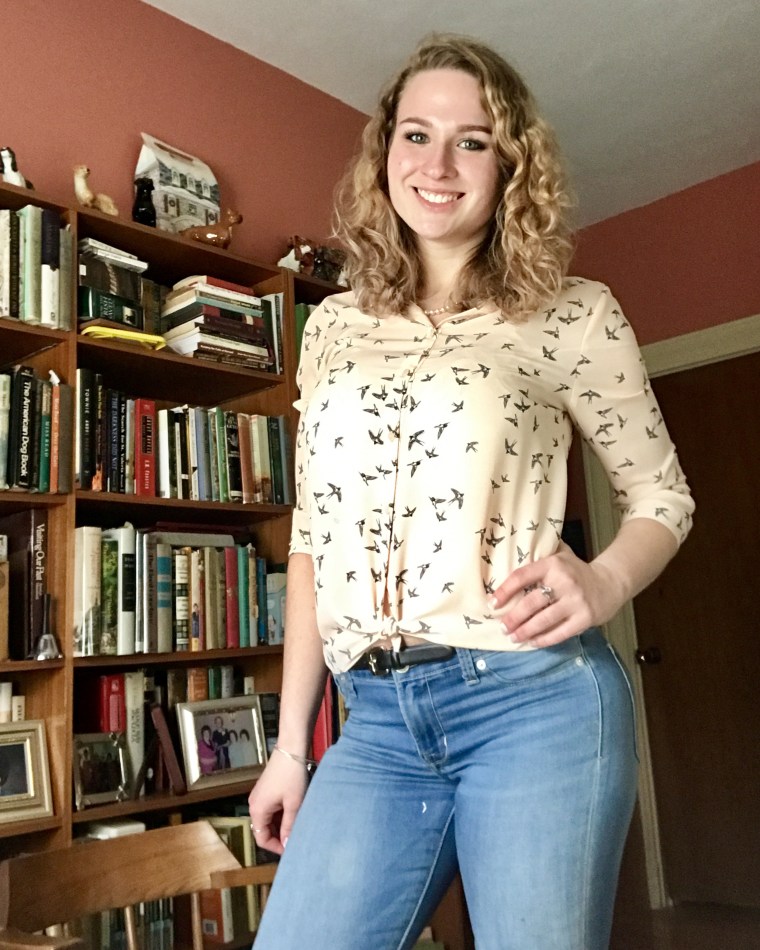 Moving more helped and in the first six months she lost 150 pounds. While happy with her success, she still felt uncomfortable because of her excessive skin. It was heavy and caused rashes. And she was embarrassed that she had to tuck it into her clothing to hide it.
In January 2018, she had the skin removed and now weighs 149 pounds, where she hopes to stay. She remains focused on maintaining her healthy eating habits and has been weight training to add muscle mass. She hopes her transformation helps others.
"You just have to tell yourself you can. If you are just feeling bad for yourself you are never going to get there," she said.
Fitzgerald provides tips for others hoping to lose weight.
1. Do your research.
Before starting her weight loss, Fitzgerald joined a lot of support groups and read about everyone's successes — and failures.
"I learned online really quickly what people's mistakes were," she said. "I would think ... 'You don't want to be like that.'"
2. Find balance.
Before Fitzgerald thought she could never enjoy foods like pasta or dessert. But her diet was so restrictive she became too skinny. She has since relaxed her diet and eats a wide variety of food, just in moderation.
"I don't limit myself. I just don't go crazy," she said. "It is all about finding balance."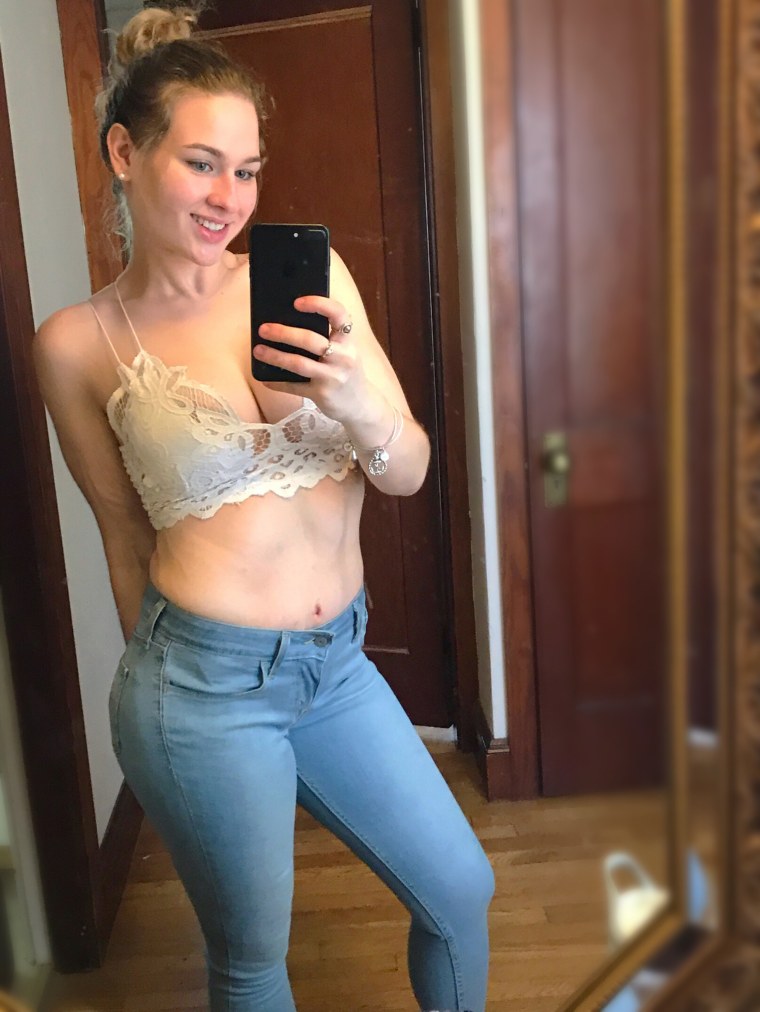 3. Find support.
Fitzgerald feels she would not have been so successful without her parents and friends.
"I have this great support," she said. "I have so many people saying 'You are such an inspiration.'"
Knowing that so many people are in her corner keeps her from returning to bad habits because she doesn't want to fail herself — or others.
For more inspiration, check out our My Weight-Loss Journey page. If you're interested in starting your own weight-loss journey, sign up for our Start TODAY newsletter.