Patrick Dempsey is still a hometown boy at heart.
In his hometown of Lewiston, Maine, the actor continues to honor his mother, Amanda Dempsey, who died of ovarian cancer last year.
In 2008, Dempsey and his two sisters founded The Patrick Dempsey Center for Cancer Hope & Healing in honor of their mother. The center offers support, education and wellness services to anyone affected by cancer — all free of charge.
As part of TODAY's #PinkPowerToday series, special correspondent Joan Lunden spent time with Dempsey in Maine for The Dempsey Challenge, a run, walk and bike fundraising event for the center.
"That goes to the center so that all the services are free," Dempsey told Lunden. "So it's remarkable."
This year, the challenge drew nearly 4,000 participants, raising more than $1.1 million.
RELATED: The healing power of fly fishing for breast cancer survivors
Dempsey recalled finding out in 1997 that his mom had been diagnosed with ovarian cancer, the fifth leading cause of cancer death among American women.
"My sister called and said Mom had been diagnosed with cancer," Dempsey told Lunden in a story broadcast on TODAY Wednesday. "She had ovarian cancer and the tumor was the size of a grapefruit and that she needed to go into surgery immediately."
While Amanda Dempsey fought the disease for years, she was also a volunteer at the center. Amanda was a mother hen of sorts at the center, Lunden pointed out.
"My mother was certainly controlling, yes," Dempsey said with a laugh. "That was part of her thing."
But on a serious note, he said the experience "meant more to her than she could verbalize."
"She wanted to give back," he added. "She was incredibly vulnerable but always had a strong facade. And, I think for her to come back as a volunteer meant a lot to her, and it meant a lot to the people in the community that she was here too."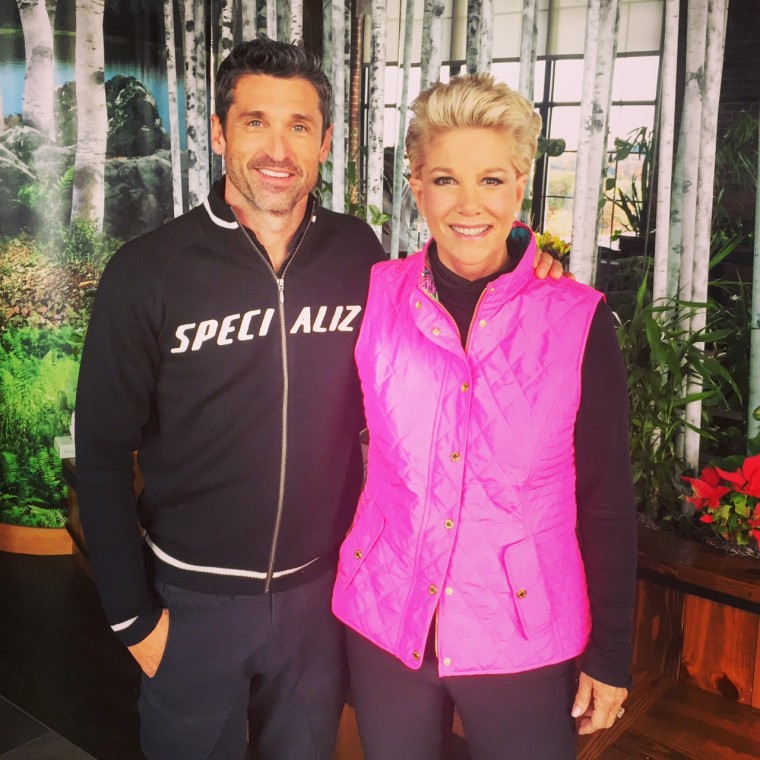 She also led the survivor walk every year.
"She was a tremendous symbol of hope in this community," Dempsey said.
Dempsey shared that he did some community theater in his younger years in Maine, and some juggling too. These days, he's known for his recently-ended TV role as Dr. Derek Shepherd on "Grey's Anatomy," and for auto racing.
Despite his high profile, Dempsey enjoys coming home again.
RELATED: Breast cancer fighters and survivors get PinkPowerTODAY surprises
"There is this huge embrace from the community, and you just connect to everybody," he said. "Someone who's in the midst of fighting cancer, and then it becomes, wow, this is really special."
Lunden, a breast cancer survivor, told the actor his mom would be proud of her, though he joked that she'd implore him to sit up straight, and perhaps shave his scruff.
If she were still here today, Lunden asked him, what would you say to her?
"I think it wouldn't be in words," he said. "I think it's just in behavior with my mother. That would be, not so much said to her, but in the behavior and in the actions and what we're doing as a family in her honor."
TODAY.com contributor Lisa A. Flam is a news and lifestyles reporter in New York. Follow her on Twitter.